No 50 of Moganshan Road is the best and largest Modern Artistic Community in Shanghai. M50 Creative Industrial Park successively introduces over 140 artist studios, galleries, and organizations of higher art education and cultural creativity from 20 countries and regions. In the selection of settled enterprises, M50 follows the positioning of the Industrial Park and introduces influential organizations in the cultural and creative field. The settled organizations create a rich artistic and creative atmosphere along the Suzhou River, attracting numerous collectors, media, celebrities, art lovers, citizens and tourists from home and abroad.
Quick Facts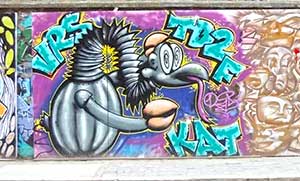 Chinese name: M50 创意园 M50 Chuàng Yì Yuán
Duration: 1-2 hours
Entrance Fee: Free
Opening hours 9 : 30-18 : 30
Best time to visit All year round
How to get there:
Bus Lines:3Take Bus No.105 or 801 to the station of Changhualu and Aomenlu and then take a 3-minute walk.
Subway lines: Take line No.1,3 or 4 to Shanghai Railway Station and get out from the south square. Then take a 20-minute walk from Hengfenglu, Tianmuxilu to Changshoulu and then to Moganshanlu along the Suzhou River. Or take line No.13 to the Jiangninglu station and walk another 5-8 minutes.
Highlights of M50 Creative Industrial Park
Architectural Style
The architectural style of the Creative Industrial Park follows the principle of restoring the old as the old and inheriting Chinese culture. Numerous creative organizations such as artists' galleries and studios build a strong creative atmosphere.
There is a 500-meter-long graffiti wall rarely seen in Shanghai from Changhualu to Moganshanlu, attracting a lot of tourists.
Activities & Art Exhibitions
Shanghai International Fashion Culture Festival, Industrial Construction and Green Fashion Art Festival, BMW, Siemens, Nokia and California Wine Institute all hold major promotional activities in the M50 Creative Industrial Park.
The Creative Industrial Park holds hundreds of art exhibitions and participates in many fashion and cultural activities every year. Thus it has become a popular tourist destination. M50 Creative Industrial Park is a famous brand growing up from a national industry with the concept of art, life and creativity gradually integrated into it.