Located adjacent to Nanjing Road, Madame Tussaud's, Shanghai, has gathered numerous wax statues of celebrities. Madame Tussaud's Shanghai is the sixth branch in the world after it opened successively in London, Amsterdam, New York, Hong Kong and Las Vegas.
Quick Facts
Chinese name: 上海杜莎夫人蜡像馆 Shàng Hǎi Dù Shā Fū Rén Là Xiàng Guǎn
Duration: 1-2 hours
Entrance Fee: RMB 190
Opening hours: 10:00-21:00
Best time to visit: All year round
Address: 10th floor of New World Tower, No.2-68 Nanjing West Road, Shanghai City
How to get there: Take Line 1, 2 or 8 to the station of Renminguangchang and then walk nearly 1 minute.
Highlights of Madame Tussauds Shanghai
Madame Tussauds Shanghai has 11 districts altogether: Top Party, Fashion Zone, Korean Wave Zone, Marvel Super Heroes, TV Entertainment, Sports World, Universal Studios, Music Icons, Leader Glamour, Scientific Leaders and Ice Age.
Top Party
The Top Party Zone brings the seemingly unreachable red carpet ceremony and award ceremony of film festivals to every traveler in Madame Tussauds Shanghai. The exhibition hall highlights the interactive experience with new media technology. A regular exhibition hall becomes a top movie scene of celebrities after being transformed through scenario simulation. Travelers may feel as if they were guests of the film festival and enjoyed the spotlight along with their international idols.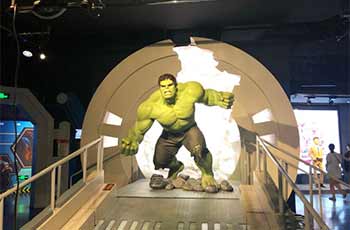 the statue of Hulk
Marvel Super Heroes
This Zone displays superheroes from Marvel Comics. Since its inception, Madame Tussaud's Shanghai has held to the practice of connecting with superstars. Here you can see numerous Marvel superheroes led by Captain America, such as the Hulk, Iron Man, Spider-Man and Thor.
Korean Wave Zone
This zone reproduces the magnificent street of Gangnam in Seoul and gathers numerous popular Korean idols. Here you can experience the high-tech interactive installations and date with Song Chengxian.
Music Idol Zone
No matter what kind of music you love, you will find your idol in the Zone and feel like you are in Music Heaven.
TV Entertainment Zone
Here you can anchor the TV show Happy Camp with the famous Chinese host, He Jiong, and chat with Xu Xidi and Cai Kangyong sharing entertainment anecdotes.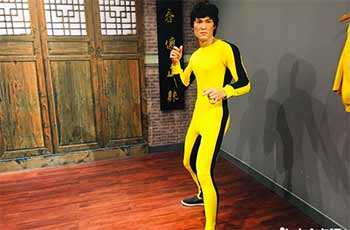 the statue of Bruce Lee
Universal Studio Zone
The wax statues of Audrey Hepburn, Bruce Lee and Feng Xiaogang are the most popular in this Zone. The Zone also provides professional photographic services for you to meet the film stars in classic film plots.
Ice Age 4D Cinema
In Madame Tussauds Shanghai, you can not only take funny selfies with the sloth Sid and the squirrel Scrat, but you can also lie under the feet of the largest wax statue of mammoth, Manny. Most importantly, you can watch the Special Edition of Ice Age in "the coldest cinema in Shanghai". I believe that it is also children's most favorite zone.
Fashion Zone
Here you can enjoy the fashion show with fashion icons. You can learn about Yang Yang's stories at the backstage of fashion show, take photos for a fashion magazine cover with Huo Jianhua, and attend catwalk shows with Victoria's Secret, Angel Alessandra.
Leader Glamour Zone
In the bright and solemn hall, you can stand with the internationally important figures closely side by side, and learn about their stories.
the statue of Yao Ming
Sports World Zone
Here you can compete with "the Little Giant" Yao Ming in playing basketball, with the champion Lin Dan in playing badminton, and "the flying man" Liu Xiang in running.
Scientific Leader Zone
Here you can meet the scientists who have made great achievements which impact today's world. In the "Einstein's Lab", you can test your IQ through funny games. Maybe you will make some new findings.