A Longtang (or Lilong) is a Shanghai lane and, by extension, a community centered on a lane or several interconnected lanes (like the Hutongs in the Beijing urban area). The living evidence of hundreds of thousands of Shanghainese are kept faithfully therein. Shanghai's alleys embody historical vicissitudes, legacy and native styles. Without walking through Shanghai's Longtangs, one cannot truly begin to understand Shanghai.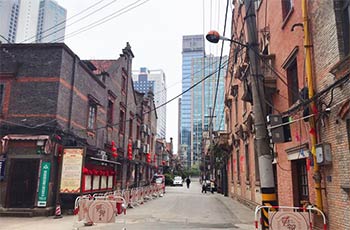 Zhang Garden
1. Zhang Garden – Top Garden in Shanghai
The garden embodies the history of a century. It is home to the first lamp, the first bicycle and the first outdoor photo studio in the city. And it is representative of Shikumen structure in Shanghai. As the largest and best preserved building in Shanghai's Shikumen building cluster, it promotes the features of both China and the West. Since they are still inhabited by citizens, the buildings are in good shape, physically and spiritually speaking.
Address: No. 2-8, Sub-lane 84, Lane 590, Weihai Road, Jing'an District, Shanghai
2. Cité Bourgogne – the most typical Longtang
Located at No. 287 South Shaanxi Road, Cité Bourgogne features an old-fashioned Shikumen residential settlement. It is rare to see such a complete cluster of Longtang in Shanghai. Invested in by French merchants in 1930, 79 brick-and-wood two-story Shikumen buildings were constructed in Cité Bourgogne. A complete layout of Longtang neighborhoods was formed with a Chinese-style archway as the community gate. Cité Bourgogne features both the Western townhouses and the rich legacy of Chinese folk housing. Vines crawl along the red tile covered ridges. Residents share their colorful lives in this neighborhood.
Address: No. 1-6, Lane 287, South Shaanxi Road, Luwan District, Shanghai
3. Shanyin Road – former community of celebrities
Even the pathway is only 10 meters wide, and here there is a grand collection of all types of Longtang houses. Standing on the pathway, new Shikumens, new Longtangs, Garden Longtangs, apartment Longtangs and garden houses can all be seen. Numerous former celebrities dwelt here, such as Lu Xun, Mao Dun and Guo Moruo.
Address: Shanyin Road, Hongkou District, Shanghai
4. Huaihai Fang – the best arranged Longtang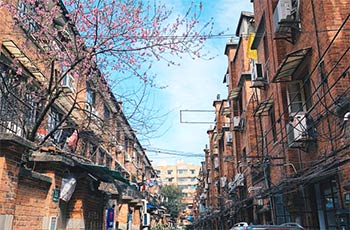 Huaihai Fang
Originally named as Joffre Fang (Longtang) after French General Joffre, and located at Lane 927, Huaihai Middle Road, Huaihai Linong was invested in by the Puai Church. It is a typical new style Longtang. The overall layout of the building complex is well structured with a unified style and specifications. Large, neat double-pitched roofs and unified red brick dry walls bring together the overall characteristics of the complex. Joffre (Xiafei) Fang is a new type of Linong (traditional Chinese residential house), as the lanes were all widened and the Shikumen gate was removed. The wall was reduced to 2.5 meters. The gates are made of cast iron and the open yard is reduced. The general arrangement of 30 units in the long, narrow terrain form a matrix, which is rare for residences in Shanghai. The architectural style was freed from the Shikumen model, replicating a French house. Steel windows have been installed.
Address: No. 100, South Maoming Road, Huangpu District, Shanghai
5. Xinhua Road – a European style Longtang
Xinhua Villa is formed by two joined U-shaped lanes. Decades ago, consulates of Spain, Portugal, Britain, Sweden and other countries established their offices here. Expatriate residents brought the European style to the community.
There are dozens of different styles of garden houses in the Xinhua Villa, such as British, American, Dutch, Italian and Spanish styles. The Hungarian architectural master László Hudec designed these houses in the 1930s. He became the premier designer in Shanghai for works such as the Shanghai Grand Cinema and the Park Hotel. Today, these buildings are still standing quietly behind the Firmiana simplex (Chinese parasol trees) that line the roads. Linongs provide a tranquil world with birds and flowers even in the high streets.
Address: Lanes 211 and 329, Xinhua Road, Changning District, Shanghai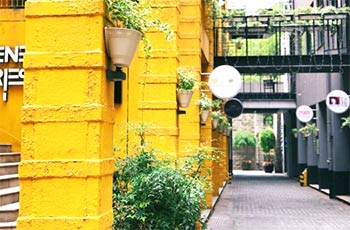 Tongle Fang
6. Tongle Fang – the most attractive Lane
Tonglefang was built between 1912 and 1936. It is a new style Lane, in which there are 10 one-story, two-story and three-story houses. There were once many factories, cinemas, bookstores, gymnasiums and numerous small shops here. It has become one of the earliest communities for alley factories in Shanghai and is a testimony to the development of Shanghai's modern industry. In the 21st century, the well preserved Shanghai national industrial factory sites were added with elements of "culture, leisure, and creativity". With the post-modern design, a consumer establishment that combines fashion, entertainment and cultural and leisure industries has become a new urban icon.
Address: Jing'an District, Shanghai