Happy Valley of Shanghai is a masterpiece of Overseas Chinese Town Holdings Company with an investment of RMB 4 billion. Covering an area of 650,000㎡ and possessing more than 100 various experience projects, it is one of the largest theme parks with the highest technology content, most advanced amusement facilities, and most abundant cultural activities in China. The first chain theme park in China, it went into operation on September 12th, 2009. In January 2017, Happy Valley of Shanghai was rated as the most popular theme park by China Mei Tuan Comment Website (one of China's most popular group-buying websites).
Happy Valley of Shanghai is a large theme park suitable for the entire family. Young people can experience the Thrill Roller Coaster; children can enjoy the Ant Castle, experiencing the visual feast of the 4D movies. As well as this, a lot of large-scale circus performances, float parades, Mayan Carnivals and International Magic Festivals are also often held here.
Quick Facts
Chinese name: 上海欢乐谷 Shàng Hǎi Huān Lè Gǔ
Duration: One day
Entrance fee: RMB 230
Opening hours: Day show: 09: 00~17: 30 Evening show: 17: 30~22: 00
Best time to visit: All year round
Address: No. 888, Linhu Road, Songjiang District, Shanghai
Subway: Take Line 9 and get off at Sheshan station, cross the overpass to take the Happy Valley free shuttle bus. You will arrive at Happy Valley of Shanghai in five minutes.
Seven Themed Zones in the Happy Valley of Shanghai
Sunshine Beach
Sunshine Beach is a romantic harbor built on marine culture. Tourists can take photos here. It is home to over ten projects, such as Vitoria Amorous Arts Street, Flying Theater to experience soaring in the sky, and the multifunctional theater Arthur Palace for holding enterprise press conferences and banquets as well as classical performances. Lakeside Plaza is the main venue for holding a beer carnival in summer.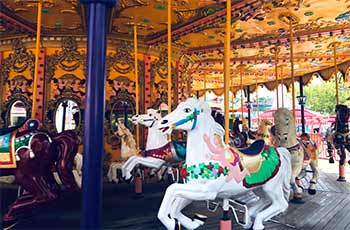 Merry-go-round
Happy times
There you can find the most popular wooden roller coaster, the Wooden Coaster-Fireball, and the park's highest building, the Twin-Tower Heroes, as well as the romantic merry-go-round. The Wooden Coaster-Fireball is the first large-scale project on your right after entering the park, and is acceptable for the most adventurous visitors. As the roller coaster creaks its way up, you'll experience more than 10 times of weightlessness. Since there will be a lot of visitors waiting in line, you are advised to make it your first destination in the park.
The Twin-Tower Heroes are composed of two towers, a purple one and a yellow one. The purple goes from bottom to top while the yellow goes the other way around, offering both the experience of shooting off and falling down. Please don't wear slippers or skirts if you are to play on this.
Shangri-La Woods
In Shangri-La woods, you can play rafting in a canyon or you can hover across the top of the dense rain-forest in the Mega-Lite.
The Mega-Lite dives down from a height of 30 meters at nearly 100km/h. As it dives so fast, people with cervical and lumbar vertebra problems must not try this.
As a classic water entertainment project in Happy Valley, canyon rafting will take you for an adventure through the canyon, rockery, culvert, forest farm and flower sea. You can buy a raincoat at the entrance of Happy Valley for RMB 5. You can keep the raincoat if it is still in good condition, and re-use it for Super Splash later.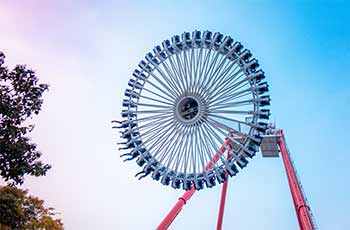 the Pendulum Hammer
Shanghai Beach
Restoring the scenery of Shanghai of half a century ago, and equipped with the Diving Coaster and the Pendulum Hammer which represent the top level of modern entertainment facilities, Shanghai Beach is where you can experience both modern and old Shanghai.
The Diving Coaster falls from a height of 60 meters and pauses for 3 seconds before the fall. So please don't try if you are not psychologically strong enough.
The Pendulum Hammer is a super pirate ship, which has a 180-degree swing at its highest point., taking you as high as a 15-story building.
Gold Mine Town
The Gold Mine Town is like a restoration of the historical gold rush area in Western United States. You can take a mine car to experience the thrilling scene where miners escape the flood or climb the Treasure Island to enjoy the landscape of the whole amusement park.
Treasure Island is the highest point of the park that will automatically rotate itself and let you overlook the whole Happy Valley of Shanghai. Seize the opportunity to take photos as the duration is short. You are not advised to ride the mine car if you have acrophobia.
The Mine adventure is famous for its roadway mining vehicle characterized with high speed and many rotations. It will give you an adventurous experience of sliding.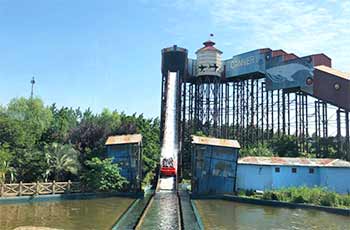 Super Splash
Typhoon Bay
Typhoon Bay is reserved for the most adventurous players. We recommend the following: Super Splash and Perfect Storm.
Super Splash is a classic water entertainment project of Happy Valley where you can reach as high as 26 meters and dive your way at great speed down the slideway.
Perfect Storm is composed of two sets of rolling cockpits which give you a series of vertigo experiences as they roll with the tempo of the musical fountain. The abrupt ascent, falling, stopping, and rolling will truly let you feel dizzy as if the world is spinning.
Ant Kingdom
Equipped with the Water Frog Battleship, Happy Airship, Round Cup and Ant Castle, the Ant Kingdom is a haven for children.
The Ant Castle is an indoor playground. You can spend your afternoon playing there.
Water Frog Battleship: In Water Frog Battleship children can have electric toy pistols and play with each other in the water, all of which can help train their response and hand-eye coordination.
Travel Tips
There are free maps of the park at the entrance. Do not forget to take one before entering the park, so that you can arrange the time reasonably. If you are crazy about amusement facilities, we suggest you start with several major themed zones and avoid coming here on weekends or holidays.
Fast food like KFC and Pizza Hut can be found in the seven themed zones of Happy Valley. Snack bars in Shanghai Beach are themed zone mainly to serve Shanghai snacks, such as steamed dumplings and wonton. The Ant restaurant mainly serves Chinese snacks, like noodles, fried rice, steamed stuffed buns and so on. The price of the food in fast food outlets of the park is the same as that in the downtown, while restaurants in the park are priced much higher.
Some amusement facilities are not suitable for tourists with hypertension, heart disease and cervical back disease or pregnant women; some have restrictions for visitors' height, waist circumference and weight. Please make sure you meet the requirements and choose facilities wisely.
In case of bad weather, some facilities will be shut down, so please pay attention to the weather conditions beforehand.
Happy Valley has a cloakroom where you can pay to have your belongings stored there beside the entrance of the park.
The park provides baby carriages and wheelchairs for free on a first-come-first-served basis. No reservation is accepted and a certain amount of deposit will be required.
Visitors are advised to wear comfortable clothes and shoes (and sunblock if it is summer) while playing.
There are sightseeing transports in the park, such as battery cars, vintage cars and cruise ships, which you can pay to use.