The Shanghai Former French Concession is mainly located at the Huangpu and Xuhui District in Shanghai. Shanghai Former French Concession was the most prosperous of the former French Concessions with the largest area, and was the first to be opened up among the four former French Concessions in Modern China. The other three are Tianjin Former French Concession, Hankou Former French Concession and Guangzhou Former French Concession.
Quick Facts
Chinese name: 上海法租界 Shàng Hǎi Fǎ Zū Jiè
Duration: 1 to 2 hours
Entrance Fee: Free
Opening hours: Full day
Best time to visit All year round
How to get there: Take Bus No.167, 320, 42, 911, 920 and 926 and get off at the station of Middle Huaihai Road and Shaanxi South Road.
Highlights of the Former French Concession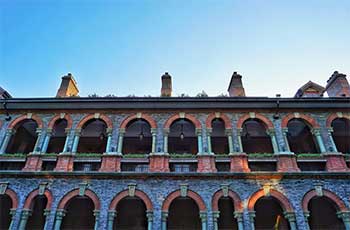 Sinan Mansions
Sinan Mansions
The Sinan Mansions made up the core zone of the former French Concession at that time. Today's Sinan Mansions have transformed its 49 restored garden houses and 9 new buildings into 4 complementary functional zones of hotel, commercial, residential and administrative district. Sinan Mansions have become one of the reservation and protection projects of the Shanghai historic and cultural landscape with excellent historical buildings, integrating cultural, fashion and historic deposits.
Fuxing Park
Fuxing Park was one of the first Parks opened in Shanghai. It is the only French-style park in Shanghai with the tone of formal garden layout. In recent years, over 10,000 flowers, trees and shrubs of 140 varieties have been recently added. The proportion of towering plane trees in them ranks first in the parks of Shanghai. And there are also precious trees such as buckeye, linden and sweetgum.
As the fashion hinterland, Fuxing Park is veritably bustling at night with the colorful nightlife rubbing up against the old-fashioned French-style atmosphere.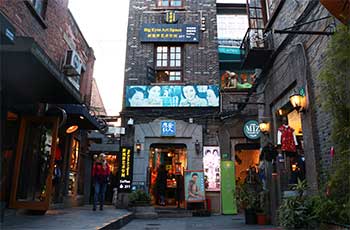 Tian Zi Fang
Tian Zi Fang
Tian Zi Fang is the old alley of Shanghai and the creative work base of many literate artists. Both Chinese and foreign travelers love the charm of old Shanghai which is evident here.
Shanghai Library
Located at Middle Huaihai Road, Shanghai Library ranks 2nd in China with over 13 million volumes. It is among the world's top 10 libraries and is known for its collection of family trees, letters, Chinese and English modern newspapers and periodicals, western rare books and stele texts. It has also collected some Chinese and foreign music of ancient and modern times, opera discs and audio tapes. The library has over 20 large-scale special reading rooms concerning ancient books, literature, synthesis, newspaper and social science with over 3,000 seats. And it is equipped with a catalogue hall, a bookstore, a restaurant, a bar counter, an exhibition hall, a film and television hall and a conference hall.
Ruijin Hotel
The Ruijin Hotel at No.118 Second Ruijin Road has the most beautiful environment in the Former French Concession. It has 4 villas with an area of 500 mu (about 33 hectares). Three of them are English-style buildings of neoclassicism built by the English businessman Maris Benjamin in 1924. In the hotel is a large area of lawns, lakes and bridges with profound English style. Song Meiling once lived here and Chen Yi also worked here. After it was transformed into the Hotel, Zhou Enlai, Liu Shaoqi, Zhu De, Suharto, Nehru, Hu Zhiming and Kim Il-sung also lived here. And the Hotel was opened in 1979.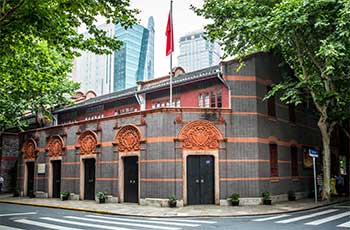 the Site of the First CPC Conference
Historical Buildings and Villas
As well as all this, the former French Concession is the best place to enjoy the flavors of old Shanghai with its many historical buildings and various villas. There are, for example, the Site of the First CPC Conference, the Former Residence of Song Qingling, the White Residence, the U.S. Consulate, the Catholic Church, and Shanghai Jiaotong University.