Qingdao Xiaoyushan is a famous classical style scenic spot in Qingdao. It is part of Qingdao seaside scenic area on the first batch of national-level scenic spots and the first batch of national 4A scenic spots-approved by the State Council.
Quick Facts
Chinese Name: 小鱼山公园 Xiǎo Yú Shān Gōng Yuán
Constructed: 1983
Estimated visit duration: 1-3 hours
Tickets: for peak season, it is RMB 15 per person (from April 1 to October 31) For off season (November 1 - March 31) RMB 10 per person
Address: No. 24, Fushan Branch Road, Shinan District, QingdaoProvince, China
Open hours: 7:00 - 18:00
The best time to visit: All year around
How to get there:
Take Qingdao Metro Line 3 and get off at Huiquan Square Station
Highlights of the Park
Xiaoyushan is one of the best sites to enjoy a panoramic view of Qingdao. Yushan Road starts with a long, slow uphill. The beautiful surrounding buildings make it very lovely. Xiaoyushan is a park for viewing and it takes no time to climb the mountain. Tourists can see the sea on the south side, which is surely quite an unusual view to admire the sea. Tips: when sitting on Xiaoyushan and facing the north of the city, you can see the blue trees and red tiles and appreciate the structures which were constructed in contemporary times.
Lanchao Pavilion
Lanchao Pavilion
The pavilion is the main building of Xiaoyushan. The three-story octagonal structure is 18 meters in height. There is a spiral staircase set in the pavilion. The outer guardrail platform is located along the spiral staircase, from which the German-style building with yellow walls and red tiles can be seen. And the first bathing beach is in the far southeast. The golden sand is embraced by the blue sea. When it is clear, you can see Qingdao TV Tower on the Taiping Mountain in the northeast. Xiao Qingdao Island and the Trestle in the west, the hotel and the three-story mushroom-shaped building on Signal Hill Park in the north are all clearly visible. In the evening, people can photograph the night view of Qingdao in the mountains.
Bibo Pavilion & Yongcui Pavilion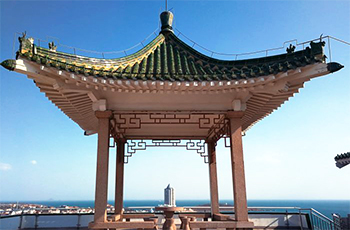 Bibo Pavilion
To the west side of the Lanchao Pavilion, there is a hexagonal pavilion. People can have a good view of the blue waters of the Huiquan Bay, so it is named "Bibo (literally 'blue waves') Pavilion". "Beibo" as in Chinese is the handwritten work of the famous Chinese artist Wu Zuoren. To the east of Lanchao Pavilion, there is Yongcui Pavilion with the green glazed tiles. A winding corridor that connects Lanchao Pavilion and Yongcui Pavilion has white reliefs, whose contents are the "small" and "mountain" as in Chinese and "fish" as in ancient hieroglyph indicating Xiaoyu Mountain. There are beautiful frescos next to the icon. In addition, on the southern slope of Xiaoyushan, there is a miniature model showing all renowned landmarks in Qingdao.