Small Qingdao, which used to be known as "Qindao", is a small island in Qingdao Bay. They say it is the most beautiful park in the city and even the city is named after it. There is a long seawall between the island and the coast. A lighthouse built on the island by the Germans in 1898 is one of the landmarks of the city.
Quick Facts
Chinese Name: 小青岛 Xiǎo Qīng Dǎo
Estimated visit duration: 1-2 hours
Ticket:
RMB 15 for peak season (from April to October); RMB 10 for off season (from November to March)
Address: Qinyu Road, Shinan District, Qingdao
Open hours: 6:30 -20:00
Best time to visit: From June to August
How to get there:
Take Bus No. 6, No. 312 or No. 501 and get off at Lu Xun Park Station.
Highlights of the Island
The island is shaded by trees and surrounded by reefs. The sea is clear and blue, and people can fish on the island. Sitting on a reef in the sea breeze and stepping into the sea surrounded by tall buildings and red-topped houses, tourists may feel like they are in a hanging garden on the sea. When the sun sets, the whole bay appears gilded in the golden light. A white marble lighthouse built by the Germans and torpedo garages built by the Japanese can still be found on the island.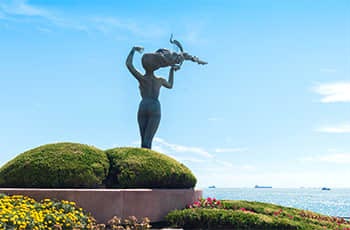 Sculpture of Lady Qin
Sculpture of Lady Qin
Legend has it that a fairy who played the Chinese zither fell in love with a young fisherman. She quietly came to the secular world and married the young man. Whenever her husband went out to sea, she sat on the island playing the zither to help him navigate. When the Jade Emperor learned about that, he urged her to come back to heaven. Qin gave up her life to stay on the island forever. Currently, they say the sound still lingers around the island. The mythological story has touched generations of artists. To commemorate such a folktale, a sculpture of Lady Qin was set up there. In 2002, the miniature version of the "Lady Qin" was designated by the Qingdao Municipal Government as the symbol of the symbol.
Lighthouse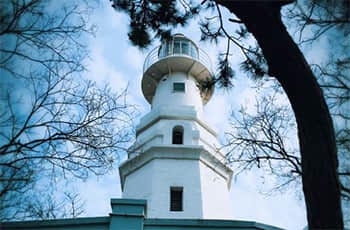 Lighthouse
The lighthouse is located on Xiao Qingdao in Qingdao Bay. It was built in 1890 and came into use in 1915. The lighthouse tower is octagonal and is made of white marble. The two-layered lighthouse guides ships entering and exiting Jiaozhou Bay and Qingdao Bay. As Xiao Qingdao has the shape of a Chinese zither and the waves bring a lovely sound, it is therefore also named Qindao (the island of a Chinese zither). Mr. Zheng Zhenduo, in his work Qindao & Light, said that the changing light on the sea looks like a boat sailing out there.