Ocean University of China is one of the key universities in China. It used to be called Ocean University of Qingdao, and before that, it was a Bismarck Barracks. On the campus, German architecture can be seen. It was officially renamed "Ocean University of China" in 2002. Many famous writers such as Lao She, Liang Shiqiu, Shen Congwen, Wen Yiduo, Wu Boxiao, and Hong Shen imparted knowledge here. Poet Zang Kejia used to attend the class lectured by poet Wen Yiduo.
Quick Facts
Chinese Name: 中国海洋大学 Zhōng Guó Hǎi Yáng Dà Xué
Constructed: 1924
Estimated visit duration: 1-3 hours
Tickets: free
Address: No. 5, Yushan Road, Shinan District, Qingdao
Open hours: 24 hours
The best time to visit: All year around
How to get there: Take Qingdao Metro Line 3 and get off at Huiquan Square Station or People's Hall Station.
Highlights of the university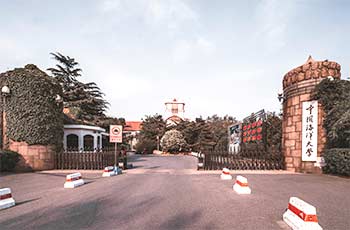 The gate of Chinese Ocean University Yushan Campus
Ocean University of China has three campuses:
Laoshan Campus is located at No. 238 Songling Road, Laoshan District, right at the foot of Laoshan Scenic Area. This main campus was completed in 2005. The overall campus is spacious, with the European style of the old campus well retained. The general color is yellow.
Yushan Campus is located at No. 5, Yushan Road, Shinan District. It is the old campus. There are beautiful buildings and the beach is not very far away. It was once rated as one of the Top 10 most beautiful campuses in China. It is adjacent to Qingdao Art Museum, the Trestle, Signal Hill, Laoshe's Former Residence, and First Bathing Beach.
Fushan Campus is located at No. 23, Hong Kong East Road and is now the location of the Institute of International Education. No undergraduate program is provided here.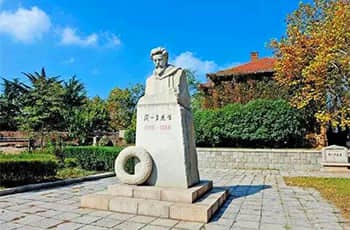 Former Residence of Poet Wen Yiduo
Former Residence of Poet Wen Yiduo
Wen Yiduo's former residence "Yiduo Building" stands quietly right at the northwest corner of the campus. The walls are covered with vines. There is a flower bed in front of the building, and a half-length marble statue of Wen Yidu is erected in the middle. The inscription was written by his student Poet Zang Kejia. There are also two cedars on both sides of the flower bed. The first floor has been developed into the Exhibition Room of Wen Yi Duo's Former Residence. Rough granite walls, a red tile roof, window decoration strips with beautiful Western-style reliefs are all part of the intact layout since the old time. It is simple and elegant.