The Qingdao International Beer Festival was started in 1991 and opens on the second weekend of August each year for 16 days. The festival is jointly sponsored by pertinent state ministries and Qingdao Municipal People's Government. It is a national-level festival that integrates tourism, culture, sports and trade events.
Quick Facts
Chinese Name: 国际啤酒节 Guó Jì Pí Jiǔ Jié
Constructed: 1991
Estimated visit duration: 2-4 hours
Tickets:
RMB 10 per person in the morning and RMB 20 per person in the evening. It is free for children under 1.2 m
Address: It can be changed each year.
Open hours: 08:00 - 22:30
The best time to visit: the second weekend of August
Highlights of the festival
Qingdao International Beer Festival is a very popular beer event in Asia. Today, it has become a grand festival that highlights the city's individuality and charm. The medium of the beer showcases both the Tsingtao Brewery and the city.
Beer and Gourmet Food
Beer is naturally the protagonist of the Festival. The rich white foam, the sweet malt upon sipping and the refreshing feeling are definitely the best choice for escaping the heat. The Festival brings together international brands of beer from Germany, the United States, the Czech Republic, Spain and other countries. It is probably where the most product categories can be found. There should be at least one brand that can conquer your taste buds. It is worth mentioning that gourmet foods from all over the country will also be available throughout the Golden Beach Beer City. Visitors can enjoy food such as Jiaodong Noodle, Shaanxi Foods, Shilin Night Market (from Taiwan Region), German Grilled Intestines and Turkish Grilled Meat without travelling to other places.
Scale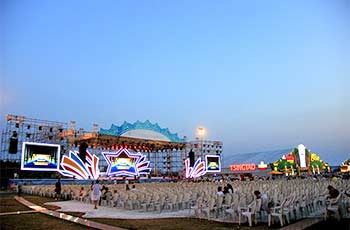 Qingdao International Beer City
In 1994, Qingdao International Beer City, located in the Shilaoren National Tourism Resort, was built with an area of 35 ha and a total construction area of 470,000 square meters. It provides a permanent venue for Qingdao International Beer Festival. Since the 7th Beer Festival in 1997, six national departments and the Qingdao Municipal Government have been the sponsors. The Beverage and Brewing Technology Expo is held with foreign exhibitors during the Festival; cooperation between breweries from Germany, South Korea and other countries shall be greatly enhanced. The beer culture related art performances will be introduced; with events such as Civic Days and carnival, local and foreign tourists will be attracted into the Festival, which, accordingly, is the grandest beer gathering in the East.