'Eight Great Passes' are eight avenues (currently ten) named after eight passes. Flowering peach trees, crape myrtle, acer mono and cedars are the plants for corresponding seasons. On the southwest part, there are cypress trees growing along the sides of the boulevard, under which many couples spend their romantic time. Eight Great Passes is also an attraction for newly married couples, shutterbugs and those who enjoy nostalgic feelings.
Quick Facts
Chinese name: 八大关 Bā Dà Guān
Constructed: 1930
Estimated visit duration: 3-4 hours
Tickets: free
Address: Northeast,Huiquan Cornor,Shinan District,Qingdao
Open hours: All year around
Best time to visit: All year round
How to get there:
Take Bus No. 26 (nights), No. 31 (circle), No. 202 (circle), No. 206 (circle), No. 223, No. 228, No. 231 (circle), No. 304, No. 311, No. 311 (special), No. 312, No. 312, No. 316, No. 317, No. 321, No. 370, No. 468, No. 501, No. 604 (circle), No. 605, No. 605 (for key stations) and get off at Wusheng Pass Station. It is within the walking distance.
Highlights of the Eight Great Passes
'Eight Great Passes' is the most renowned scenic spot that features Qingdao's "red tiles, green trees, blue sea and the azure sky". The so-called 'Eight Great Passes' are named after those of the Great Wall. This famous villa area, which is also known as the "World Architecture Museum", is also an important sanatorium in the country, and many celebrities have stayed here.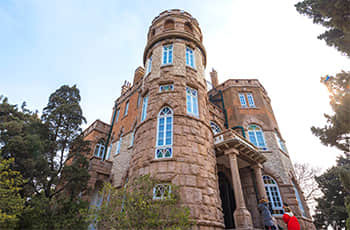 Granite (Huashi) Building
Granite (Huashi) Building
At No. 18, Huanghai Road, there is a building built by a Russian, Gracimov, in 1932. It was named after the granite stone and pebbles. It is of the European ancient castle style with the legacy of the ancient Roman Gothic architecture, while the interior has traces of Baroque and Rococo. It is probably the most distinctive villa in the Eight Great Guanzhong. It is not just an example of European architecture in the traditional sense. It has a building area of 753.7 square meters and an exhibition area of 4.5 square meters. The main building has 5 floors and the top floor is Guanhaitai (a sea observation platform). Prior to the liberation, a top agent, Dai Li, once lived here. According to legend, Chiang Kai-shek once hid himself there. After the liberation, Granite Building became a place for accepting Chinese and foreign guests. Dong Biwu, Chen Yi and other party and state leaders have stayed here.
Princess House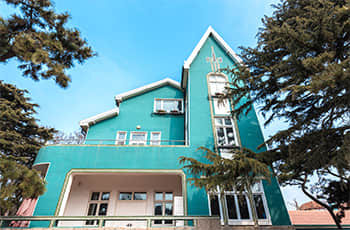 Princess House
The Princess House is located at No. 10 Juyong Pass Road. It is a typical Danish building. It was built in the 1930s and has a unique shape and style. There is a story behind the building. It is said that in 1929, a prince of Denmark traveled to Qingdao on a luxury cruise ship "Fionia". He was attracted by the beautiful scenery of the Eight Great Views. Then he entrusted the first Danish consul to purchase land on the Eight Great Views and designed the Danish classical architecture in accordance with the artistic conception of Andersen's fairy tales. He wanted to give it as a gift to his sibling. Although the Danish princess did not make it to Qingdao, the name of the "Princess House" is well kept and passed on.
Have a question?
OR
Are you eager to begin your Chinese cultural journey?
Drop us a line and we will promptly connect you with our leading China expert!