Macau is one of the Special Administrative Regions of China. Located to the west of the Pearl River Delta in southern China, Macau and Hong Kong face each other across the South China Sea connected by the Hong Kong-Zhuhai-Macao Bridge. Covering an area of only 32.8km2/12.6 mile2 and with a population of 679 thousand, Macau is one of the most crowded regions in the world. Gambling and tourism are major industries in Macau, contributing over 85% of Macau's GDP every year. As a former Portuguese colony (1887-1999), Macau has become a city with exotic features after more than 100 years of cultural collision between the East and the West. You can find lots of Portuguese style historical attractions in Macau.
Quick Facts
English Name: Macao
Portuguese Name: Macau
Chinese Name: 澳门 (ào mén)
Government: Special Administrative Region of China
Location: Southern China (22°10' 0'' N, 113°33' 0'' E)
Area Code & Zip Code:
Area Code: +853; Zip Code: 999078
Airports: Macao International Airport (MFM)
Railway Stations: No Railway Station in Macao
Port: Macao Outer Port, Macao Inner Port, Macao Taipa Port
Suburban Districts:
Nossa Senhora de Fátima, Santo António, São Lázaro, São Lourenço, Sé Freguesias, Cotai, Taipa, São Francisco Xavier(Coloane)
Population: 679 thousand (2019 estimate)
Best time to visit
Located on the Pearl River Delta and facing the South China Sea, Macau's weather is a subtropical monsoon climate with an average annual temperature of 23°C/73.4°F. The hottest temperature is about 35°C/95°F in August, and there are usually a lot of rainy days and typhoons from April to September in Macau. The lowest temperature is around 10°C/50°F during January to March, but the weather is more friendly in this season. From October to December is the best time to visit Macau when you can enjoy the "clear and refreshing" autumn weather.
What to See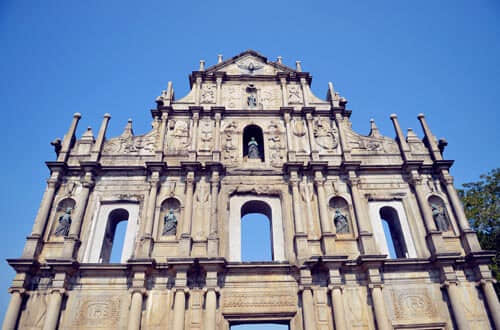 1.Ruins of St. Paul's: The Ruins of St. Paul's is one of the landmarks of Macau. This Roman Catholic Church was built in 1602 and burned in 1835. Even though the church was destroyed, you can still see the fine carvings and statues on the surviving façade. As part of historic center of Macau, it has been listed as a UNESCO World Cultural Heritage site since 2005.
2. Macau Tower: Macau Tower is one of the top 10 highest sightseeing towers in the world with a height of 338meters/1109ft from the ground to the top. It is not only the best viewpoint to take a panoramic view of Macau, but also the best place to take the world's highest commercial Bungy Jump from the platform of 233meters/764ft high.
3. Mount Fortress: Mount Fortress is located at the top of Mount Hill near the Ruins of St. Paul's. The fortress was built to fight against pirates in 1616. After 400 years, the canons are still around and the walls are still standing well. It is one of the major historical attractions in Macau.
Recommended attractions:
| | | |
| --- | --- | --- |
| Macau Museum | Skycab Cable Car (Wynn Palace) | Senado Square |
| A-Ma Temple | Coloane Village | Our Lady of Penha |
| Casinos | Cunha Street | Mandarin's House |
How to get there
You can take a plane to Macao International Airport(MFM). Or you can take a Ferry, Shuttle Bus or Helicopter from Hong Kong to Macau. The last option is by train. Even though there is no railway station in Macau, the Zhuhai Railway Station is located right at the border between Zhuhai City and Macau. You can take bullet trains from most of the major cities in China mainland to Zhuhai Railway Station, then cross the border to Macau at Zhuhai Gongbei Port which is right near Zhuhai Railway Station.
How far is Macau from Major Cities
| Cities | Distance from Macau (km) | By Air to Macau |
| --- | --- | --- |
| Beijing | 2280 | 3hrs 40mins |
| Shanghai | 1568 | 2hrs 50mins |
| Guangzhou | 147 | / |
| Hong Kong | 50 | 15mins by helicopter |
| Xiamen | 709 | 1.5hrs |
| Chengdu | 1701 | 2hrs 40mins |
| Wuhan | 1125 | 1h 40mins |
| Xi'an | 1773 | 3hrs |
| Sanya | 613 | 1.5hrs |
| Taipei | 872 | 1h 50mins |
Gourmet Food Recommendations
Bacalhau (Codfish): With the influence of Portuguese cuisine, many Macanese foods are based on Portuguese cuisine. Bacalhau is a kind of dried and salted codfish and is one of Portugal's most popular dishes. As a staple in Portuguese cuisine, it is eaten baked, canned, fried, with potatoes, with rice, and in so many other ways. It is said that there are nearly 1,000 ways to cook it.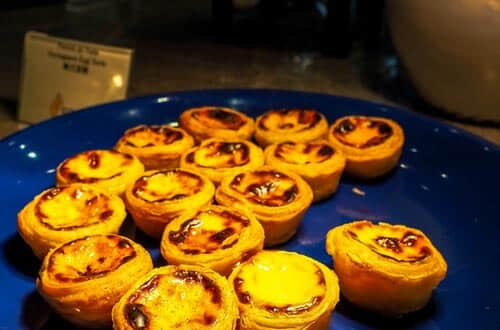 Portuguese-style Egg Tarts: This world famous dessert was firstly made by an English man, Mr. Andrew Stow. He was inspired after he tasted the traditional Portuguese dessert Pasteis de Nata. In 1989 he improved the recipe and opened the first Lord Stow's Bakery in Macau. You must go for a taste of this famous local food in Macau.
Crab Porridge: Crab Porridge is a typical Cantonese food. In the traditional Chinese mind, porridge is not that heavy for the stomach. Macau is situated at the junction between the fresh and salt water zones, so the local crab gives the porridge a very fresh flavor. Local residents usually order Crab Porridge and other dim sums for breakfast and lunch.
Pork Chop Bun: The Pork Chop Bun is another signature snack in Macau. You could say it is a "Macanese-style hamburger". Pickled succulent pork chops are coupled with chewy buns to make for a special flavor. This Macanese gourmet food originated from Restaurant Tai Lei Loi Kei at Taipa in 1970. It has become a famous brand in Macau and you can see a long queue outside the restaurant during lunch time.
Souvenirs and Shopping
Macanese Snacks: Similar to traditional Cantonese, Macanese people also like snacks very much. Almond Cake is one of the most famous snacks in Macau and you can also taste the other snacks and take some back home, such as Meat Jerky, Nougat, Preserved Fruit, and Egg Rolls. You can find many bakeries and snack shops at Rua de S. Paulo St., Cunha St., and Largo do Senado in downtown Macau.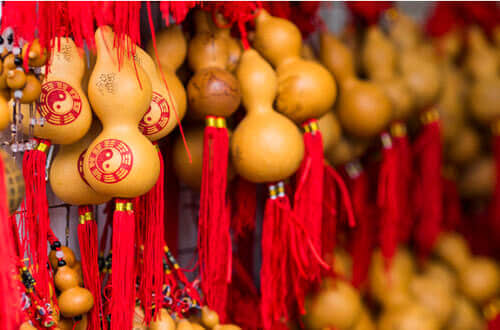 Wine: Portuguese wine is very famous in the world. You can easily find authentic Douro and Alentejo wine at most of the supermarkets, small shops and duty-free shops in Macau. If you are interested in the knowledge of wine, you may go for a visit to the Macau Wine Museum. There are over 1000 kinds of wines in the museum, and over 50 kinds of wine that can be tasted.
Antiques & Handicrafts: There are some antique shops in the alleys near the Ruins of St. Paul's. You can find some exquisite wooden carvings, bronze wares, old coins, porcelain wares, and even archaize furniture. They can ship the over-sized furniture to other countries for you with a reasonable price.