Top 10 Delicacies in Hong Kong
Visitors come to the city for its attractions and grand architecture as well as the local delicacies. Delicacies in Hong Kong expand their palettes to encompass more global flavors while retaining local features.
Sweet delicacies:
1. Pineapple bun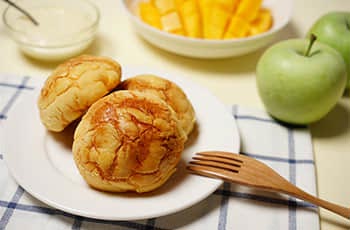 A pineapple bun is a kind of sweet bun especially popular in Hong Kong. Despite the name, it does not traditionally contain pineapple; rather, the name refers to the look of the characteristic topping. Put a piece of butter in the newly baked 'pineapple bun' and wait for the butter to melt gradually.
Characteristics: It has a crisp outside and is tender inside. It tastes deliciously sweet.
Recommendation: Kam Wah Cafe & Bakery
Address: 47 Bute St, Prince Edward, Kowloon, Hong Kong, China
2. Hong Kong Style Egg Tarts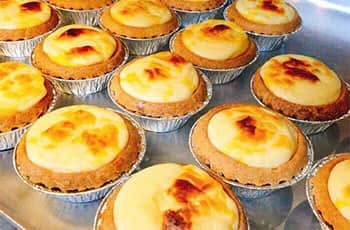 The English custard tart and the Portuguese pastel de nata are European forerunners of the Chinese egg tart, which displays characteristics of both. The beef tallow gives a whole smooth crust of egg tart. It is also called cookie crust. Compared to its Portuguese, the beef tallow egg tarts are easier to make. It is recommended to eat these egg tarts when they are still hot.
Characteristics: It has a crisp crust and tender contents.
Recommendation: Kam Wah Cafe & Bakery.
Address: 47 Bute St, Prince Edward, Kowloon, Hong Kong, China
3.Mango Pomelo Sago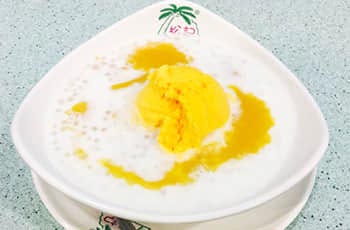 Mango Pomelo Sago is a type of contemporary Hong Kong dessert. (Invented in 1984 by Lei Garden, it has sustained its popularity up till now. This dessert can be found on the menu of many Chinese restaurants and dessert stores in Hong Kong as well as Singapore and Taiwan). It well combines the aromas of tropical fruits: mango, pomelo and coconut. It is quite refreshing and nutritious.
Characteristics: It has thick, juicy, chewy contents
Recommendation: Chee Kei (Tsim Sha Tsui Branch)
Address: 52 Lock Rd, Tsim Sha Tsui, Kowloon, Hong Kong, China
4. Hong Kong-style Milk Tea ('silk-stocking milk tea')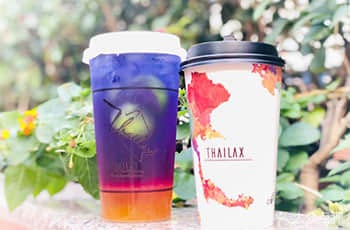 Hong Kong-style milk tea is a tea drink made from black tea and milk. (It is usually part of lunch in Hong Kong tea culture.) Ceylon Tea imported from Sri Lanka offers a premium fragrance and viscosity.
Characteristics: It starts with bitter taste, followed by refreshing sweetness.
Recommendation: Kam Wah Cafe & Bakery
Address: 47 Bute St, Prince Edward, Kowloon, Hong Kong, China
5. Egg Waffle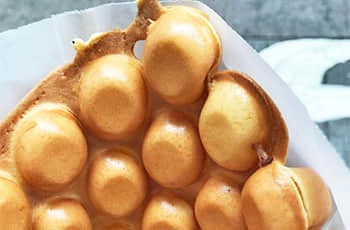 An egg waffle is a spherical egg-based waffle popular in Hong Kong and Macau, and is an eggy-leavened-batter cooked between two honeycomb shaped plates of semi-spherical cells. It is golden. The ingredients include eggs, sugar, flour and egg wash.
Characteristics: It has the flavor of eggs and milk and has a delectable taste
Recommendation: Mammy Pancake (Jordan Branch).
Address: 219 Temple St, Yau Ma Tei, Hong Kong, China
Salty and spicy delicacies:
1. Cart noodle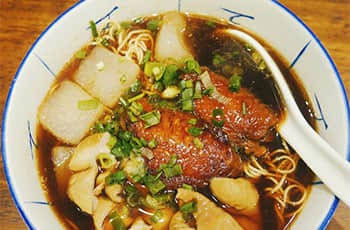 Cart noodle is a kind of à la carte noodle which became popular in Hong Kong in the 1950s through independent street vendors operating on roadsides and in public housing estates in low-income districts, using carts. The various ingredients can all be chosen for oneself: pig skin, pig's blood, garlic chives, fish balls, squid, pig strip, cattle strip, sausage, marinated eggs, Shahe fen (wide Chinese noodle made from rice) and udon (thick wheat flour noodle used frequently in Japanese cuisine). The pricing is agreeable.
Characteristics: The delicious noodles are floating in a thick broth.
Recommendation: Liangliang Noodles Shop
Address: 14 Science Museum Rd, Tsim Sha Tsui East, Hong Kong (close to Mody Rd).
2. Fish Balls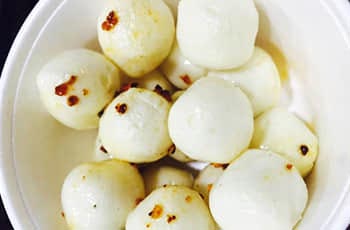 Fish balls are a common food in southern China, Hong Kong, Macau, Southeast Asia and overseas Chinese communities. Even the convenience stores sell fish balls. They are made with fish paste and boiled in a soupy broth. For spicy fish balls, curry or satay is used in the broth. For natural fish balls, clear soup is used. Curry fish balls are the most popular.
Characteristics: Delicious, smooth and appealing.
Recommendation: Tsui Wah Restaurant (Central Wellington Street Branch)
Address: 2B,15-19 Wellington St, Central, Hong Kong, China
3. Stuffed Trio (Three Stuffed Treasures)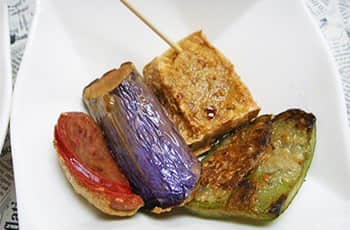 Stuffed three treasures are a snack that allows you to choose your own adventure. One can pick between four and five fried foods. Selections usually include eggplant, tofu, sausages, bitter melons, green peppers and bell peppers. Use a toothpick to thread up the fried treasures and dip it in the soy sauce.
Characteristics: It is delicious and tender
Recommendation: Tao Heung Super Pier 88
Address: 3F Grand Plaza, 639 Nathan Rd, Mong Kok, Kowloon, Hong Kong, China
4. Hong Kong Wonton Noodle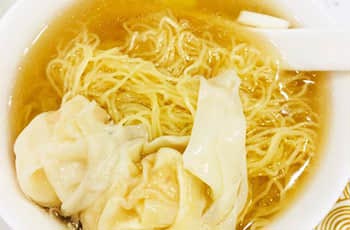 For many of us living in Hong Kong, a bowl of wonton noodles is the among the great comfort foods. The dish takes fresh shrimps and pork with a ratio of 7:3. The broth is made by long simmered pig bones, fresh fish and small shrimps. The noodle is made of egg noodle.
Characteristics: It has tasty juicy and refreshing noodle.
Recommendation: Wing Wah Noodle Shop
Address: 89 Hennessy Rd, Wan Chai, Hong Kong, China
5. Beef Brisket Noodle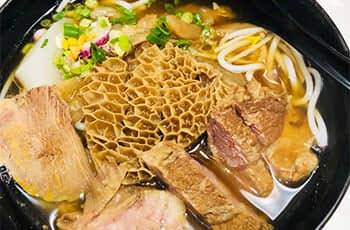 The stewed curry brisket noodle with clear soup is a common dish. Derivatives include Beef Brisket Noodle and Beef Brisket Rice Vermicelli. They all have different tastes.
Characteristics: tender, smooth and delicious
Recommendation: Sister Wah Beef Brisket
Address: 13A Electric Rd, Causeway Bay, Hong Kong, China
Have a question?
OR
Are you eager to begin your Chinese cultural journey?
Drop us a line and we will promptly connect you with our leading China expert!