Harbin International Ice and Snow Festival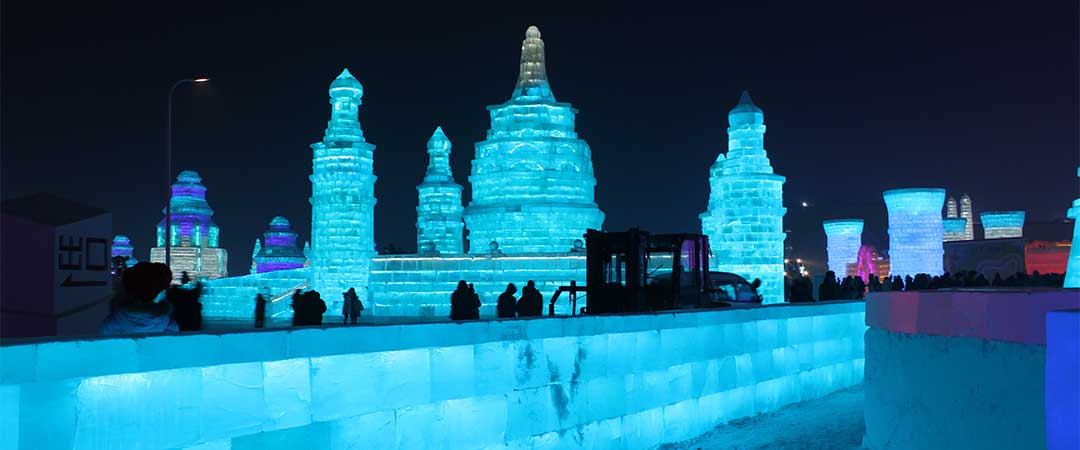 Harbin International Ice and Snow Festival is the first celebration taking ice and snow as a theme, which is the tradition in the northeast of China. It was officially established in 1985, and was based on the conventional Garden Party of Ice Lanterns.
The festival is held annually on January 5th, lasting until the end of February. The time of the Ice and Snow Festival spans the New Year, Lantern Festival, and International Skiing Festival.
Major Venues and activities for the Festival
Located in the northeast of China, Harbin is regarded as the cradle of ice and snow art. Given its arctic climate and the advantage of geography, assorted winter sports are actively carried out, including winter swimming, snow football, alpine skiing, a competition of ice sculpture, speed skating matches, an exhibition of ice and snow, and the Ice and Snow Film Festival.
Zhaolin Park
The Ice-lantern Garden Party is held in Zhanglin Park, and uses natural ice and colored lights to create a variety of ice buildings with unique shapes. There is an International Competition of Ice Sculptures and other interesting sports meetings in the park. It offers new ice entertainment facilities and sumptuous landscapes of ice and snow for tourists.
Address: No.39 Senlin Street, Daoli District, Harbin.
Harbin Ice-Snow World
There are castles with different themes, and it's just like entering into a fairy tale world of ice and snow. Visitors are stunned by the awesome examples of ice art, magnificent ice sculptures, and special performances based on the festival theme. It is also a center for leisure and recreation including ice bars, an ice maze, and ice restaurants. Sports enthusiasts have a chance to experience exciting snow sports, such as ice climbing, ice golf, snow fights, and ice archery. The most impressive activity for visitors is the 300 meter long slide and 6 ice roads.
Address: North bank of Songhua River, Songbei District, Harbin
Harbin Sarlin Park—a park on the frozen river in winter
Various huge art ice sculptures are on display, and a classical Russian building with incomparable construction. In a chilly winter, it is a perfect place to admire winter swimming and skiing competitions. There are a lot of winter activities here that you wouldn't even dream of, such as horse riding, dog sleds, and ice slides.
Address: Stalin Park, South Bank of the Songhua River, Harbin.
Sports Activities
A football game on the snowfield is the newest winter sport. Even though it is not a formal football match, it holds considerable charm for sports fans. While they are wearing a thick suit, the sportsmen are safe from being hurt. Although participants cannot perfectly display their skill in the game, it becomes even more interesting for its unpredictability.
Snowmobile:Riding a snowmobile is an exhilarating experience. On the 400-meter ice racing track, snowmobiles reach speeds of 130km per hour. Snow fog is raised by the anti-slip wheels.
Read more Popular Winter Activities in China
Ice Culture
Harbin Ice and Snow Festival stems from the traditions of northeast China. People make various types of ice lanterns and hang them outside, and children like to bring ice lanterns to play on the street when the festival is coming. With the development of techniques, artists use their fertile imagination to make the delicate ice artworks and a dreamy ice world.
Ice lanterns: Ice lanterns are made of large ice cubes with artistic shapes and carving, decorated with multicolor lights. There are ice artworks based on different themes depicting traditional Chinese icons, cartoon images, buildings, and flowers.
Snow Sculpture: Snow sculpture is the highlight of the International Ice and Snow Festival. In the Sun Island Scenic Area, there is a splendid ice carnival with the theme of "peace, friendship, and development", to create a dramatic ice-snow landscape.
Ice sculpture: The raw material is the ice from Songhua River, carved using shovels and files to create the ice art. The Ice and Snow Festival is an exhibition and activity of cultural exchange. Ice sculpture artists and amateurs from America, Canada, Singapore, Russia, and China take part in the competition. What's more, Harbin's ice lanterns will be displayed overseas.
How are the huge ice buildings dismantled after the festival?
In late February and early March, most parts of the ice start to melt, and the garden is not opened to the public to avoid falling pieces of ice. The huge ice buildings are finally blasted and removed using heavy machinery.
Travel Tips:
Avoid Festivals: During the Harbin Ice and Snow Festival there are several festivals: New Year, Chinese Spring Festival and Lantern Festival. Avoid the holidays as far as possible. Otherwise, you have to spend a lot of time waiting in a long line.
Keep Warm: In winter, the temperatures in Harbin are about -30℃ to -10℃,Be prepared with sub-zero clothing including thick, waterproof gloves, skid-proof boots, a woolly hat, and a mask.
Protect your Camera: At low temperatures batteries easily go flat. Keep your camera warm, and carry a few spare batteries. Put your camera into a sealed bag before taking it from the outside into a warm room, and then don't open the bag for 2 hours.
Wear Sun Glasses: Staying in the snow for a long time, people need to have a sunglasses or snow glasses to protect from snow blindness.
Safety and Common Sense: When you walk on the snowfield, please don't lift each foot too high and put both hands in your pockets. Walk with measured steps to avoid slipping.
Recommended Harbin Ice and Snow Festival Tour: 4-Day Winter Experience in Harbin
Have a question?
OR
Are you eager to begin your Chinese cultural journey?
Drop us a line and we will promptly connect you with our leading China expert!