Xixi National Wetland Park is called "the kidney of Hangzhou" and is composed of "three Xi" (three "wests") of Hangzhou along with West Lake and Xiling. It is the first and only national wetland park in China, which integrates urban wetland, farming wetland and cultural wetland. It is a rare secondary wetland in the city with nearly 8 km of trails around the park. In early spring, you can go for a walk; in summer, you can pick water caltrops, appreciate lotuses, and go boating or fishing; in autumn, you can enjoy the sight of persimmon and listen to the reed flute; and in winter, you can look for plum flowers. Simply stated, you can take great pleasure here.
Xixi Wetland Park is divided into an east district and a west district. The East district has the representative scenic spots of the park—pond, green plants, reeds, pleasure boats and bluestone-paved roads. In the east district, 8 scenic spots are worth appreciating, including Yanshui Fishing Mansion, Qiuxue Nunnery, Xixirenjia Residence, Meizhu Mountain Villa, Shentankou Pool, Xiximeishu Cafe, Xixi Humble Cottage and Bo'an Nunnery.
On the basis of the traditional culture, the west district is also called "Xixi Wetland-Hong Park" with the Hong Family as its brand. Xixi Hong Park has profound historic and cultural deposits. It also has Hong's culture and Wuchang folk culture represented by the national-level intangible cultural heritage project of "Wuchang Dragon Boat Regatta and 18 Kinds of Martial Arts". Its main scenic spots include Visit to Ancient Jingyuan, Art Collection Village, Longevity Causeway, Qiantang Distinguished Family, Auspicious Cultural Museum, Opera Gallery and Wuchang Households.
Quick Facts
Chinese Name: 西溪湿地 Xī Xī Shī Dì
Duration: 1-2 days
Entrance fee: RMB 80 (It costs only RMB 65 if you book the ticket on the official website.) coupon ticket (including entrance ticket and battery-driven boat ticket): RMB 140 (It costs only RMB 115 if you book the ticket on the official website.) Tips: If you choose to book a ticket on the official website, you can pick it up at the service center with the valid text message on that day.
And you have to book a ticket online before 23:00 of the day before, and pay for the order within one hour, or the order will be invalid.
Opening Hours: It is open from 08:00 to 17:30 during April 1 to October 31 (tourists are forbidden to enter the park after it stops selling tickets at 16:30) and from 08:30 to 17:00 during November 1 to the next March 31 (tourists are forbidden to enter the park after it stops selling tickets at 16:30).
Address: Xixi National Wetland Park on the Tianmushan Road of Hangzhou City
Best time to visit: All year round
Bus Lines: There are many buses in Hangzhou downtown heading for Xixi Wetland, including bus No.830, K506, K310, 306, 346 and Y13. You can take one of those buses and get off at Zhoujiacun Village (Xixi Wetland) stop, which costs RMB 1-4.
Official Website: http://www.xixiwetland.com.cn/
Highlights of Xixi Wetland Park: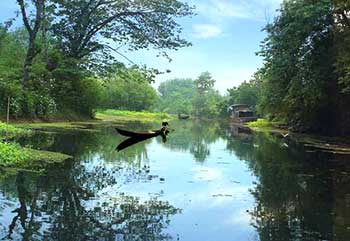 Shentankou Pool
Shentankou Pool:
With the surrounding river harbors connected and crossed, it is very suitable for holding the Dragon Boat Regatta because of its vast area, unique geographical advantages and environmentally friendly atmosphere. Therefore, Jiang Village holds a Dragon Boat Regatta here on every Dragon Boat Festival day with numerous tourists and boats. The Dragon Boat Race is a traditional folk activity of Xixi passed on from generation to generation. It adds a lot of pleasure to the lives of the local people and flavor to the local customs of Xixi. On both banks of today's Shentankou pool stand bluestone wharfs every 2 or 3 meters. There are dozens of folk houses, numerous stone bridges and several grape-vine covered pergolas along the banks, reflecting the lasting charm of Jiangnan water towns.
Yanshui Fishing Mansion:
The fishing mansion is located at the southern part of Yanshui Nunnery and close to Chaotianmuyang ecological preservation area. In the beautiful Fishing Mansion, you can enjoy the delicious food of Xixi and freshwater fish of various flavors and varieties. Yanshui Fishing Mansion has three kinds of smoke: willow smoke, cloud smoke and cooking smoke. In such a place of smoke and waters, it's almost as if you were touring in a fairyland. You can experience the life of native people by fishing by the lake, walking along the dyke and tasting the local rice wine.
Xialongtan Ecological Preservation Area:
The preservation area is the largest natural ecological preservation area in the wetland park. It possesses numerous types of aquatic and terrestrial vegetation and wild animals. Besides this, it is a paradise for birds. In order to enable the tourists to enjoy the sight of birds flying s, a platform has been established for viewing the birds within the preservation area, while the sight of flourishing flowers brings pleasure to tourists.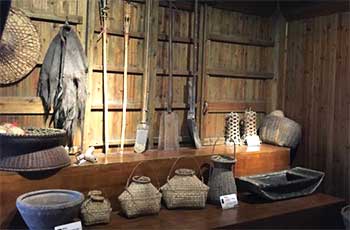 Xixi Households
Xixi Households:
This is an opportunity to observe the living conditions of the local agricultural households of Xixi. The articles presented in the "Xixi Households" are for daily use, farming and fishing. Many of them are owned by agricultural households of ancient Xixi.
Travel Tips:
Combination of boating and walking: East District represents the essence of the natural landscape of the Xixi Wetland. It is the best way to feel the natural ecosystem by taking a boat across the complex watercourses.
Electric boat (it is a big boat, taking nearly 1 hour): There is a wharf for the grand boat at the main entrance to Zhoujiacun Village. The grand boat does a circuit around 4 wharfs (Zhoujiacun Village – Yanshui Fishing Mansion -- Shentankou Pool -- Jiaolu Grange -- Zhoujiacun Village). You can disembark at any wharf for sightseeing and then return to the boat. Or you can disembark at Shentankou Pool and continue to go sightseeing on foot.
Sculling boat (charged on an hourly basis and holds no more than 6 people): If you have enough time, it is recommended that you spend 2 hours taking a sculling boat to enjoy the life of a hermit. The sculling boat takes the inland river. Its line and wharfs are different from the grand boat. It can take you to the more serene areas of reeds. Sometimes the boatmen may sing a song, tell some stories or chat with you. Then you can visit Hezhu Street and the Wetland Park.
Taking a battery-driven vehicle: This is the most labor-saving way. The operating range of battery-driven vehicle: Gaozhuang Village—Museum,Gaozhuang Village—Hezhu Street,Hezhu Street—North Gate. You can visit scenic spots, including Jiangcun Village Slow Life Block, Hezhu Street, Green Causeway, Hongzhongbieyan Restaurant, Qushui Nunnery, Xiximeishu Cafe, Zhoujiacun Village, Gaozhuang Village, Lianhuatan District for Viewing Birds and Xixi Paradise.