Located in the northwest of West Lake, Hangzhou Botanical Garden is filled with green plants, just like a huge open-air botanical museum. Visitors often come here to enjoy the landscape, take photos and breathe fresh air during the holidays. In early spring during the flower show of plum blossoms, the botanical garden welcomes the most visitors. Because of the warm and moist weather of Hangzhou, the garden scenery appears variously in the four seasons. It is divided into several sections according to the different varieties of plants. For instance, there is an azalea garden and a peach garden for spring sightseeing; in summer, leagues of bamboo forests flourish at the northeastern corner of the garden; in autumn, there are osmanthus and crepe myrtle gardens and a chrysanthemum exhibition; in winter, there are wintersweets and camellias. Over a thousand varieties of herbal plants are growing at the Baicao (hundred herbs) Garden.
Quick Facts
Chinese Name: 杭州植物园 Háng Zhōu Zhí Wǜ Yuán
Building time: In 1956
Duration: 2-4 hours
Entrance fee: RMB 10/person
Opening Hours: 07: 00-17 : 30
Address: Taoyuanling No.1, West Lake District, Hangzhou City
Best time to visit: All year round
Bus Lines: Take bus No.7, 27, 87, 103, 807, j807 or Y6 and get off at Yuquan Stop.
Highlights of Hangzhou Botanical Garden: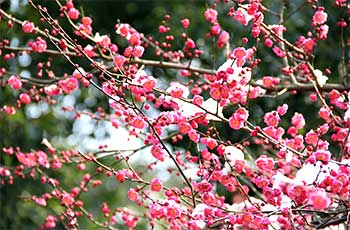 Enjoy Plum Blossoms at Lingfeng Mountain
Enjoy Plum Blossoms at Lingfeng Mountain:
Located at the east side of Lingfeng Mountain, the garden specializes in plum blossoms. There are 45 different types of plum and over 5000 plum trees. In early spring each year, Hangzhou Botanical Garden hosts a large flower show entitled "visiting Lingfeng for Plum Blossoms", and other exhibitions of plum blossom miniscapes and winter jasmine, adding aesthetic appeal and cultural content. When plums are in bloom, the whole mountain turns red with the trees shrouded in fragrant blossoms, attracting thousands of tourists and becoming a great event of early spring in Hangzhou.
Azalea Garden:
Next to the Baicao Garden, the Azalea Garden covers an area of 3 hectares, with over 70 varieties of azaleas, including spring azalea, summer azalea and Japanese azalea. There is an Elaeocarpus forest of nearly 0.7 hectares to the east of the Azalea Garden. Simple wooden houses are hidden among the tall trees and in the deep forest offering great natural interest. In the Azalea Garden, there are rustling green trees, distinguished varieties, a carpet of green grass, and various colorful azaleas. When azaleas bloom, the beautiful flowers present a picturesque landscape. When there are no flowers, the garden itself speaks of abundance, verdancy, and tranquility.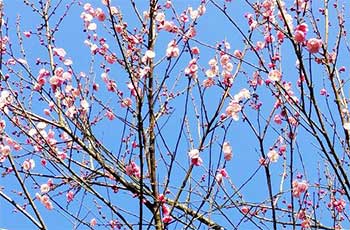 Peach Garden
Peach Garden:
The Peach Garden is located at the south side of the scenic spot of "visiting Lingfeng for plum blossoms", with 16 varieties of peach blossoms and over 1,000 peach trees. There are several theme halls, including the scientific exhibition hall, plant pressing studio and vegetable garden. It is used as a learning base for secondary and primary students to receive science popularization education and participate in summer camp activities. The leisure area includes farmers' restaurants, barbecue and tea houses.
Osmanthus and Crepe Myrtle Garden:
The garden is located in the north gate of the botanical garden and adjacent to the Azalea Garden. It was completed in 1958, covering an area of 3.6 hectares. The garden gathers more than 2,000 osmanthus trees of over 20 varieties, including Thunbergii, Latifolius, Aurantiacus and Fragrans, and over 300 crepe myrtles. There is also a "King of Aurantiacus" with the height of over 10 meters and a trunk diameter of 1.05 meters, which is the bright spot of the whole garden. When osmanthus bloom, the garden is full of charming fragrance. The garden holds a large flower show for osmanthus appreciation every autumn, which attracts thousands of visitors.
Herb Garden:
Located at the east side of the office building in the botanical garden, it gathers over 1,000 varieties of herbal plants. It is a living specimen garden for popularization of medicinal plants and teaching practice. It has received a great number of students every year. Given that different plants require distinctive living environments, the garden applies gardening art and deploys plants through simulating nature according to the original terrain. This is a specialized garden of exquisite layout and abundant varieties.