Yuexiu Park is the largest public park in downtown Guangzhou. The landmark of Guangzhou, the stone sculpture of the Five Rams is located here. The park has beautiful natural scenery. The mountains and water offer a suitable place for walking and exercising. It is also a good choice to climb mountains or enjoy flowers here. There are many historic sites in Yuexiu Park. Visitors may find a section of ancient city wall in a building named Zhenhai to safeguard the city in the sense of Fengshui. Guangzhou Museum is located right in the building. People can access the site in Yuexiu Park.
Quick Facts
Chinese Name: 越秀公园 Yuè Xiù Gōng Yuán
Constructed: 1926
Estimated visit duration: 1-3 hours
Tickets: free
Address: No. 988, Jiefang North Road, Yuexiu District, Guangzhou, Guangdong Province, China
Open hours: 6:00 - 22:00
The best time to visit: from March to October
How to get there:
1.Take Bus No. B2, 109, 110, 111, 185, 201 or 550 and get off at Yuexiu Park North Gate Station
2.Take Metro Line 2 and get off at Exit A of Yuexiu Park Station. It takes only 10 minutes to the Park
3.take Metro Line 5 and get off at Xiaobei Station. Walk for 500 meters to the south to reach the Park.
Highlights of the park
Yuexiu Park is a comprehensive park in Guangzhou. It has been there for well over 80 years since its establishment in 1927. The highest peak in the park is a branch of Baiyun Mountain. The hill was at different times named Yuexiu Mountain, Yuewang Mountain and Guanyin Mountain. It is the starting point of Guangzhou and it has the central axis of the city. People find it has a close relationship with Canton history and culture. Currently, Yuexiu Park has a total area of 690,000 m2 with seven hills and three artificial lakes. This national park is an AAAA-level tourist scenic spot. It is one of Top 100 Renowned Gardens in China. People believe that it is one of the Top 8 Scenic Spots in Guangzhou, or otherwise known as Rams City (Yang Cheng).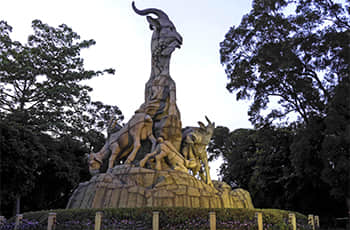 Five-Ram Statue
Five-Ram Statue
The five-ram statue sits on the Muke Hill of the Park, and is a key cultural relic of Guangzhou. It was built in 1959 by three sculptors, Yin Jichang, Chen Benzong and Kong Qiuchuan. The whole stone statue is carved from 130 pieces of granite. It is more than 10 m high and has a volume of 53 m3. This sculpture is regarded as the symbol of the city.
Grave of Shaowu Emperor and His Loyal Officials
In the late years of the Ming Dynasty, Zhu Yu, brother to Longwu Emperor was exiled to Guangzhou. In 1646, a Shaowu Government was established as the army of Qing Dynasty drove into Shanhai Pass to claim the country. The government was put to an end by its mighty rivalry 40 days after its establishment. The Grave was relocated for the construction of the Stadium in 1955 to Muke Hill and was listed as a relic protected by Guangdong municipal government.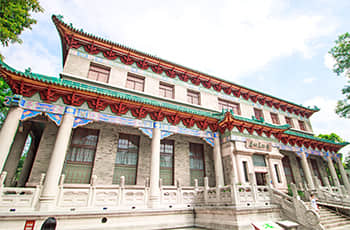 Guangzhou Museum of Art
Guangzhou Museum of Art
Located on the east side of Zhenhai Building on Yuexiu Mountain Town, Guangzhou Museum of Art is a modern cultural building with traditional Chinese architecture style. Its predecessor was the Zhongyuan Library. In 1927, a senior member of Kuomintang, Mr. Li Jishen initialed the project and architect Yang Xizong was invited to conducted the planning. The steel-concrete composite structure was completed in 1930, resembling the Wenhua Hall as in the Forbidden City in Beijing. In 1957, upon the suggestion of Mayor Zhu Guang, Guangzhou Municipal Government approved the establishment of the Museum, which is one of the earliest art museums established in China. In 1957, new gallerias behind the building were constructed, commemorating separately Mr. Gao Jianfu and Mr. Chen Shuren.