Located in the old town of Xiguan, this street stretches from Shangjiu Lu and Xiajiu Lu in the east to Dishifu Lu in the west, and traverses Baohua Lu and has a total length of well over 1200 meters. This commercial street features a collection of Laoxiguan food culture and Lingnan food culture and folk customs. Lingnan is a geographic area referring to the lands in the south of the Nanling Mountains. The region covers the modern Chinese provinces of Guangdong, Guangxi, and Hainan as well as modern northern Vietnam. The typical buildings along the Street show the South Fujian style verandas. They shield residents from constant rains and intense sunlight and help provide a cool temperature.
Quick Facts
Chinese name: 上下九步行街 Shàng Xià Jiǔ Bù Xíng Jiē
Constructed: 620 A.D.
Estimated visit duration: 2-3 hours
Tickets: free
Address: Liwan District, Guangzhou City, Guangdong Province, China
Open hours: 24 hours
The best time to visit: September to November
How to get there:
1.Guangzhou South Railway Station on Guangzhou Metro Line 2 to Shangxiajiu Pedestrian Street on Line 6
2.Guangzhou South Railway Station on Guangzhou Metro Line 2 to Shangxiajiu Pedestrian Street on Line 1
3.Airport Line of Northern Branch of Line 3 to Shangxiajiu Pedestrian Street on Line 1
4.take Bus No. 251 and 238 and get off at Kangwang South Road Station
5.take Bus No. 530 and get off at Hepingzhong Station and the Shangxiajiu Pedestrian Street is within walking distance.
Highlights of the street
The street is about 800 meters long and offers Lingnan style verandas. You can find delicacies provided in time-honored eateries and traditional snacks where the Lingnan culture can be sensed everywhere. Morning tea at Tao Tao Ju, shrimp dumplings at Guangzhou Restaurant, rice noodle roll at Yin Ji Chang Fen, and Double Skin Milk Pudding are all opportunities for gourmet foods.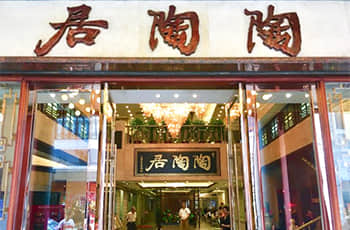 Tao Tao Ju
Tao Tao Ju
Founded in 1880, it is probably the oldest restaurant in Guangzhou. Its trace of history can be felt from the contents on the menu. Natives will line up for tea every day from very early. The rich choices offered here are all fantastic. Signature specialties include: chicken feet, shrimp dumplings, durian crisp, ginger and scallion chicken, steamed custard buns (Nai Wong Bao), Shunde milk pudding and siu mai queen.
Lin Heung Tea House
This tea house has been a good place for a local resident to drink tea and have meals for well over a century. Of all the dishes on the menu, the takeaway "Chinese cake" – lotus seed cake – is highly popular for its fineness and fragrance, and lives up to the reputation of "Top Lotus Seed Cake". Local people favor chicken cookies and almond cookies and visitors bring them home as souvenirs.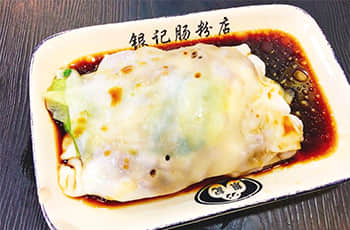 Yin Ji Chang Fen
Yin Ji Chang Fen
Do visit the time-honored rice noodle roll eatery. The rice noodle is made right in front of the eatery. Many people are drawn by the marketing method. Combos are provided with thin-wrapped rice rolls such as chicken congee and premium gourmet rice roll. There are a variety of fillings. People think highly of the cordyceps flower (fungus with healing properties) and lap cheong (beef sausage).