Chen Clan Ancestral Hall is the alias of Chen's Academy. Chen's Academy was established in the 14th year of Qing Guangxu (1888) and was completed in 1894. Chen's Academy is the largest, best decorated, and most preserved traditional Lingnan ancestral building in Guangdong. It is known as the "Pearl of Lingnan Architectural Art". Since the beginning of the 21st century, Chen's Academy has been enlisted in the "Guangzhou Cultural Name Card" with the title of "Chronicles of an Ancient Ancestral Hall". It has become the most renowned cultural and artistic museum and a famous tourist attraction in the Lingnan Area.
Quick Facts
Chinese name: 陈家祠 Chén Jiā Cí
Constructed:1888-1894
Estimated visit duration: 2-3 hours
Ticket: RMB 10 per person and 50% off for students with proper student ID cards and children
Address: No. 34, Enlongli, Zhongshan 7th Road, Liwan District, Guangzhou, China
Opening Hours: 8:30 – 17:00
Best time to visit: All year round
How to get there:
1.Take Bus No. 17, 85, 88, 104, 107, 109, 114, 125, 125a, 128, 193, 204, 233, 250, 260, 286, 413, Tour 1 or Tour 2 and get off at Chenjiaci Station. It is a short walk away.
2.Take Metro Line 1 and get off at Chenjiatun Station, and the attraction is within walking distance.
Highlights of Chen Clan Ancestral Hall
The hall is representative of the traditional architecture in Lingnan style. The exquisite "brick carving, wood carving, stone carving, clay sculpture and pottery sculpture" can all be seen there. There are many traditional crafts to see in the Folk Art Museum, such as Canton (yue) embroidery, Cantonese furniture, which offers access to traditional culture.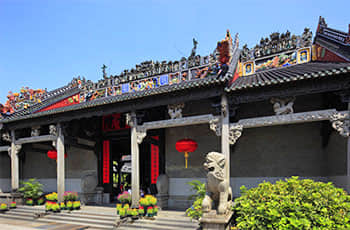 The architectures of Chen Clan Ancestral Hall
Architectural style
It features both the style of general Chinese architecture and that of the Cantonese artwork ornaments. The whole building faces south, and covers an area of 15,000 m2. The main building by itself covers an area of 6,400 m2. The complex consists of 19 buildings with two yards, five rooms and nine halls. With its ingenious decorative folk art architecture and decorative art it is known as the "three carvings, three plastics, one cast iron" and also as the "Bai Yue Guan Yu".
Scale
The grand hall features a majestic layout and momentum. The decorations therein are exquisite and magnificent. No wonder it is considered to be the epitome of Lingnan style decoration craft. The following is the introduction to the largest Lingnan ancient architecture in terms of Lingnan style and its decoration craft. 'We will brief about the craft of brick carving, wood carving, stone carving, clay sculpture, pottery sculpture and grey sculpture.' Chen Clan Ancestral Hall is also known as Chen's Academy. As the name suggests, it was the clan and academy of people who share the surname of Chen across 72 counties of Guangdong Province. As the largest clan ancestral hall in Guangdong Province, it provides abundant and the most representative works of Lingnan folk architecture art.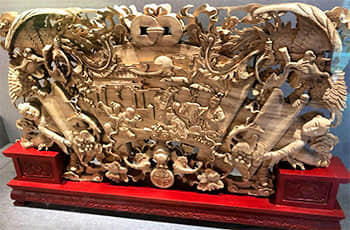 Wood Carvings
Wood Carvings
The number of woodcarvings in Chen's Academy is just magnificent and rich content can be found here. On the first door beam, wood carvings tell historical stories and folklore, such as 'Wangmu's Birthday', 'Ancient Summit in Spring and Autumn', and 'The General's Seal'. Among them, the most prominent one is the group of woodcarvings of Cao Cao offering feasts at Tongquetai Building in the 'Romance of the Three Kingdoms', in which Cao Cao's generals are competing with their martial skills as Cao watches from the high place. The top generals Xu Huang and Xu Chu are arguing over the award of a silk robe. All the figures are vividly pictured.