Located in the northeast of Guangzhou, Baiyun Mountain is one of the famous mountains in Guangdong (alias Nan Yue). It has been known as the "first show of Yangcheng" since ancient times. Baiyun Mountain is a wide mountain with more than 30 mountain peaks, and is a branch of Jiulian Mountain, the highest peak in Guangdong. It covers an area of 20.98 km2, and the main peak is 382m. The scenic area features lush forests, peaks, and a rich water system. One can have a panoramic view of Guangzhou and Pearl River from there. Whenever it is clear after a shower of rain or in the late spring, the mountain has misty clouds. This is the where Baiyun Mountain got its name.
Quick Facts
Chinese name: 白云山 Bái Yún Shān
Suggested time: 1 day

Tickets: RMB 5 per person
Preferential ticket: RMB 2.5 for per person for full time students with students' ID cards, minors between the ages of 6 and 18, and seniors between the ages of 60 and 64 with valid certificates.
Free: Children aged 6 or below/under 1.2 meters in height, seniors aged 65 or above, servicemen, retired military cadres, and disabled persons with valid certificates. (For attractions therein, one has to pay extra money: Mingchun Valley, RMB 10; Forest of Steles, RMB 5; Moxing Hill, RMB 5; Peach Valley, RMB 5; Yuntai Garden, RMB10 yuan; role models, 20% off (holding valid certificates.)

Address: Baiyun Mountain Scenic Spot, Guangyuan Middle Road, Baiyun District, Guangzhou
Open hours: 9:00 – 23:00
The best time to visit: fall

How to get there:
1.Take the special line bus to Baiyun Mountain from the stop on Yuehua Road;
2.Take Bus No. 111, 46, 109, 110, 175, 179 or 240 to Yiquan Road at Shahe and walk up the mountain
3.Take Bus No. 24, 63, 285, 245 or B16 to Yuntai Garden first, and then take the cable car (the path is 1672 meters in length) up the mountain.
Highlights of Baiyun Mountain
Many people choose to go to Baiyun Mountain on public holidays. Baiyun Mountain Scenic Area is the first of the new "Eight Attractions of Yangcheng". Baiyun Mountain welcomes many visitors even in the ordinary days, not to mention holidays. Baiyun Mountain has multiple entrances, each offering a different view. There are many forests and brooks to be admired. Lovely scenes can be found for each tour.
Luhu Park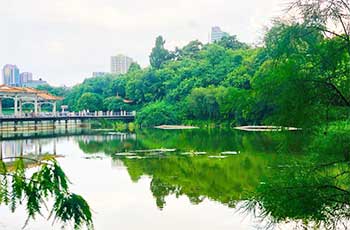 Luhu Park
Luhu Park has beautiful scenery in all seasons. The spring lagoon is surrounded by Bauhinia blooms; its summer features lush greens; the scene in Luhu is resplendent with fruits; while in the winter it is dressed in a burning sea of red forests. The scenery of Wuhu Park is also rich and distinctive. In the morning it is gloriously lit by sunbeams, and in the evening by the gentle glow of sunset. When night falls, the light and colors reflect off the lake with extraordinary beauty. 'Sunset Glow over Luhu' (Lake) is listed as one of the eight scenic spots in Baiyun Mountain.
Moxing Hill
Formerly known as Biyun Peak, Moxing Hill is located between Sujiatun and Longhugang in Baiyun Mountain. As the highest peak of Baiyun Mountain, with an elevation of 382 meters, it is the most renowned peak among its peers of Baiyun Mountain. The scenes of Moxing Hill are different in various weather conditions. On a rainy day, you can see the unique style of "Clouds over the top and underneath Baiyun Mountain". When it is clear, the Shahe Town on the east, the Pearl River on the south, the Down Town of Five Rams and Huangpo Cave on the west, which are all parts of the South Gate of China, can be seen in the grand modern picture of Canton. Moxing Hill includes attractions such as Villa Hostel, Jiulong Spring, Guangzhou Forest of Steles, Shuangxi Villa, and 'Wind in the Pine Forest'.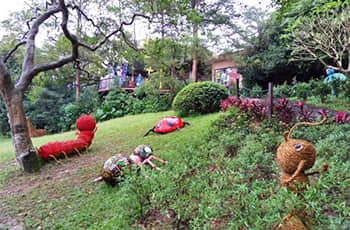 Mingchun Valley
Mingchun Valley
Mingchun Valley is located on the Dishui Rock Valley between the "Tiannan First Peak" and "Jiulong Spring" in Baiyun Mountain. It covers an area of more than 70,000 m2 and was once the largest natural bird watching area in China. Birds in the giant aviary of Mingchun Valley include the top-level and second-class birds under protection, such as red-crowned cranes, peacocks, and yellow-bellied pheasants. Over 150 varieties can be found there. The grand aviary and the natural scenery of Mingchun Valley provide a nice place for bird watching and is an educational base in Guangzhou. There are also attractions such as the 'Parrots Paradise', 'Natural Bird Cage' and the Science Exhibition Hall.