Situated at the juncture of Jiangxi and Fujian Province, Mount Wuyi is China's renowned scenic spot and summer resort. Classified as a Danxia landform, it is among the first batch of major scenic spots at a national level. Titled both as the World Natural Heritage and World Cultural Heritage, Mount Wuyi is divided into a natural conservation area and a scenic area.
Home to 2,527 species of plants and 5,000 species of wild animals, the natural conservation area of Mount Wuyi is the ecosystem which is the most well protected and has the richest variety of species compared to others at the same latitude. In an effort to protect the ecological environment, the natural conservation area has no longer been open to the public since 2010.
The part of Mount Wuyi that is open to visitors is its scenic area around the west of Chongyang and Xingcun.
Quick Facts
Chinese name: 武夷山 Wǔ Yí Shān
Highlights: Tea, Nine-bend River (Jiuqu River), Thin Strip of Sky.
Duration: 1-2 days
Entrance Fee: RMB 140-160
Opening hours: 8:00-17:00
Best time to visit: June to September
Address: No. 72, Guanjing Road, Sangu Holiday Resort, Mount Wuyi County-level City, Nanping City, Fujian Province.
How to get there: About 15 kilometers away from downtown Nanping, Mount Wuyi scenic area can be reached by taxi and bus No.3, 4, 5, 6 and 7 to arrive at Xincun Village station.
Highlights of Mount Wuyi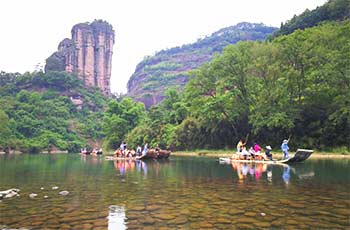 Nine-Bend River
Nine-Bend River
Located at the south west foothill of Huanggang Mountain, the main peak of Mount Wuyi, Nine-bend River zigzags nine times along its way via Xingcun Village and flows as far as Mount Wuyi, and is therefore called Nine-bend River.
The fourth bend of the Nine-Bend River is where the TV series A Journey to the West shot one of its scenes where the White Dragon was born. The very best way to enjoy your stay there is drifting along the Nine-Bend River. A bamboo raft will take about half a day for you to drift down with the current from Xincun Village, while you can immerse yourself in the wonderful scenery alongside the river. It costs about RMB 100 for the rafting.
Dahongpao Scenic Area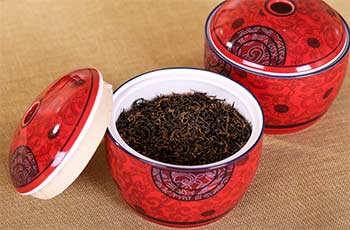 Dahongpao tea
Dahongpao Scenic Area is named after the seed trees of Dahongpao in the scenic area. What you cannot miss here is the largest temple in Mount Wuyi, Tianxin Yongle Buddhist Temple, and the renowned miraculous tea, Dahongpao.
Dahongpao is considered as the top among all types of tea. It grows on the steep rock wall of Jiulongke Rock, north of Mount Wuyi. Nowadays there remain only a few seed trees of Dahongpao, which makes the tea all the more precious and valuable. As the most famous tea on Mount Wuyi, it has a reputation as the king of teas. Tea masters claim that Dahongpao tea still retains its flavor and aroma after 9 rounds of brewing, while other types of tea can last no more than 7 rounds. That is how Dahongpao scored its title as the king of teas and is well known around the world.
If you want to have a look at the seed trees of Dahongpao, you'll have to walk quite a distance. You'll find cliffs to your left side and the tea garden to your right, where you'll have an opportunity to learn about the origin and different types of rock tea, as the tea garden is filled with all types of rock tea (Dahongpao is one of the rock teas, too).
The seed trees growing on the rock wall are no longer producing teas. The yield of the trees was quite scarce and was said to supply only the Central Committee of the CPC. During Nixon's visit to China in 1972, Chairman Mao gave him 200 grams of Dahongpo as a special gift while the annual yield of the seed trees was only 500 grams.
The Dahongpao tea bags here are very popular among visitors. You can buy some at the service center if you wish.
Apart from the seed trees of Dahongpao, the examples of grand architecture in Yongle Buddhist Temple are worth visiting too.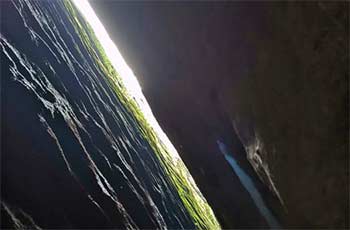 The caves in the Thin Strip of Sky
Thin Strip of Sky
In the scenic spot known as the 'Thin Strip of Sky', there is a huge rock called Fuling Rock that covers over three adjacent caves, namely Fuxi Cave, Lingyan Cave and Feng Cave. On top of the rock, more than 333 meters above the ground, there is a crack no wider than a meter. Standing in the cave and looking up, you will see a thin strip of the sky through the crack. That's why the scenic spot is called 'Thin Strip of Sky'.
Rare species make their homes here as you will find white bats within the crack, and square bamboos around the cave.
Travel Tips for visiting Thin Strip of Sky:
1. As the caves in the Thin Strip of Sky are very dark, you'd better take a flashlight with you, or you can rent one at the entrance for RMB 5.
2. Please make sure you wear a hat or you may be hit by the droppings of the white bats.
3. The narrowest part of the cave is only 30 centimeters (about a foot) wide. Make sure you are able to pass through it before entering.
Travel Tips for Mount Wuyi:
1.About tickets:
Since the scenic spots on Mount Wuyi are scattered, it will take more than half a day or one day to visit all the spots. All the scenic spots have different ticket packages on sale including one-day, two-day and three-day tickets. You can choose different ticket packages based on your own time schedule.
2.About visiting routes:
The scenic areas of Mount Wuyi are divided into four parts: from Tianyou Peak to Taoyuan Cave, from Nine-bend River to Wuyi Palace, from Thin Strip of Sky to Huxiao Rock, and from Dahongpao to Water Curtain Cave.
1) If you only plan to spend one day here, the top choice is to visit Tianyou Peak and Nine-bend River, every bit of which is a feast for the eyes. For tea lovers, strolling along the trails of the tea farm from Dahongpao scenic area to Water Curtain Cave will be a fantastic experience.
2) If you plan to spend two days here, you can visit all four of the parts. You can start by drifting on Nine-bend River to Wuyi Palace, and then visit Water Curtain Cave and Dahongpao Scenic Area on the first day. Water Curtain Cave and Dahongpao Scenic Area are connected by a walking trail. The scenery alongside the trail is beautiful and the trail is easy to walk on, which takes about 90 minutes to walk through.
On the second day, you can visit the south route of Mount Wuyi which contains Tianyou Peak, Thin Strip of Sky and Huxiao Rock. You can spend the morning in Tianyou Peak by climbing the trail starting from the Tea Cave, which takes about one and a half hours. While in the afternoon, you can enjoy yourself in Thin Strip of Sky and Huxiao Rock. Huxiao Rock is right at the exit of Thin Strip of Sky.
3) If you plan to spend three days here, you can appreciate not only all four parts of Mount Wuyi scenic area but also pay a visit to ancient towns like Xiamei village and Chengcun Village.