Compared to last month, the temperature is little bit higher, and the daytime average temperature is 16℃/60.8℉. There are likely to be about 26 rainy days in the whole month, the rest of the time it is mostly cloudy.
| | | | | |
| --- | --- | --- | --- | --- |
| | Average Maximum | Average Minimum | Highest Maximum | Lowest Minimum |
| ℃ | 25 | 16 | 30 | 13 |
| ℉ | 77.0 | 60.8 | 86.0 | 55.4 |
Cloudy Days: 4 days
Rainy Days: 26 days
What to wear and bring
Early June
In the early June, there are lots of rainy days, with light to moderate rain. The temperature is around 14℃/57.2℉. Casual pants and shirts are a comfortable clothing combination. Taking an umbrella with you all the time is also a good idea.
Mid-June
Compared to earlier, the middle period of this month is hot. The days are mostly rainy days and some cloudy days, with the minimum temperature around 16℃/60.8℉. You will need to wear short sleeves and shorts. But don't forget to bring an umbrella and carry rain gear.
Tips:
Weather on the Dragon Boat Festival
On the Dragon Boat Festival, the maximum temperature is likely to be about 30℃/86℉, and the minimum temperature around 17℃/62.6℉. On this usually cloudy day, you just need to wear short sleeves and shorts.
Late June
The weather is similar to mid-June, and there might be mostly rainy days, so the floors will often be wet and slippery. You should keep yourself safe with water-proof shoes. The temperature can be from 16℃/60.8℉ to 27℃/80.6℉. Short sleeves, with a skirt or shorts, and a jacket are adequate clothing.
Historical Dali Weather in June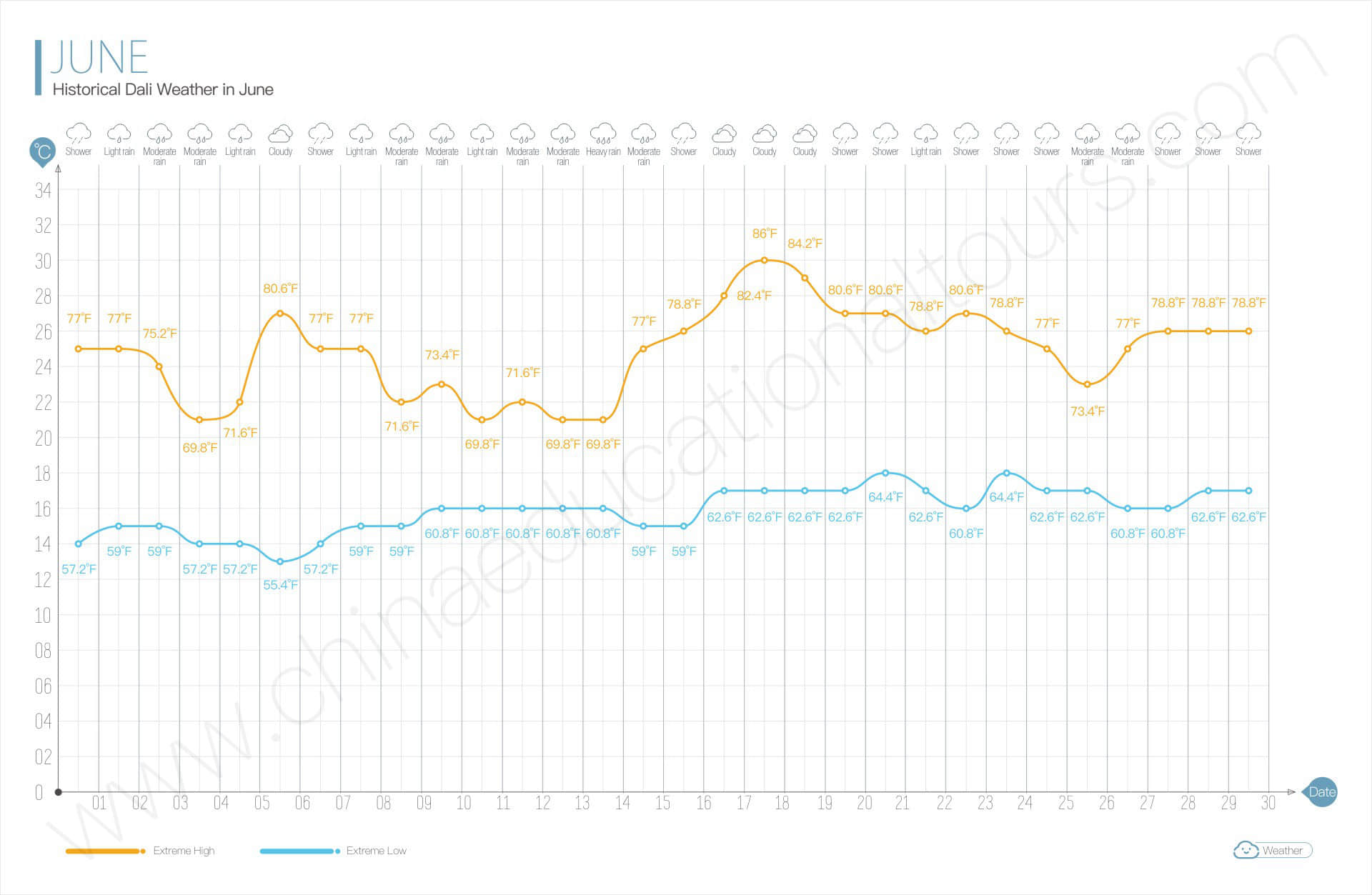 click here to enlarge