Starting from East Chang'an Street in the south and ending at the National Art Museum of China in the north, Wangfujing Street is the best known business street in Beijing and is 1,600 m long. Turnover volumes of daily groceries, hardware, electrical materials and appliances, clothing, shoes and hats, as well as jewelry and accessories of all kinds are large, making the land prices here extremely high.
Quick Facts
Chinese Name: 王府井大街 Wáng Fǔ Jǐng Dà Jiē
Built in: 1915
Duration: 2-3 hours
Entrance fee: Free
Opening hours: Access all day
Address: Dongcheng District, Beijing City
Best time to visit: All year round
How to get there: Take Bus 1, 2, 4, 10, 20, 103, 104, 120, 420, 802, 803 or 814, and get off at Wangfujing Station
How to get there by subway: Take Line 1 and get off at the Wangfujing Station
Highlights of Wangfujing Street
1. Shopping
Shopping malls, including Oriental Plaza, APM, Yintai Center Market and Beijing Department Store, collect in the Wangfujing area. The presence of brand stores and restaurants from home and abroad make it convenient to shop and have meals here.
China's time-honored brands can also be found here: shoes by Neiliansheng and Buyingzhai, silk by Ruifuxiang, scissors by Wangmazi, Chinese writing brushes (produced in Huzhou) and Inkstick (produced in Huizhou) by Daiyuexuan, antique jades by Jiguge, and tea by Yuanchanghou, cakes by Daoxiangcun, Guixiangcun and Xiangjugong. There are also items with unique ethnic characteristics sold here.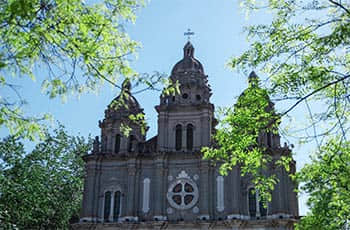 Wangfujing Church
2. Visit Scenic Spots
1). Wangfujing Church
As a Roman style church, Wangfujing Church perfectly integrates the architectural styles of the east and the west. Many events are held in the square in front of the Church. The Church is also a good place to choose to take wedding photos.
2). China Photo Studio
The site of China Photo Studio was chosen by Premier Zhou Enlai. Standard photos (28 cun, about 90 cm) with golden frames of Liu Shaoqi, Mao Zedong and Zhou Enlai are displayed in glass display cabinets in the Studio. This is a photo studio with a history and lots of stories.