It is well known that you should not miss these four pleasures when visiting Beijing: hiking the Great Wall, visiting the Forbidden City, eating Peking duck, and shopping in Xiushui Street. As one of the four symbols of Beijing, Beijing Xiushui Street has become a landmark for visitors from both home and abroad.
Quick Facts
Chinese Name: 秀水街 Xiù Shuǐ Jiē
Duration: 3 hours
Opening Hours: 9:30 - 21:00
Address: Core zone of Beijing CBD (Central Business District), the extended line of Chang'an Avenue
How to get there: Take Metro Line 1 and get off at Yong'anli Station
Street of Silk
With a global reputation for its silk, today's Silk Street has become a genuine "one-hundred-meter-long Silk Street" offering a whole street devoted to silk, including a special zone for fine silk, and the Silk Culture museum. Compared to other commodities, silk is the most popular product among foreign visitors, so that many of them pay a special visit here, along with their wives, for silk shopping.
Chinese Time-honored Brands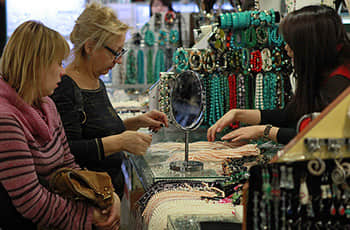 No other market matches Beijing Silk Street in attracting foreign buyers. At present, it has gathered 19 Chinese time-honored brands, such as Refosian, Quanjude, Tongrentang, Neilianshen, Shengxifu, Qianxiangyi, Liubiju and Daoxiangcun, and covers a business area of 5000 square meters, 1/4 of the total business area.
Bargaining
On the Street, stall holders may be seen bargaining with foreign customers in broken English while deftly tapping on a calculator. Foreign visitors are sometimes eager to come to this "folk trade center" just so that they can watch the drama.
Today's Silk Street
Now that merchants refrain from selling high-quality copycat products, Silk Street is transforming into a brand new image of "a cultural and innovative brand".
The Street is now well-appointed and offers a full range of options, including Chinese featured products such as brand clothing, artwork, pearls, silk, and antiques, as well as Peking duck restaurants, western-style coffee shops, fast-food restaurants and convenient supermarkets.