Located in the center of Niujie area, and covering an area of approximately 6,000 square meters, Niujie Mosque is the biggest and oldest mosque in Beijing. It was built in the traditional Chinese form of wooden structure, but it adopted the Arabian style of Islamic architecture with the detailed ornamentation of the main building. Tourists may visit the worship hall and also witness the worship of Muslims of the Hui Nationality.
Quick Facts
Chinese name: 牛街清真寺 Niú Jiē Qīng Zhēn Sì
Duration: 1 hour
Ticket price: 10RMB
Opening hours: Full day
Location: Unit 18, Niujie, Xicheng District, Beijing
Best time to visit: All year round
How to get there: Take the No. 10,48,88,23 night bus, No. 717 bus and get off at Niujie Mosque stop
Highlights of Niujie Mosque
1.Big Screen Wall
The Screen Wall is over 30 meters long with exquisite patterns such as plants, geometric lines, and Arabic characters which are usually used when Muslims decorate their mosques. However depictions of animals and people are forbidden.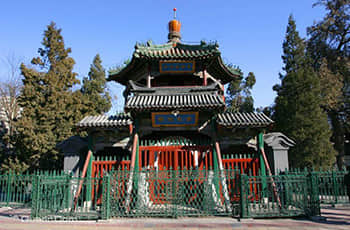 Moon-Watching Pavilion
2.Moon-Watching Pavilion
As you pass the Screen Wall, you will see the main entrance to the Mosque. The entrance is right below the Moon Watching Pavilion and it is usually closed except for the times of Lesser Bairam and Id al-Adjha. The Moon Watching Pavilion is about 10 meters high and above it hangs the Niujie Mosque plaque with its blue background and golden characters.
Notice:
Visitors should dress decently and those who wear knee-length shorts and skirts, or slippers, sandals, and the like are not allowed to enter.
If you want to take photos of the buildings and objects inside the hall or even get pictures of the believers, you will need to get permission in advance.
Remain solemn and keep quiet in the Mosque
There are many Halal restaurants and snack bars in Niujie where the Mosque is located. Visitors may have meals there or buy beef and mutton or other special food.