Built in the 26th year under the reign of Emperor Dading in the Jin Dynasty, Fragrant Hills Park, an imperial garden with mountains and forests, enjoys a history of nearly 900 years. With heavy forests and several historic sites, Fragrant Hills Park is a good choice for visits and a natural oxygen bar. Beautiful red leaves in autumn highlight the Park.
Quick Facts
Chinese Name: 香山公园 Xiāng Shān Gōng Yuán
Duration: 1-2 hours
Entrance fee: Busy season (April 1st-November 15th): RMB 10 Slack season (November 16th-March 31st next year): RMB 5 Single-trip cableway: RMB 60 per adult Coupon ticket: RMB 15 (covers fees for the Entrance and Biyun Temple)
Opening hours:
April 1st-November 15th :06:00~18:30
November 16th-March 31st next year:06:00~18:00
Address: Eastern Foot of Xiaoxishan Mountain in the Northwest Suburb of Haidian District, Beijing
Best time to visit: From April to November
How to get there: Take Bus 318, 331, 360, 630, 696 or 698 and get off at the Fragrant Hills Station; or take Bus 563 and get off at the East Gate of Fragrant Hills Station
Highlights of Fragrant Hills Park
1. Enjoy Flowers in Spring
Flower shows are held in April or May with over 200,000 flowers of various kinds in full bloom, presenting a scene like a sea of flowers covering over 5000 sqm. Ranunculus asiaticus (or Persian Buttercup) is the king of flowers. This is also a good time to go out and enjoy the flowers.
2. Enjoy Red Leaves in Autumn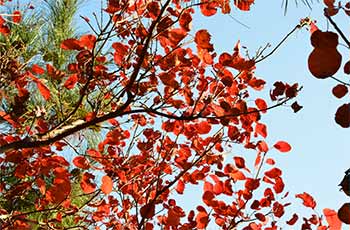 The red leaves in Fragrant Hills Park
The Park has hosted Red Leaves Cultural Events for over ten years in succession. There are many kinds of red maples on the Fragrant Hills, such as acer Monroes, trident maples and persimmons, with Cotinus coggygria (or 'smoke bush') covering the largest area. In autumn, the leaves of these trees turn bright red, coloring the Fragrant Hills red. The Senyuhu, Yuhuaxiu and Langfeng Pavilions are all good sites to enjoy the sight of red leaves.
Ten Best Sites to Enjoy Red Leaves
Yuhuaxiu, Kanyunqi, Senyuhu, Shuangqing Villa, Chanchu Peak, Jingcui Lake, Xianglu Peak, Xiangwu Cave, Heshun Gate, Xunlu Hill Senyuhu are all strongly recommended.
Suggested Visit Routes
1) Route 1: Walk for 5 minutes after entering the East Gate and arrive at Jingcui Lake to take photos and enjoy the scenery in this spot. (30 minutes)
2) Route 2: East Gate – Jingcui Lake – Cuiwei Pavilion, Shuangqing Villa – Xiangshan Temple – Langfeng Pavilion – Heshun Gate – Yutai Gate – Xianglu Peak (2 hours)
3) Route 3: North Gate – Biyun Temple – Xianglu Peak by cableway. Go downhill on the footpath and enjoy the red leaves. Visit Xiangwu Cave, Xishanqingxue, Senyuhu, Langfeng Pavilion, Yuhuaxiu, Zhao Temple, Jianxinzhai, etc., and leave from the East Gate. About 2 hours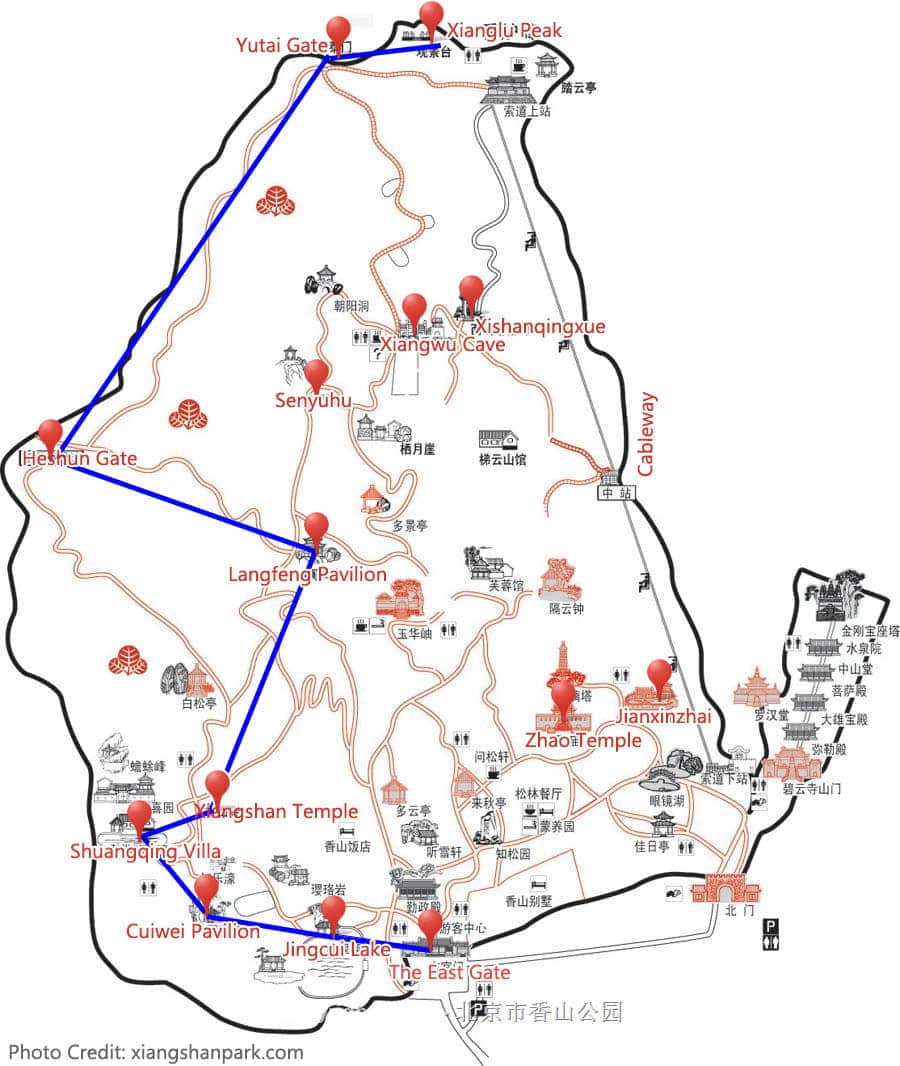 3.Cultural Relics and Historic Sites
Imperial gardens and palaces were built in the Yuan, Ming and Qing Dynasties and emperors would hunt and enjoy the cool here in summer and autumn. Cultural relics and historic sites here include Biyun Temple with its construction styles of the Ming and Qing Dynasties, wooden and gilded Five Hundred Arhats (the only one in China), Zongjing Dazhao Temple used to welcome the sixth Panchen Lama, and Jianxinzhai, a courtyard with distinctive features of the south of the Yangtze River.
Moreover, Sun Yat-sen Memorial Hall in Biyun Temple and Shuangqing Villa (Chairman Mao once worked and lived here) on the southeastern slope of Xiangshan Temple are worth visiting.