798 Art Zone is located in the northeast of Chaoyang District. It is a creative park which is located in converted factory workshops. It is currently the largest and most comprehensive art community not only in China but also Asia. The central part encompasses an area of 300,000 square meters. There are nearly 500 cultural and artistic organizations, of which more than 50 are from more than 20 different countries and regions. If you want to experience the richest artistic atmosphere, 798 Art Zone is the best place to start your journey into art.
Dozens of political dignitaries, including IOC's Lifetime Honorary Chairman Samarach, IOC Chairman Jacques Rogg and his wife, the Chairman of Swiss Confederation, and the crown prince of Denmark, have visited 798 Art Zone.
Quick Facts
Chinese Name: 798艺术区 Qī Jiǔ Bā Yì Shù Qū
Duration: 3-4 hours
Entrance fee: Free
Opening hours: 10:00-17:00
Address: No.4 Jiuxianqiao Road, Chaoyang District, Beijing
Best time to visit: All year round
How to get there: You can take buses No.401, 402, 405, 445, 909, 946, 955, 973, 988, and 991 and get off at the stop of Dashanzi Lukou Nan.
Highlights at 798 Art Zone
798 Art Zone occupies a large area a kilometer long and wide. The galleries, exhibition halls and art centers are scattered through the converted factory workshops.
The opening hours of the exhibition halls and art centers vary but are mostly from 10:00 to 18:00. Generally, the Art Zone is closed every Monday. Please schedule your visit with care. For ordinary tourists, it takes about half a day to enjoy the sights here. It may take you a full day if you would like to appreciate the displays and art works more seriously.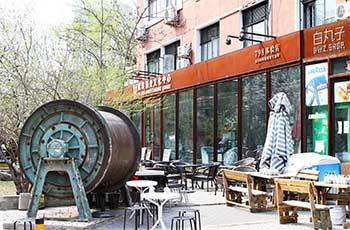 the exhibitions in 798 Art Zone
1. Exhibitions
In 798 Art Zone, there are a number of prominent galleries from various parts of the world, such as UCCA, Faurschou Foundation, and Pace. There are also many indigenous original art spaces, such as Long March Space, Tang Contemporary Art Center, Zero Factory, etc. Every gallery is unique. Each year, spring and autumn are the peak seasons for exhibitions. If you visit 798 Art Zone during this period, you will be able to enjoy the exhibitions of a great many world-famous artists. The 798 Art Festival which takes place each year is a major event in the park. Every September, the main galleries hold large-scale art parties in association with the Administrative Committee of Beijing 798 Art Zone. Here, a great diversity of quality exhibitions, music and cultural events are presented, allowing audiences to enjoy wonderful feasts of vision and sound.
2. Artistic Street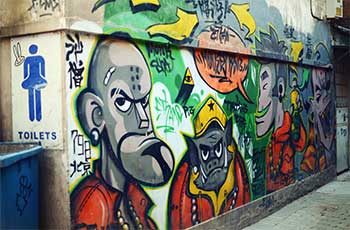 graffiti wall in 798 artistic street
The streets at 798 Art Zone are attractions which cannot be missed. There are all kinds of sculptures and graffiti on the streets, each with their unique characteristics. There is also a small locomotive. All such elements are worth seeing. It is also an ideal place for taking photos with unique styles.
Tips:
The restaurants and cafes in the park are expensive. You can bring some snacks and drinks if you do not want to eat here.
For most art works in the galleries and exhibition rooms, it is forbidden to take photos. Make sure to consult the staff in advance if you want to take photos of any art work.
The park is not conveniently located for transport. It is far from downtown Beijing, and there is a lack of road signs and guiding maps in the park.