What is the ultimate tourist experience? Tourists nowadays often expect something extreme, and hands-on, something to really remember.
China boasts numerous extraordinary and exquisite landscapes, which tourists are eager to visit – including those places seen in movies such as Avatar. Not surprisingly, many of these beautiful places can seem to be fairly inaccessible.
Tourists try to hang onto their memories by taking away souvenirs such as hundreds of photos, especially including 'selfies', and maybe a few cheap items to display once you get back home. But best of all is an emotional experience printed indelibly on your memory.
Strange as it may seem, tourists – especially young people – love to feel terrified. And this is even better when they have a guarantee that the experience is, in fact, totally safe.
So it is that China has hit on a brilliant plan to combine the fear factor with enjoyment of a splendid landscape by constructing glass bridges in its most picturesque and otherwise difficult to access tourist hotspots.
Top 6 Glass Bridges in China
There won't be time to visit all of the glass bridges on your trip to China. Here are the top 6 for you to consider.
1. Zhangjiajie Glass Bridge – the world's highest glass-bottomed bridge
China isn't the only country in the world to build glass bridges, but this one is longer (430 meters) and higher (300 meters) than all of the others. And it has been built to allow viewing of one of the most striking panoramas in the world.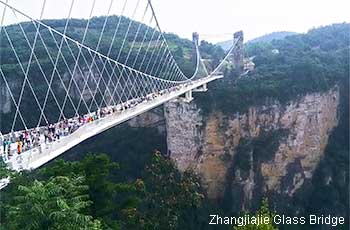 The 6 meter wide Zhangjiajie Glass Bridge connects the two sides of the Zhangjiajie Grand Canyon in Hunan Province, in the area where the popular movie Avatar was filmed. It has a steel frame supported by four pillars on the edges of the canyon. The walkway is a triple layer of more than 120 glass panels, each a 2 inch thickness of tempered glass.
There was a great deal of excitement about the opening of the Zhangjiajie Glass Bridge, and events were held to prove its strength and safety such as driving a car filled with passengers across the bridge, and people with sledgehammers proving it could not be smashed. Despite this, visitors are provided with protective shoe covers before they walk across, and are told not to run or jump or lean on the railings.
When it opened, park officials had allowed for 800 visitors at a time, a total of 8,000 in one day. Unfortunately, they discovered that 80,000 visitors were showing up daily, and they closed the attraction in order to upgrade the car parks, ticketing, and customer service arrangements. The bridge was successfully opened again four weeks later.
With this most popular of sites, make sure that you prepare by properly booking your visit. Read more>
Recommended Tour: 4-Day Zhangjiajie Avatar Tour
2. Hongyagu Glass Suspension Bridge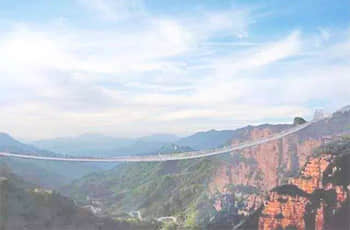 Hongyagu Glass Suspension Bridge is located at Hongyagu Scenic Area in Hebei Province, and links two peaks with the 488-meter long and 4-meter-wide glass suspension bridge. It officially opened to the public on Dec 24th, 2017.
Constructed using suspended-cable structure, the bridge is made of 1,077 glass panels of four-centimeter thickness, and accommodates up to 600 people at the same time. It has a vertical drop of 218 meters and its sway is a feature of the suspension cables.
Here visitors will enjoy an exciting adventure, while escorted by staff stationed along the bridge to help those who experience 'jelly legs' to get back on their feet.
3. The first 3D glass bridge in Ningxia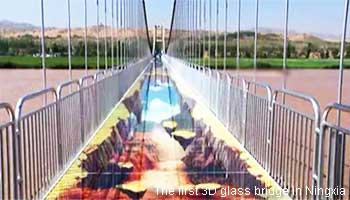 In 2004 a 2.6 meter wide, and 328 meter long, wooden suspension bridge was built across China's ancient, muddy Yellow River at Ningxia. Then in 2017, walking a mere 10 meters above the churning waterway suddenly became much more thrilling as the wooden panels were replaced by glass panels.
Some of the panels – two 60 meter sections – are clear, layered, tempered glass, allowing visitors to stare down into the rushing brown water below their feet.
However there are also two 75 meter sections with built-in 3D scenes cleverly painted into the glass layers, so that tourists can experience the thrill of feeling like they are perched above a steep, rushing waterfall, or staring down into a terrifying canyon.
As with other glass bridges, visitors are required to wear shoe covers, and all possible safety precautions have been taken.
4. The world's longest overhang glass bridge in Chongqing (Yunyang Longgang Glass Bridge)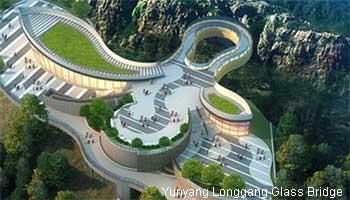 Yet another thrill can come from walking out onto a glass bridge that ends in midair.
Firstly, in 2015, a horseshoe-shaped, glass-bottomed cantilever bridge with a 26-meter overhang was opened to the public at Yunyang Longgang Geological Park, at the heart of Three Gorges Reservoir Area in Chongqing. The landscape of the area features caves, forests, mountains, and canyons.
However, the idea was then taken much further with the construction of another cantilevered skywalk bridge, the longest in the world. The terrifying, yet exhilarating, bridge is shaped like the letter 'A', and extends a massive 86 meters from the cliff wall, more than 200 meters about ground level.
Safety-conscious as ever, park officials only allow up to 30 people to walk on the bridge at any one time. Reaching the apex of the 'A', visitors find themselves supported high in the air, with breathtaking beauty all around.
5. The first suspension glass bridge in Guangxi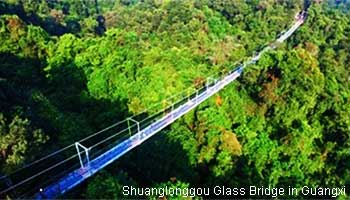 What can make the glass bridge experience even more exhilarating and terrifying, is if the bridge is a suspension bridge and so is moving about under your feet as you walk across it.
The Glass Bridge in China's SE Guangxi, crossing in the Shuanglong Ditch Primeval Forest, is regarded by some as the most beautiful glass bridge in China, and by others as the most terrifying.
It stretches some 199.9 meters over a 52-meter-deep valley in the Shuanglonggou virgin forest resort.
It has been made even more popular with special activities such as groups practicing yoga in a group strung out across the bridge, and others choosing to propose marriage, or even to get married, on the bridge.
6. Pingjiang Shiniuzhai glass bridge in Hunan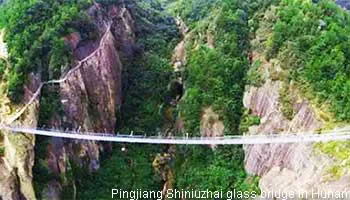 One of the first of the high glass bridges to be built is 300 meters long, 180 meters above the ground, and is at Pingjiang Shiniuzhai in Hunan Province, strung between steep canyon walls. Originally built with wood, it was converted to a glass bridge in 2014, and is sometimes called "Brave Man's Bridge" because of the courage needed to cross it.
It combines with a walkway along the cliff-side approaching the end of the bridge. There is also a glass elevator, to make it easier and quicker to reach the height of the bridge.
Activities such as eating a meal or practicing yoga have also been held here to demonstrate the strength and safety of the structure.
What's Next for Glass Bridges in China?
Already there are more than 40 glass bridges and glass walkways in China, all of them built in marvelous scenic areas. And glass bridges continue to gain popularity across China.
While crossing them may seem frightening, the real issue is whether they are in fact totally safe. Well, so far that has proved to be true.
There have been some cracking incidents. In one case the bridge was actually designed to make a cracking noise when visitors reached a particular point, and it was a deliberate ploy to heighten the fear factor and increase the thrill of the experience. There have been a couple of other minor incidents in which there never was any real danger, and no harm was done, because the bridges all have several layers of strong, thick glass. Workers are constantly checking and maintaining the bridges, especially around times such as the National Holiday when there will be extra crowds.
Already there are plans to construct a glass bridge that actually gives the illusion of being invisible, by using mirrored stainless steel for its structure, and black stone (which becomes reflective when wet) for the flooring. The plan includes two layers – one that doesn't have a see-through floor for the nervous tourists, and a lower completely glass-floored layer for the brave. Every seven minutes water will be sprayed onto the bridge to create a temporary cloud between the mountains.
Glass bridges are obviously here to stay, and if you don't include one in your planned trip to China then you will miss out on a very special experience.
Have a question?
OR
Are you eager to begin your Chinese cultural journey?
Drop us a line and we will promptly connect you with our leading China expert!