Top 10 Most Beautiful Places in China

China, being almost equal in size to Europe, is filled with countless lesser-known gems and hidden attractions waiting to be discovered. It is one of the oldest and largest civilizations in the world, and the Chinese people created a great many man-made attractions during their 3500 years of uninterrupted history. These diverse and astounding attractions stand side by side with remarkable natural wonders throughout this vast country. From the "Rainbow Mountains" of Zhangye Danxia Landform on the Silk Road to the "Fairyland on Earth" of Jiuzhai Valley in Sichuan, from Avatar's Hallelujah Mountain in Zhangjiajie to the Fujian Tulou Cluster in Xiamen, these are just some of the most beautiful places in China that you should not miss.
1. "Rainbow Mountains" - Zhangye Danxia Landform
The Rainbow Mountains were officially known as the Zhangye Danxia National Landform Geological Park, and are located just outside of Zhangye City, a historical town on the Ancient Silk Road. Vivid red, orange, and yellow stripes of sandstone make the mountains appear like rainbows. This geological park offers several hiking areas and viewing platforms for visitors to fully enjoy the color. You can also find basic hotels near the park if you want to see a stunning sunset and sunrise.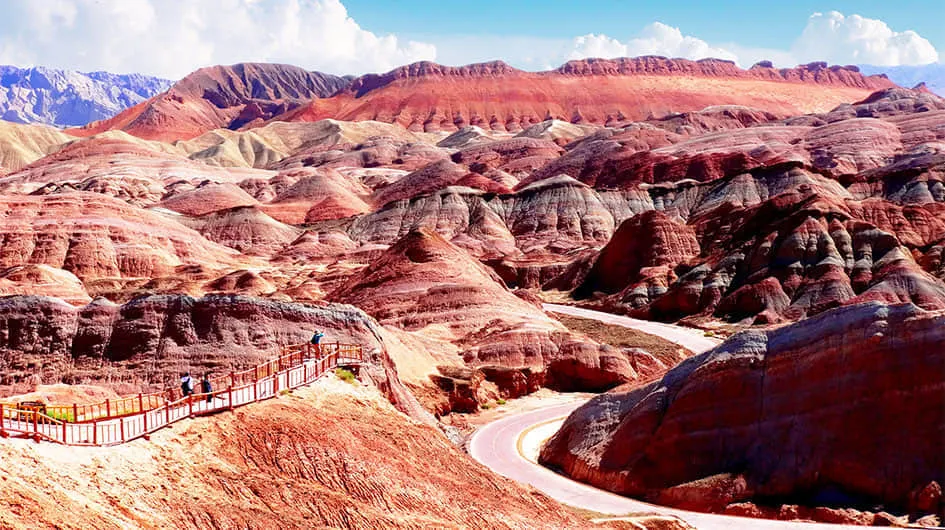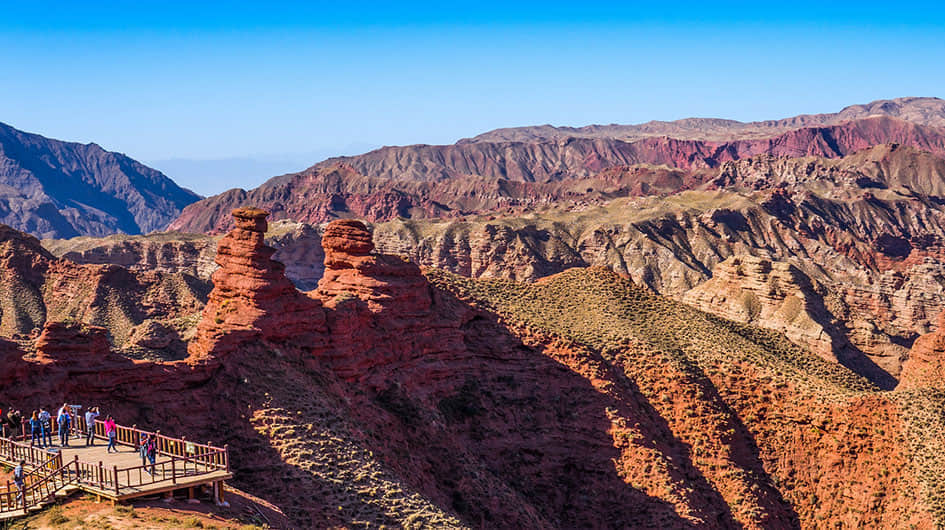 Travel Tips: It is not cost effective if you plan to visit the Rainbow Mountains as a single destination as it not located near any gateway cities. It is on the Silk Road route, so you can include it in your tour to Lanzhou (the capital city of Gansu Province), Dunhuang (Mogao Caves) and Jiayuguan (Jiayuguan Fortress on the Great wall) area. A daily flight is available from Xi'an to Zhangye.
2. "Fairyland on Earth" - Jiuzhai Valley in Sichuan
Located on the edge of the Qinghai-Tibet plateau, Jiuzhai valley is a Fairyland on earth, comprised of turquoise lakes, cascading waterfalls and a backdrop of multi-colored and forested mountain slopes. The elevation varies from 6,600 to 14,800 feet (2,000 to 4,500 m), causing the rushing water to flow between the placid lakes. This incredible landscape was formed over thousands of years by earthquakes and carbonate rocks. Huanglong Scenic area close by is also recommended as it is famous for its limestone formations, waterfalls and hot springs.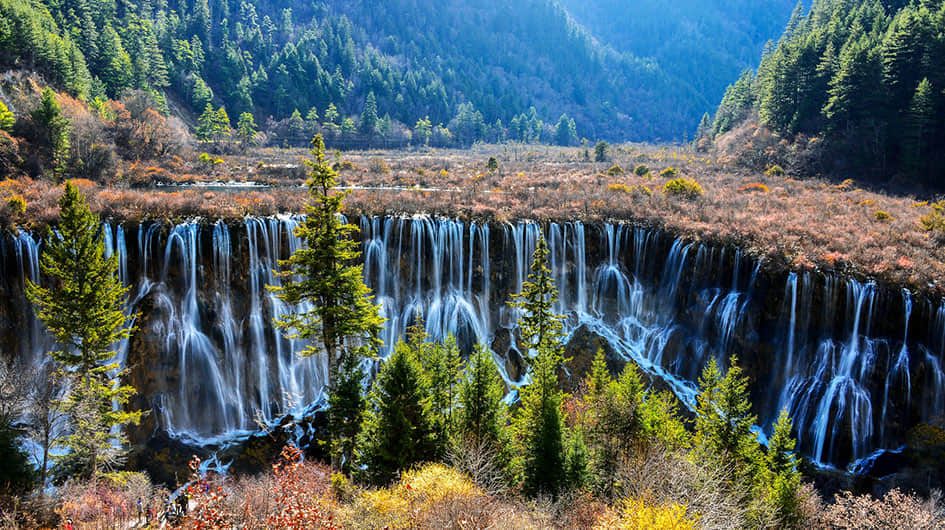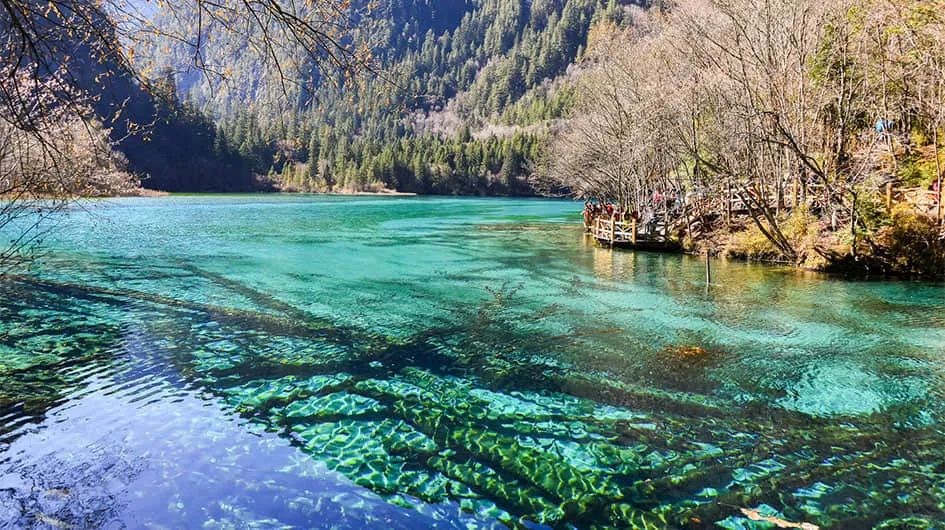 Travel Tips: Jiuzhaigou airport has one daily flight from Beijing, Shanghai and Hangzhou, two from Chongqing and six from Chengdu. So many visitors use Chengdu as the connecting city to Jiuzhaigou. You can include Chengdu as part of your trip as well.
3. "Utopian Land of Peace" - Yangshuo Town
Yangshuo is a scenic riverside town in southern China, and a haven for adventure travelers. The area is an excellent spot for rock climbing, hiking, caving, and biking. Different from the busy downtown, the surrounding countryside is tranquil and beautiful, with bamboo boats floating along the river, and farmers working in fertile fields bordered by towering karst peaks. Some of the most accessible karst scenery can be found a quick bike ride outside of town.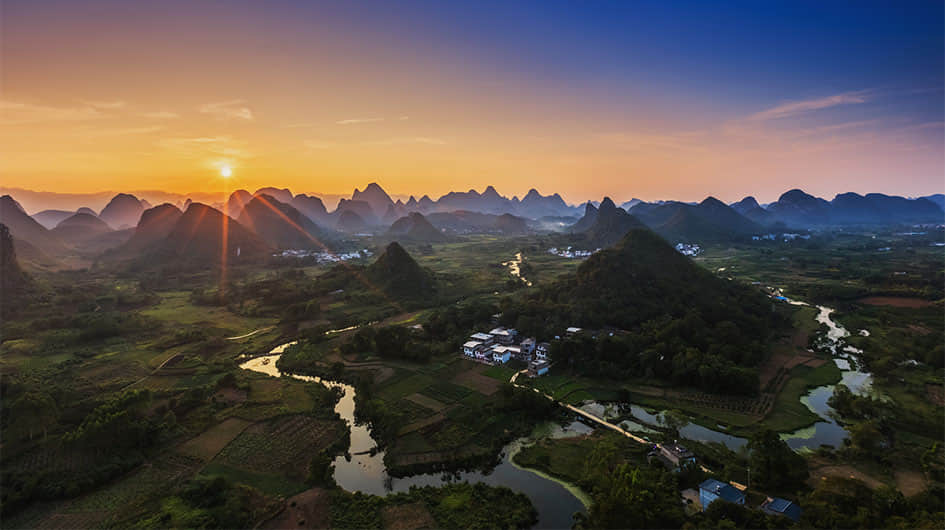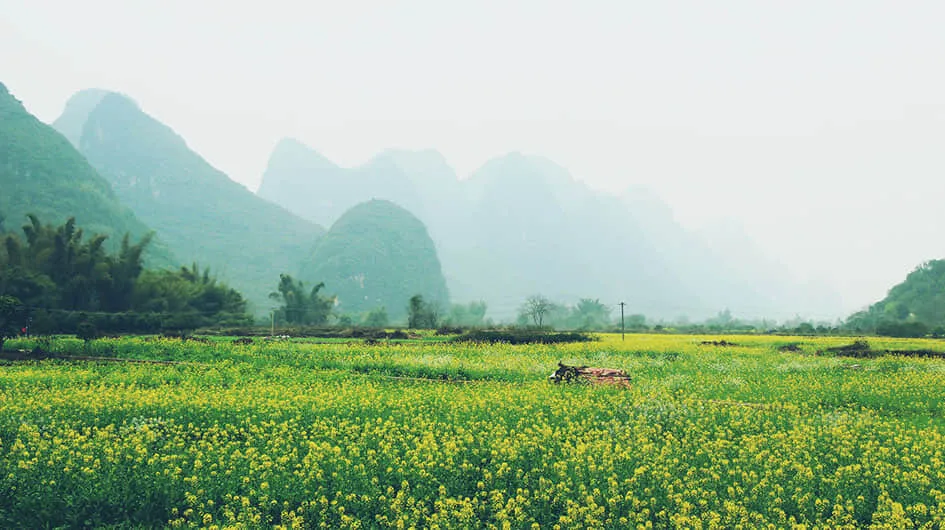 Travel Tips: The town is about 70 km from Guilin. Instead of driving, most visitors prefer taking a boat cruise on the Li River. It is a four-hour relaxing cruise through panoramic villages and past dramatic limestone Karst peaks. Limestone caves (Reed Flute cave, Silver Cave) and Longsheng Terrace fields are accessible and recommended.
4. "Holy Lake in Tibet" - Yamdrok Lake
This is a mountain lake nestled high up in the Tibetan plateau. The lake sits at an elevation of 4440 meters (14566 ft) and 110km (68miles) from the capital city, Lhasa. One of Tibet's three holy lakes, Yamdrok means "Jade" in the Tibetan language. According to Tibetan mythology, Yamdrok Lake is the transformation of a goddess and considered very holy. On sunny days (luckily they have a lot), it is breathtaking with the clear blue sky and turquoise waters beneath, surrounded by snow caped mountains.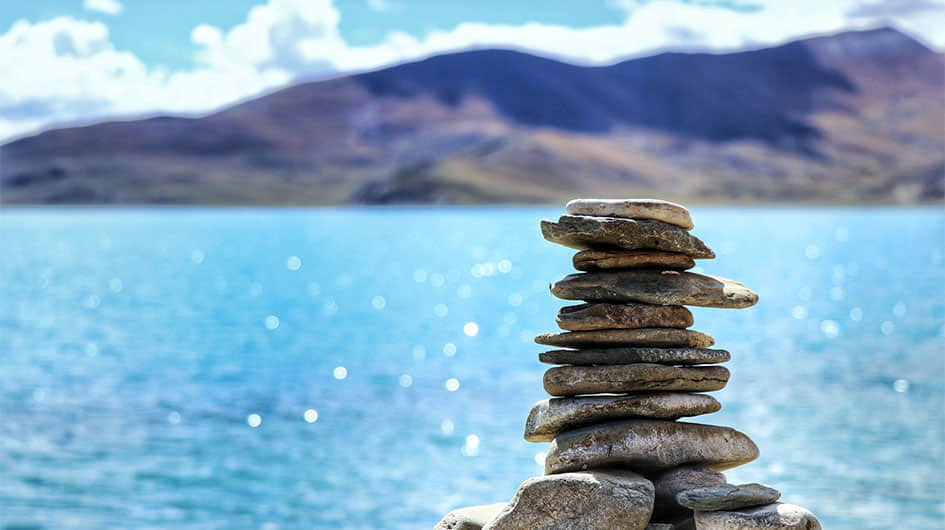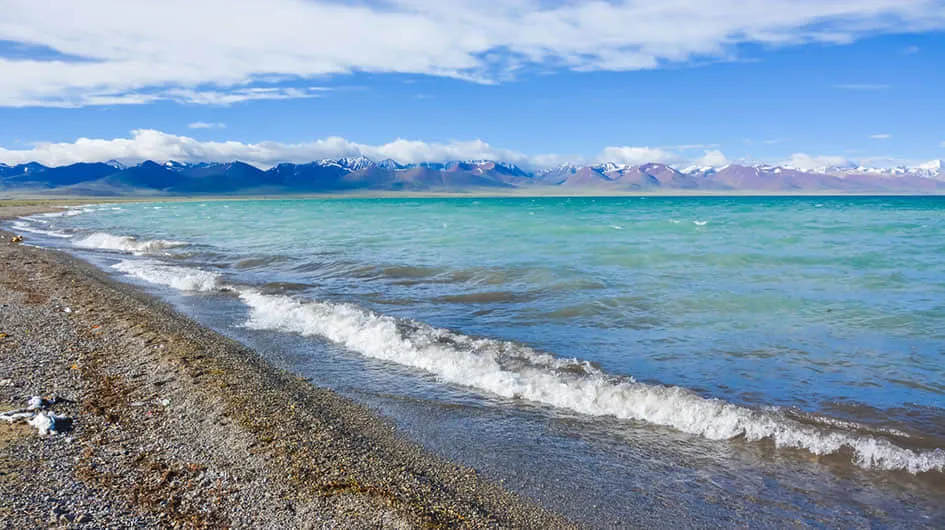 Travel Tips: The Lake is on the way to Shigatse and Mount Everest, so it can be included in your trip to Mount Everest. The classic route would be an 8-day tour starting and ending in Lhasa, including Lhasa (Potala Palace, Jokhang Temple, Norbulingka), Shigatse (the Palcho Monastery and Tashilhumpo Monastery), and Mount Everest Base Camp. Regular flights and trains are available to connect Lhasa and major mainland cities. The train ride is highly recommended for the view of the marvelous high plateau scenery of snowy mountains, vast grassland and minority villages.
5. "Real-life Chinese Ink Painting" - Yellow Mountains
The Yellow Mountains (Mount Huangshan), known as the "loveliest mountains in China", have played an important role in the history of art and literature in China. It inspired generations of poets and painters with its numerous grotesquely-shaped rocks and gnarled pine trees.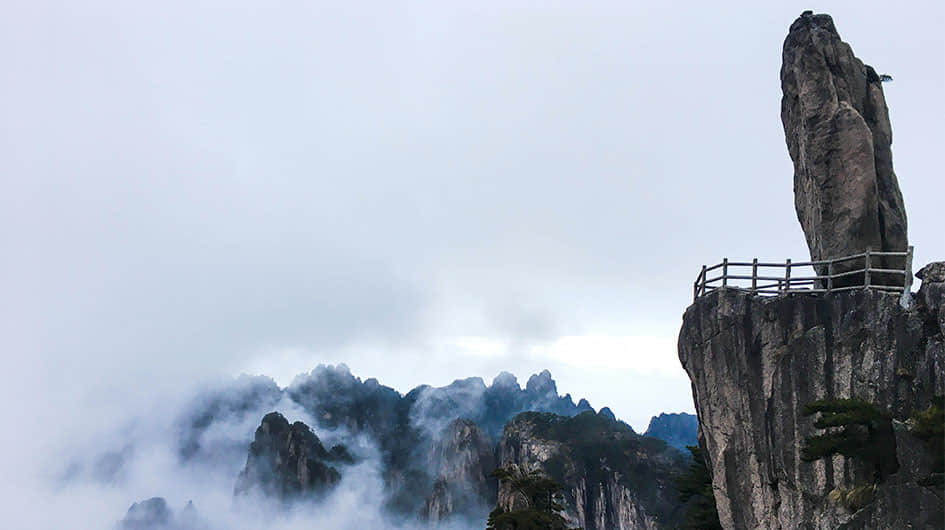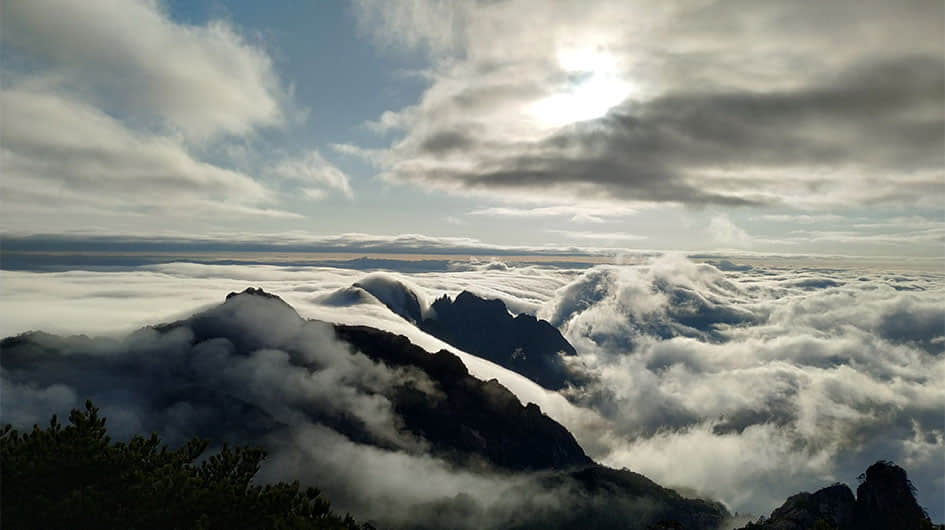 Travel Tips: You can fly to Huangshan City from major cities in China. If you happen to be in Shanghai, you can take the bullet train to Huangshan instead, it will take you only 2.5 hrs. Besides the mountains, the ancient villages nearby are beautiful and picturesque, among which the most beautiful ones are Xidi Village and Hongcun Village. They were listed as UNESCO world cultural heritage in 2000.
6. "Avatar Hallelujah Mountain" - Zhangjiajie National Forest Park
Zhangjiajie National Forest Park is the first national forest park in China. It is famous for its 3,000 vertical pillars, each hundreds of feet tall and covered in dense green foliage. One of these pillars is called the "Southern Sky Column", and it stretches 1074 meters(3,523 feet) into the air. It was the inspiration for the floating mountains in the movie "Avatar".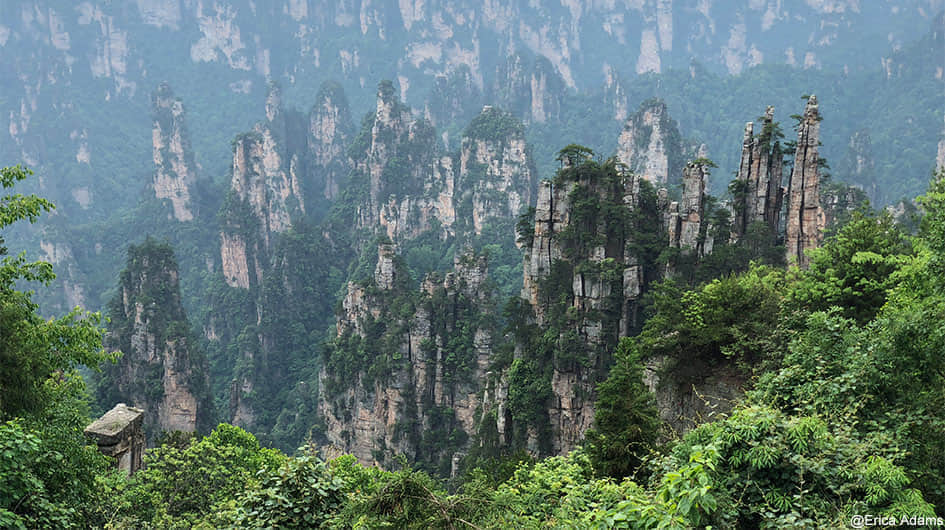 Travel Tips: Tianmen Mountain and the Big Glass Bridge at Zhangjiajie Grand Canyon are recommended to be included in your trip to Zhangjiajie.
You can fly to Zhangjiajie from major cities in China, such as Beijing, Shanghai and Guangzhou. The good news is that you can now take a bullet train to Zhangjiajie since December 2019.
7. "Mulan's Home" - Fujian Tulou Cluster
Tulou means "earthen building" in Chinese. These are a series of giant multistoried homes built with wood and fortified with mud walls. It was created by the Hakka people who fled from wars in central China from 11th to 20th century. Housing a whole clan of up to 1,000 people, a Tulou is known as a small kingdom, functioning as a little village or a small society.
Despite its name, the construction materials consist of far more than just mud. The foundations of the structures are composed of stones and the walls are made of fine sedimentary mud. Usually the mud was reinforced with spilt bamboo, mixed with egg white, glutinous rice and even brown sugar. The walls were as firm as modern concrete.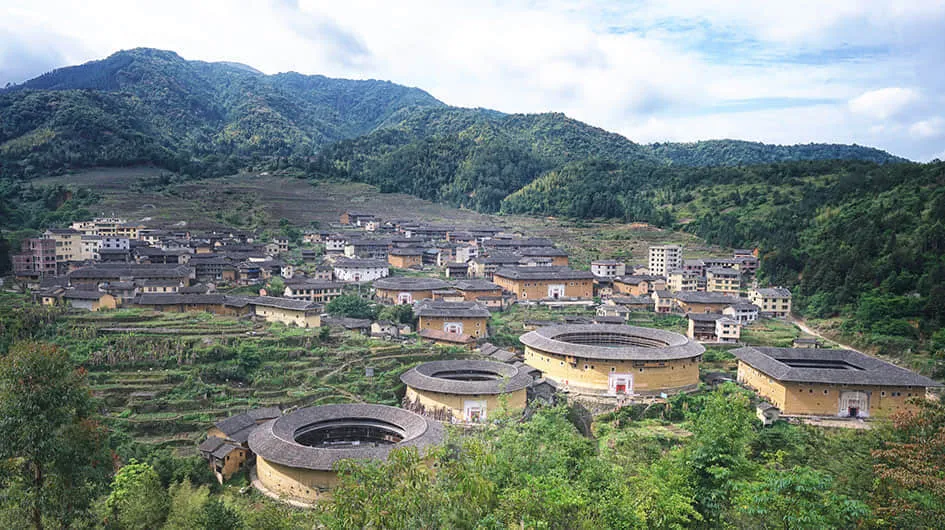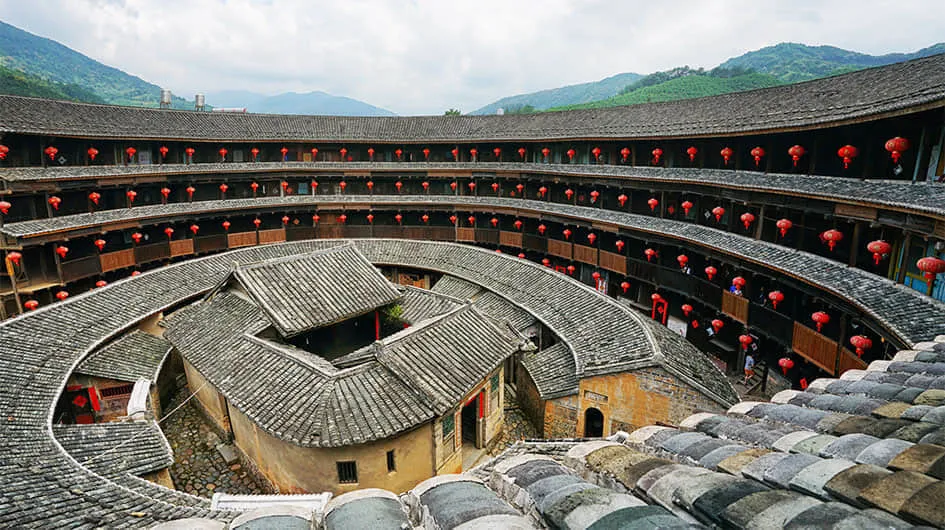 Travel Tips: You can find the most beautiful Tulou Clusters in Yongding and Nanjing County. The closest gateway city is Xiamen, Fujian Province, in southeastern China.
8. "The Palette of Colors" - Yuanyang Rice Terrace Field
Built up against the steep hillsides, the paddies were crafted by the bare hands of the Hani people over the past 1300 years. Generations of Hani people have cut hills into fields, filled the fields with rainwater, then grown rice to support their families.
The whole area covers 850 square miles, and the highest field carved into the hillside sits at 6,500 feet above sea level. The best time to visit the field is during sunrise or sunset when sunlight reflects off the mirror-like field. As 90% of Hani people live in this area, this will also give you a chance to experience the Hani culture such as the Long Street Banquet.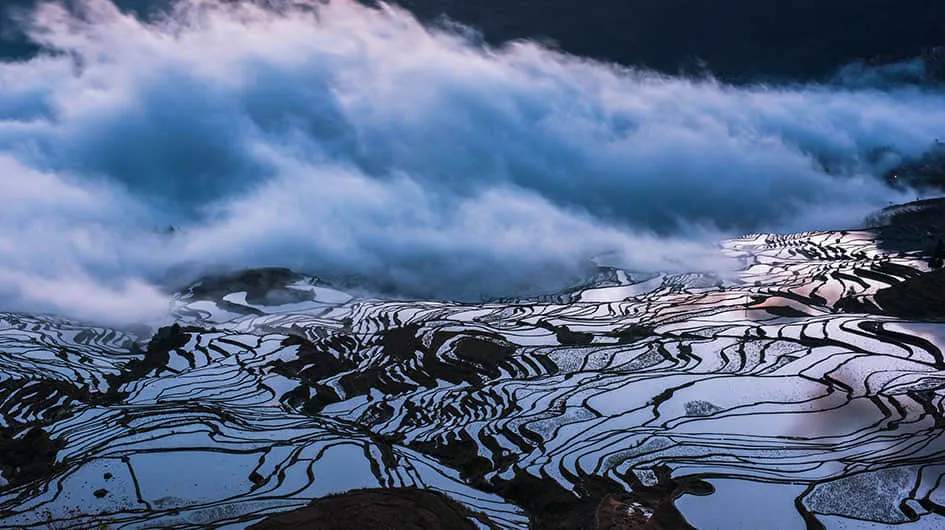 Travel Tips: The closest gateway city is Kunming, some 380 km (240 miles) away, about a 5hr drive. The classic route is starting from Kunming, along with visiting the Stone Forest, and then driving to Jianshui Old Town, and finally the rice terrace field of Yuanyang.
9. "Artist's Canvas" - Dongchuan Red land
Known as the "Red Land" due to its striking colors, the base color of the earth is tinted with oxidized iron. Nearly saturated with the mineral, the dirt has taken on a dark reddish-brown hue. Each family owns a piece of land and each plants its own preference of crops, creating this breathtaking landscape. You can see the different colors in the different seasons.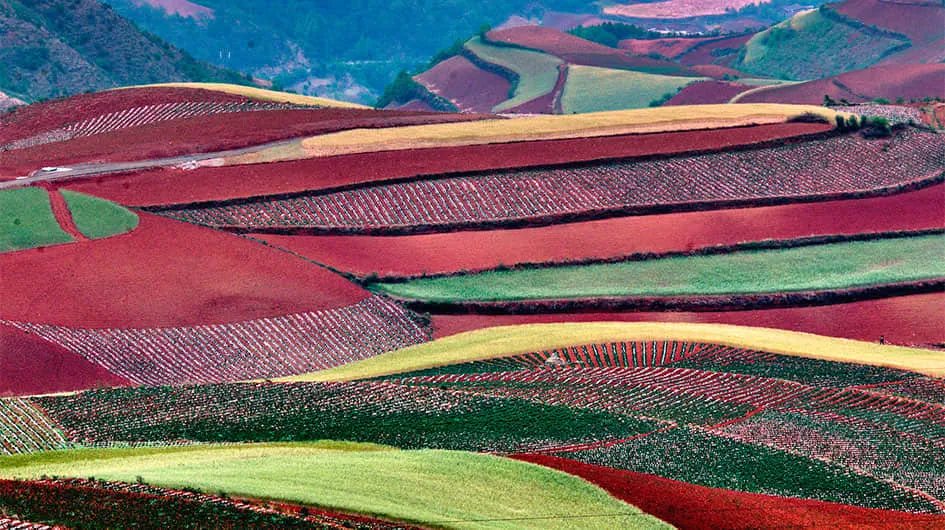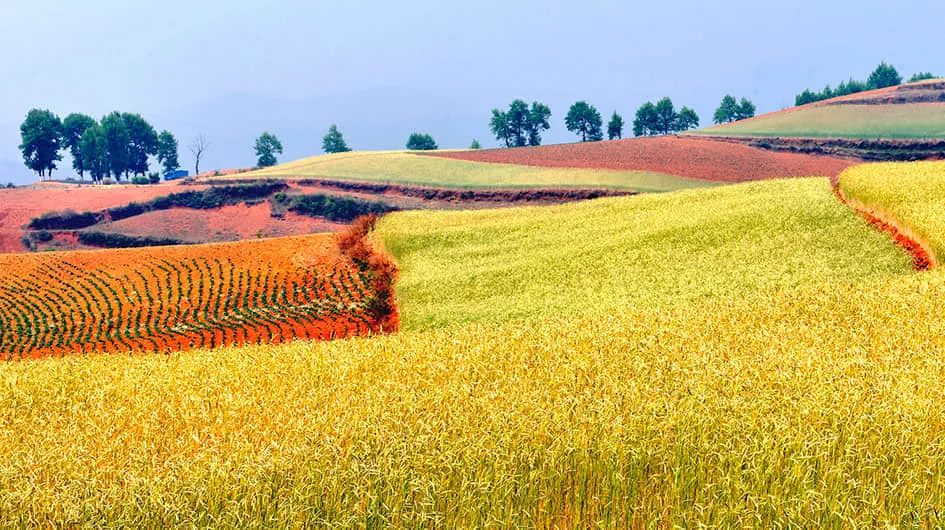 Travel Tips: It is about 250km from Kunming, you can do a day tour from Kunming, but if you want to take more pictures, you can overnight in a hotel near the Redland.
10. "Holy Buddhist Mountain" - Fanjingshan (Mount Fangjing)
Located in northeastern Guizhou, it is home to rare plant species and animals – including the seldom glimpsed golden monkey. It is a sacred place in Buddhism as it is believed to be the Maitreya Buddha's bodhimanda, or "place of enlightenment".
The highest point is called Red Clouds Golden Summit, also known as New Golden Summit, 2,336 meters (7,664 feet) above sea level. Here sits the Temple of Buddha and the Maitreya Temple. Separated by a gorge, visitors pass from one temple to the other on a narrow stone bridge. It will take you about four hours to hike the 8,888 steps up to the temples, and of course there are rest stops with snacks along the way. Another option is to take a cable car, which brings you to Mushroom Stone. But you still need to hike about 2000 steps to the summit after the cable car ride.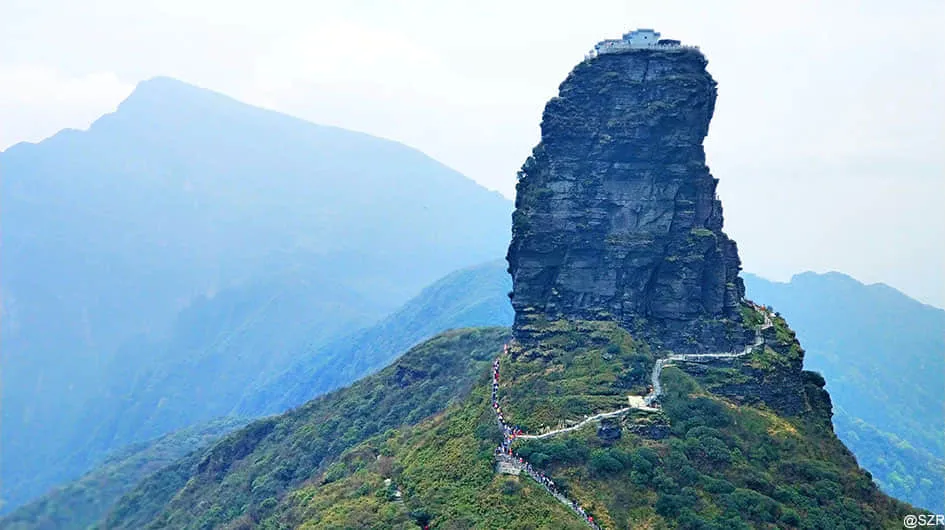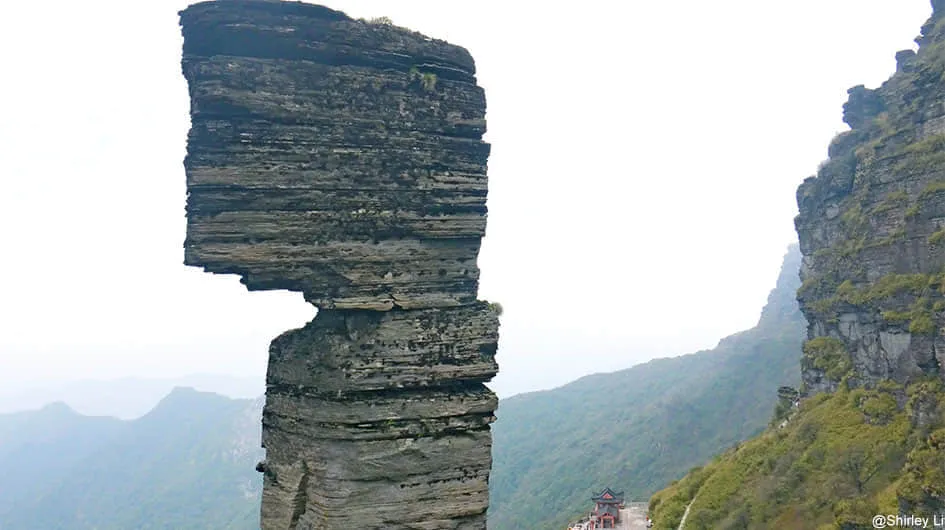 Travel Tips: There are regular shuttle buses from the nearby town Tongren airport to the ticketing hall of the mountain. You can fly to Tongren from major cities (Beijing, Shanghai and Guangzhou). You can also add it to your tour to Zhangjiajie and Fenghuang. It is about 160 km (100 miles) from Fenghuang.
If you have any questions about traveling to these beautiful places just contact us for help.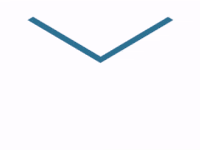 Have a question? Or can't wait to immerse yourself in the engaging journey of Chinese culture? Send us a message! Our top China specialist is ready to assist and connect with you without delay!