XA-05:

5 Days Xi'an Student Learning Tour

Ancient capital, historical city and Terracotta Warrior are the only things the students have known about Xi'an. Our educational tours offer more than that!
CET Advantages
Making dumplings at local people's homes.
Learning traditional Chinese Calligraphy in a museum.
Salute the 8,000 Warriors and Horses.
Do culture exchange programs with a local school.

Quality
No Shopping Traps

Group Type
Private

Tour Focus
Student, School Trips, Culture, History

Included Meals
Breakfast:4; Lunch:3

Accommodation
Nights:4

Best Season
Spring, Summer, Autumn, Winter
Suitable For: School, Family, Team Building
Full Itinerary
Day 1
Ni Hao, welcome to Xi'an!
Upon your arrival in Xi'an International Airport (XIY), your professional English speaking tour guide will be waiting for you at the arrival hall. Your guide will be holding your name sign and CET logo. From the airport it is about 40 minutes' drive to the city center. The guide and private driver will transfer you to the hotel and help you to check in. You can arrange your own dinner, but the guide will give you the best suggestions based on your preference.
Day 2
Discover Xi'an Highlights (B, L)
After have breakfast at the hotel, the tour guide will pick you up from the hotel lobby. Today you are going to see the highlights of Xi'an: Terracotta Warriors and Ancient City Wall. They are the reasons why most people come to Xi'an.
Add on Program: Before you visit the Terracotta Warriors, you have a chance to visit a Terracotta Warriors Factory. The students are going to learn how to make a terracotta warrior. They can even try to make their own warriors. After the factory visit, they will have a greater understanding about how it's made.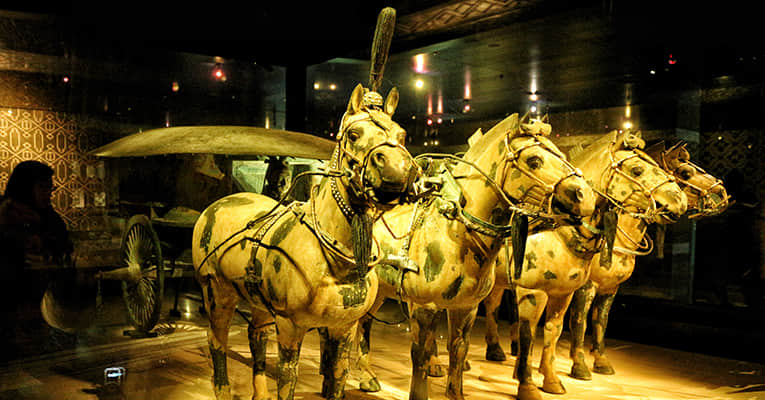 Terracotta Warriors
Terracotta Warriors: Like the Great Wall of China, people have listed the Terracotta Warriors on their life time travel destinations. About 8,000 warriors and horses have been excavated. However, the Chinese government still launches excavation projects from time to time in Pit 2. You will have a chance to meet the farmer who found the warriors when he was digging a well in 1974.
Xi'an City Wall: The ancient city wall is 12 meters high and 12-14 meters wide. You wouldn't believe that you could cycle on a city wall until you get there and try it. We recommend a bike riding tour for your students. There is not much traffic on the Wall and the students can have a stop wherever they like to look at the inside and outside of the wall. They will probably see people playing Tai Chi down below and lots of others just going about their daily lives, including students doing their exercise classes in their school.
Day 3
Educational Program (B, L)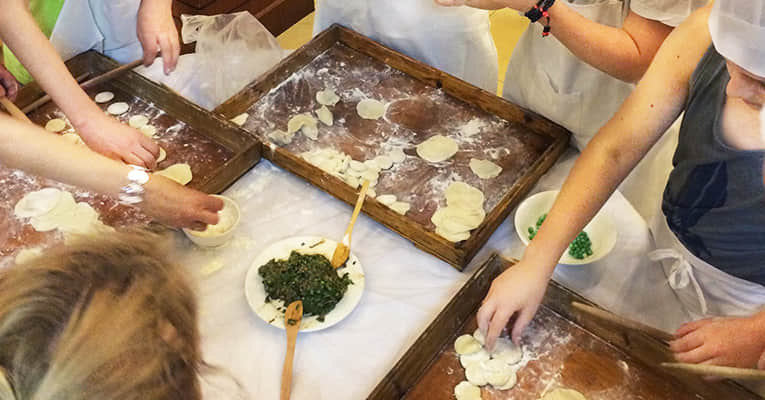 Making Dumplings
Today, the students are going to visit a local village. The village is about an hour and a half drive from Xi'an. It's a learning and culture exchange experience for the students. It's also a highlight for their Xi'an educational travel.
What do the students do in the local village?
Visit a local school: The students are going to visit a local school in the village. They can also walk into their classroom to talk to the students and make friends on behalf of the school teacher's organization. They will come face to face with Chinese students and learn about China's education system.
Dumpling making in local people's home: We will divide the students into different groups and send them into local people's homes. They are going to talk to local people and learn how to make dumplings.
View Local Peasants' Painting: This village is famous for peasants' painting. The local peasants are very good at painting. They draw their local life in the paintings. The paintings represent the typical countryside life in China. The students can learn Chinese arts from this visit.
Basketball Competition: For primary students, they have a chance to play basketball with the students from the local school.
Day 4
History and Culture Discovery (B, L)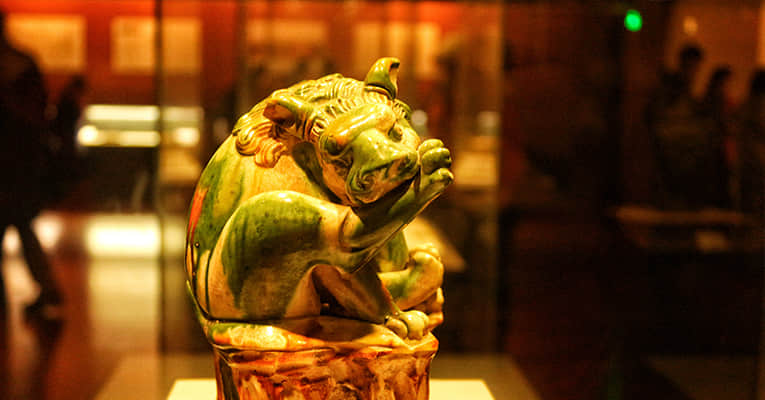 Collection in Shaanxi History Museum
Today we have a relaxing City Tour for the students, with a chance to learn about China's history from the Museum, talk to local people in the Muslim Quarter and learn about China's Buddhist Culture from the Pagoda. The tour guide will meet you at the hotel lobby and start the tour after breakfast.
Shaanxi History Museum: It's called the most comprehensive museum in China. There is a collection of more than 370,000 articles and cultural relics. This museum has the best collections of the Qin Dynasty (about 2,200 years ago) and the Tang Dynasty (about 1,100-1,400 years ago). You will be impressed at how advanced and developed the two dynasties already were more than 1,100 years ago. The museum covers the history of pottery, weapons, transportation, funeral rituals, artifacts, economy and agriculture. It's like a wonderful history book of China.
Muslim Quarter: Actually you won't find many Muslims in the Muslim Quarter. This place got its name from the Great Mosque which is near this Quarter. Get ready to 'risk' your bargaining skills and be adventurous as you try some local snacks. You can watch noodles and candies being made by hand, see fried jellyfish on a stick being eaten by pedestrians, and talk to local people if you can speak a little Chinese language no matter how long you have been learning it.
Big Wild Goose Pagoda: The Pagoda is one of Xian's main attractions. It was first built during the Tang Dynasty, about 1,400 years ago. The emperor had his own private place to pray to the Buddha in this Pagoda. Actually the pagoda is part of a complex which includes the Cien Temple. The Cien Temple was built by Emperor Lizhi to commemorate his mother, Empress Wende. Because of the history and stories woven around the pagoda, it has become the symbol of this ancient capital city.
Learn Chinese Calligraphy and Taiji: You have been listening and learning so many things about Chinese history and culture, and now it's time to do something on your own. We will arrange Chinese Calligraphy and Taiji learning classes in a historical museum. The students can practice them with the help of the Professor.
Day 5
Departure (B)
It's the last day in Xi'an. Your tour guide and driver will transfer you to the airport (XIY) based on your flight schedule. The tour guide will help you to check in and go through the security check.
What's Included:
Tailor made culture exchange programs for students
A free Chinese sim card for the group leading teacher
4 nights selected hotel accommodation
Entrance fee to the scenic spots listed in the itinerary
Excellent Private English speaking tour guide
Meals as listed in the itinerary
Land transfer with private driver
Insurance: China Life Tourist Accident/Casualty Insurance during the tour
7×24 hours care from your Travel Specialist
Hotel Options:
Standard Accommodation: Grand New World Hotel
Comfortable Accommodation: Grand Noble Hotel
Deluxe Accommodation: Hilton Xi'an