Huaqing Palace (including Lishan National Forest Park), Summer Palace, Old Summer Palace, and Chengde Imperial Summer Palace are known as the Four Imperial Gardens in China. The water temperature of Huaqing Hot Spring is 43℃ all year round. The water is pure with several minerals such as silicon dioxide and fluorine, and is beneficial in curing rheumatism and arthritis, thus appealing to emperors of several dynasties.
Huaqing Hot Spring, renowned as "Magic Spring in the East", enjoys the same reputation as the Baths of Caracalla in ancient Rome and British Bath Spa.
Quick Facts
Chinese name: 华清宫 Huá Qīng Gōng
Duration: Two-three hours
Entrance fee: March-November: RMB150, December-February: RMB120
Opening hours: 07:00~19:00 from March to November; 07:30~18:00 from December to February
Best time to visit: March, April, September and October
Address: 38 Huaqing Road, Lintong District, Xi'an City
How to get there: Take Bus 914, 915, Y5(306) and 307 and get off at the Huaqing Station
Attractions in Huaqing Palace
1. Scenic spots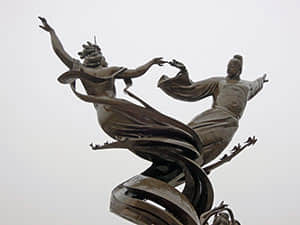 Emperor Xuanzong and Consort Yang
Major attractions here include the Museum of Royal Bath Pool Sites in the HuaQing Palace of the Tang Dynasty, Feishuang Hall, Zhaoyang Hall and Changsheng Hall. The Lotus Pool and Crabapple Pool in the Museum of Royal Bath Pool Sites was exclusively used by Emperor Xuanzong and Consort Yang. Huaqing Palace witnessed the love story between Emperor Yang and Consort Yang.
2. Song of Everlasting Sorrow
Themed around the love story between Emperor Yang and Consort Yang, the Song of Everlasting Sorrow as China's first historic live-action dancing performance, reproduces the scenes described in Song of Everlasting Sorrow in Huaqing Palace by combining history with reality. The 70-minute performance can be watched every evening from April to October. Several foreign heads and state leaders have watched the performance and left high remarks.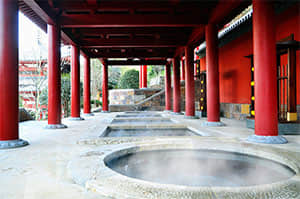 Baoji Pool
3. Bath Spa
The water in Lishan Hot Spring contains chlorides and sulphates with rich medical minerals and micro-elements. You can check in at the Huaqing Royal Bath Hotel or just take a bath Spa in the outdoor Baoji Pool if you do not want to live here. The price is about 300 yuan.