Situated near the Wenchang Gate, the Xi'an Forest of Stone Steles Museum was built based on the Xi'an Forest of Steles with a history of over 900 years. Together with the building complex of the Temple of Confucius in Xi'an, the Xi'an Forest of Steles was expanded into an art museum collecting, researching and displaying steles, epigraphs and stone sculptures of different dynasties. Inside the museum are the forest of steles and stone carvings, with the forest of steles being composed of steles and epigraphs as the highlight. Steles by famous calligraphers like Yan Zhenqing, Liu Gongquan and Huaisu are also included.
Xi'an Forest of Stone Steles Museum is rated as the "Treasury House of the Culture in the East", "Palace of Stone Inscriptions in the Han and Tang Dynasties" and "Library of Stone Inscriptions with the Longest History". As one of the most valuable cultural relics in Xi'an, the Museum was listed as a National Key Cultural Relics Protection Unit by the State Council in 1961.
Quick Facts
Chinese name: 西安碑林博物馆 Xī Ān Bēi Lín Bó Wù Guǎn
Duration: One-hour
Entrance fee: March 1st-November 30th: RMB75, December 1st-February 29th: RMB50
Opening hours: 8:00-18:00
Best time to visit: All year round
Attractions in Xi'an Forest of Stone Steles Museum
Steles and epigraphs
In the Museum, you can find steles (or stone monuments) and epigraphs of dynasties spanning 2000 years. Major works include Yan Qin Li Stele and Stele of Yan Family by Yan Zhenqing; Xuanmi Stele by Liu Gongquan; Da Tang San Zang Sheng Jiao Stele by Wang Xizhi; and the Thousand-character Writing by Huaisu.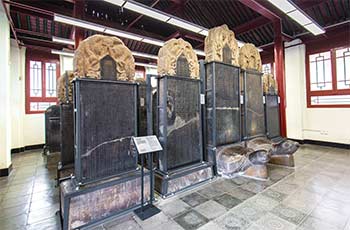 the epigraphs in the Museum
Shitai Classics and Kaicheng Stone Classics
The Confucian Shitai Classics was written by two emperors in four styles: The inscriptions were written by Emperor Xuanzong, Li Longji, in clerical script; the notes were in regular script; the remarks were in running script; and the top part of the stele was written in seal script by Emperor Suzong, Li Xiangyong.
The Kaicheng Stone Classics were finished in the 2nd year under the reign of Emperor Wenzong (AD 837), and includes twelve Confucian classics such as The Book of Poetry, The Book of Calligraphy, The Book of Rites, The Book of Change and The Spring and Autumn Annals.
You can buy inscription rubbings.
You can buy inscription rubbings from the steles when visiting the Museum, which are priced between several hundred yuan and a thousand yuan. Alternatively, you can buy the rubbings on the street beside the Museum at lower prices.