Built in 626 AD and destroyed in the late Tang dynasty, Daming Palace Site Park was the most magnificent palace complex of the Tang Empire.
The Park, built on the ruin of The Palace of Tang Dynasty, boasts foundations and bridge piers at the site of the palace, with a miniature of the palace restored in the proportion of 1:15 being on show for visitors.
Quick Facts
Chinese Name: 大明宫遗址公园 Dà Míng Gōng Yí Zhǐ Gōng Yuán
Duration: 1-2 hours
Entrance fee: CNY 60
Opening Hours: 09:30~18:00
Best Season to Visit: September to November
How to get there: Bus lineNo. 2, 17 and 22
Highlights of Daming Palace Site Park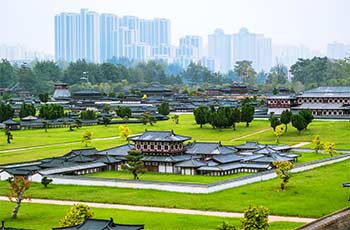 Miniature of the Park
1. Scenic Area of Palaces
Hanyuan Palace: This is the main hall of the Park which was used for holding national rituals and grand ceremonies.
Zichen Palace: This is the major hall which was for the emperor to manage in daily life.
Miniature of the Park: This is located in the east of the Museum, and is a scale model (in the ratio 1:15) of the palace complex as it was in its heyday, enabling visitors to appreciate the elegance of the Palace of that time. All the model's 1100 buildings have been created by hand.
2. Scenic Area of Cultural Relics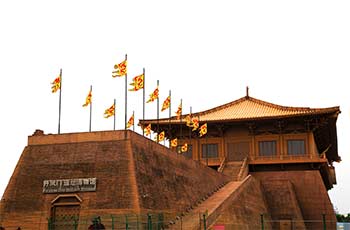 The Palace of Tang Dynasty Museum
The Palace of Tang Dynasty Museum: The theme museum of Daming Palace Site Park, it occupies an area up to 10,000 m2. With the performance "Chao Heng in the Palace of Tang Dynasty" portraying historical reality, it interprets history with a modern approach.
Archaeological Exploration Center: The warehouse was reconstructed from the warehouse of a pharmaceutical factory. Visitors can enjoy the pleasure of being involved in restoring cultural relics personally.
3. Scenic Area of Technology Experience
As a popular area for a hands-on experience, this scenic area boasts an archaeological exploration center, a pottery-making center, and high-technology experience center.