Xi'an City Wall is a landmark of ancient Xi'an. The existing city wall was built in the early Ming Dynasty and is the most complete one in China. With a total length of 13.7 km, it takes 80 minutes to ride a bicycle around the wall. The design of the city wall was based on the imperial city in the Tang Dynasty, which includes such defense works as moats and watchtowers in ancient Chinese cities.
Quick Facts
Chinese name: 西安城墙 Xī Ān Chéng Qiáng
Duration: One-three hours
Entrance fee: RMB54
Opening hours :
South and north gates: 8:00-22:00 all year round
Hanguang Gate: 8:00-17:30 all year round
Other gates: April 1st-30th 8:00-18:00; May 1st-October 31st 8:00-19:00; November 1st-March 31st 8:00-18:00
Best time to visit:: All year round
How to get there: Bus 22, 23, 27, 29, 33, 37, 47, 602, 612 and 704, or Subway Line 2
Attractions on Xi'an City Wall
1. Biking on the city wall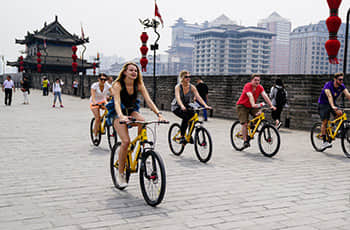 Biking on the city wall
Riding a bicycle on the city wall is a popular activity. You can rent a bike at west gate, east gate, south gate and north gate and return the bike at any gate mentioned above after riding (please confirm when renting the bike). There are also sightseeing buses at the four gates and you can take the bus to visit the city wall for about 50 minutes.
2. Performance activities at the south gate
City wall opening ceremony and folk performances at the south gate
09:00 City wall opening ceremony
10:30-19:30 Martial arts performance
10:45-19:45 Living sculpture performance
17:30 Military parade performance
9:30/15:30/18:40 Changing of the Guard performance
11:00/11:40/16:20/16:50/18:00 Military patrolling around the lake
3.Popular photography site
Xi'an City Wall is a favorite photography site. The popular "City Wall Stories" was shot here by photographer Wang Jianming to record the history of the city wall and an expression of love for the Xi'an City Wall.