The Bell Tower and Drum Tower are famous landmarks in Xi'an and have been visited by state leaders such as Zhou Enlai and Zhu De, and celebrities from home and abroad. In 1996, the Towers were listed as National Key Cultural Relics Protection Units by the State Council.
Xi'an Bell Tower
As China's largest and most complete bell tower, Xi'an Bell Tower was constructed in the 17th year of the reign of Hongwu (AD 1384) in the Ming Dynasty. Located in central Xi'an, the Bell Tower is one of the landmarks in the ancient city, with four main streets heading towards the north, south, east and west starting here and reaching the city walls in the four directions.
Xi'an Bell Tower was originally located on Guangji Street and later moved next to the Drum Tower in the east when the center of the city was moved eastwards in the 10th year of the reign of Emperor Shenzong (AD 1582).
Access to the Bell Tower is via an underground passage and then you can climb the stairs to the Tower. There is a smaller copy version of "Jingyun Bell" in the Bell Tower, with the original piece made in the 2nd year under the reign of Emperor Ruizong (AD 711) in the Tang Dynasty being kept in Xi'an Forest of Stone Steles Museum.
Standing on the top of the Bell Tower, you can see the four main streets starting here, the busiest business center around, and the Drum Tower nearby.
Xi'an Drum Tower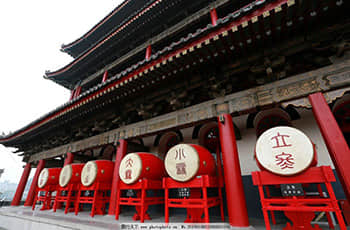 Xi'an Drum Tower is another landmark in the ancient city of Xi'an and is near the Bell Tower. Built in the 13th year under the reign of Emperor Hongwu (AD 1380) in the Ming Dynasty, the Tower boasts a 1.8m drum and 24 red drums, each of which is magnificently decorated with a symbol of one of the 24 solar terms. There are furniture and porcelain pieces from the Ming and Qing Dynasties, as well as paintings by Qi Baishi in the Drum Tower.
As China's largest drum tower, Xi'an Drum Tower has an inscribed board on its south side, reading "a place of talents". The board enjoys the same reputation as the board inscribed with "The First Pass under the Heaven" in the Shanghai Pass. What you see now is a copy version because the original one was unfortunately ruined.
You can be present for the chime performance when visiting the Drum Tower.
Performance venue: Showroom on the second floor of the Drum Tower
Time: Morning: 9:30 10:15 11:00 11:45 Afternoon: 14:00 14:45 15:30 16:20
Between the Bell Tower and the Drum Tower is the Bell-Drum Tower Square with a music fountain, grass and flowers, presenting beautiful night scenes for photographing. Behind the Drum Tower is Huimin Street with delicious local foods.