As China's first museum of prehistoric ancient ruins, Xi'an Banpo Museum is a typical site of the matriarchal clan society in the Yellow River basin. It reveals social organizations as well as the living and producing activities of the matriarchal clan society in the Neolithic Age about 6000 years ago. It attracts archaeology fans eager to see the pottery art and burial system of our ancestors.
Quick Facts
Chinese name: 半坡博物馆 Bàn Pō Bó Wù Guǎn
Duration: One-two hours
Entrance Fee: March 1-November 30: RMB65; December 1 to February 29: RMB45
Opening hours: 8:00-17:00
Best season to visit : All year round
How to get there: Take Bus 11, 15, 42, 105 and 301, or Minibus 913, 401, 406 and 507, get off at the Banpo Station, and head south for 150 meters.
Highlights of Banpo Museum
The Hall of the Site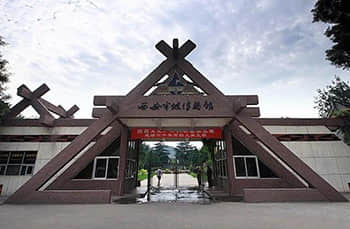 The gate of Banpo Museum
The Museum is divided into a living area, a pottery area and a burial area. The Hall displays part of the living area and a pottery kiln. The touch screen tells stories from thousands of years ago, and electronic virtual technologies and spectra vision technologies are employed to reproduce the scene where ancestors of Banpo created splendid cultural artifacts.
Around the village a huge ditch – 300m long, 5m deep and 6m wide – defended the villagers from the invasion of other tribes and the attack of wild animals.
Beside the Hall there is a small topical display about the burial system practiced by the villagers. The system for burying adults was different from that for children in the Banpo Era, with adults being buried in the public cemetery of the village and children in jars beside the houses.
Unearthed relics, including production tools and articles of daily use, are displayed in Showrooms 1 and 2. These relics are made of stone, bone and clay. Tools include stone axes and knives, arrows, millstones, a spinning wheel, bone knives and needles, fish spears, pottery basins, bowls and jars, and pointed-bottom bottles, as well as artwork and decorative items which include pottery whistles, and heads of birds and animals. Twenty-two carved symbols and basins with fish patterns with human faces were unearthed and are also displayed in the showroom.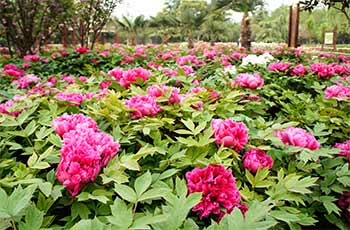 Peonies of the museum
Peonies
Over five hundred peony trees were imported from Luoyang City and planted here. Nearly 5 Acres of wasteland in the backyard of the museum was reclaimed for the Peony Garden of Banpo Museum. It attracts numerous visitors every year.
Ticket: 10 Yuan
Best Season to visit: mid-April to late May