Known as the number one water town in China, Zhouzhuang Water Town is located in the center between Shanghai, Suzhou and Hangzhou. It is 52 kilometers away from Suzhou. Having a history of more than 900 years, Zhouzhuang Water Town still keeps its ancient architecture intact. More than sixty percent of the architectural structures were built in the Ming and Qing Dynasties. There are hundreds of classical courtyards and over 60 carved brick arched gateways, among which the Hall of Shen's Mansion and Zhang's Mansion are the most representative.
Quick Facts
Chinese name: 周庄 Zhōu Zhuānɡ
Duration: 1-2 hours
Entrance fee: RMB 100
Opening hours: 8: 00-21: 00
Best time to visit: All year round
Address: Quanfu Road, Zhouzhuang, Kunshan, Suzhou City, Jiangsu Province
How to get there: 1. take the long-distance bus at North Bus Terminal in Suzhou; 2. Take bus Kunshan No.130, 133, 161, 261, 262, 263, or 265, or tourist bus No.1, or 7, or Qingshan Bus in Shanghai and get off at Zhouzhuang Station
Highlights of Zhouzhuang Water Town
In heaven there is paradise, on earth, Hangzhou and Suzhou, and in between, Zhouzhuang Water Town.
Major Scenic Spots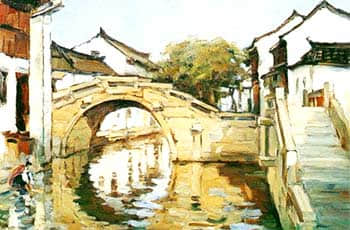 Twin Bridge
1. Twin Bridge
Twin Bridge is known to the public because it appears in painter, Chen Yifei's, oil painting, Hometown Recall. The bridge is made up of two small bridges, a stone arch bridge (Shide Bridge) and a stone girder bridge (Yong'an Bridge) which were built in the Wanli years of the Ming Dynasty (1573-1619). One of the bridges lies horizontally while the other one is vertical, and the archway of one bridge is circular, while the other one is square. Together, the two bridges resemble a key in the old times. Therefore, the locals also refer to Twin Bridge as Yaoshi ('Key') Bridge.
2. Shen's Mansion
Shen's Mansion was built in the 7th year of Qianlong in the Qing Dynasty (1742) by Shen Benren, the offspring of Shen Wansan, the richest person at that time in Zhouzhuang Water Town. Facing west, the mansion has seven courtyards, five arched gateways, and over a hundred rooms large and small, covering an area of more than 2,000 square meters.
60% of nearly a thousand dwellings in Zhouzhuang Water Town were built in the Ming and Qing Dynasties and the time of the Republic of China, of which there are nearly a hundred ancient mansions, more than 60 carved brick arched gateways, buildings with an overhanging second story, and house doors facing a wharf. Among all these architectural features, Shen's Mansion is the most representative.
3. Zhang's Mansion
Zhang's Mansion was built in the Ming Dynasty. Its ownership was transferred to Zhang in the early days of the Ming Dynasty, and it was renamed Yuyan Hall, commonly known as Zhang's Mansion. It is a typical dwelling of the area south of the Yangtze River, with a living room in the front and bedrooms and other rooms in the back. It is a comparatively well-preserved piece of architecture of the Ming Dynasty. There are a pair of eye-catching couplets in the hall which read, "palanquins enter through the door and boats pass through the house", which exactly describes the structure of the mansion. (A palanquin is a covered litter box for one person.)
4. Fu'an Bridge
Located at the east end of Zhongshi Street of Zhouzhuang Water Town, Fu'an Bridge displays distinctive architecture which combines a bridge with a building and is the only one of such a type of architecture in existence in the water towns of the area South of the Yangtze River. Fu'an Bridge was built in the 15th year of Zhizheng of the Yuan Dynasty (1355) and was rebuilt by Shen Wansi, the younger brother of Shen Wansan as an arch bridge, and was named Fu'an Bridge, which means 'prosperity and health'.
Quanfu Temple
5. Quanfu Temple
Quanfu Temple, after constant expansion throughout its history, now has many palaces, and is surrounded by water, and the incense in the temple burns ceaselessly. It is considered a famous temple in the area South of the Yangtze River. The temple was once used as a granary, but with the development of the tourism in Zhouzhuang Water Town, it was rebuilt in 1995, and within a year this temple which adopts waterscape all around as its backdrop was completed. There is a three-zhang-high (9.6 meter) statue of Buddha in Daxiong Hall, which is larger than the statues in other temples in Zhejiang and Jiangsu.
6. Zhouzhuang Boat House
In the north of Zhouzhuang Water Town lies Baixian Lake. The water in the lake is clear. There are weeping willows standing by the riverside, and the corridors and pavilions around the lake all look elegant. Walking along a cobbled footpath and passing through a gateway named Yunhai Pavilion, you'll see a 13-meter-long trestle bridge. At the other end of the bridge is Zhouzhuang Boat House. Built for the Informal Meeting of APEC Ministers Responsible for Trade in 2001, it is also known as APEC Boat House and has become a window for the world to learn more about Zhouzhuang Water Town. The boat house is 49.71 meters in length, 15.68 meters in width, and 1.48 meters in depth, with a total water discharge capacity of 850 tons. The body of the house is made of steel.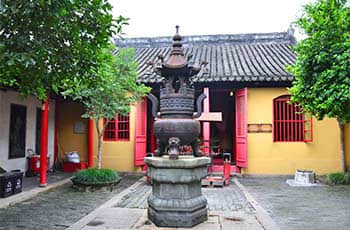 Chengxu Taoist Temple
7. Chengxu Taoist Temple
Located in Zhongshi Street of Zhouzhuang Water Town, opposite Puqing Bridge, Chengxu Taoist Temple is commonly known as Sacred Temple. Built in the Yuanyou years of the Song Dynasty (1086-1093), it has a history of over 900 years. Since the middle of the Ming Dynasty, the scale of the temple has become larger and larger up until the Ming Dynasty
8. Zhouzhuang Library
Zhouzhuang Library covers an area of more than a thousand square meters. In the library many household appliances, farm tools and other items are on display, among which there are some pieces of famous Chinese black pottery unearthed from the local area.
Featured Culture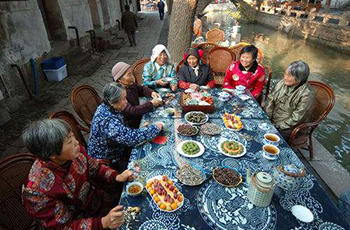 Women Drinking Tea Together
1. Tea culture:Tea culture has long been developed in Zhouzhuang Water Town. It's a tradition here that women getting together drink tea while chatting with each other, disputes are brought to a tea house to seek solutions, married couples serve tea to guests, people drink tea when spring comes, families whose children have turned one month old offer tea to guests and so on. There are so many occasions for drinking tea, which are collectively included in the Jiangnan Tea Ceremony.
2. Folk Art: Sixian Xuanjuan is a form of folk art in Zhouzhuang Water Town which has a history of nearly 200 years.
3. Women's clothes and accessories: The clothes and accessories of women in Zhouzhuang Water Town are characterized by narrow sleeves, floral front panel of the garment, and exquisite embroidery.
4. Sixian Xuanjuan Xuanjuan is a typical form of folk art in Zhouzhuang Water Town. Similar to Tangming, it is also a kind of storytelling and ballad singing. According to the number of performers and the complexity of the performance, Xuanjuan is divided into Sixian and Muyu Xuanjuan.
Recreational Activities
1. Oar-propelled Boats: There are a lot of single-oar sculling boats in Zhouzhuang Water Town for tourists to take. Strolling along the riverside, you'll see boats passing by on the river. Tourists can take the boat on the glistening river while enjoying the scenery of the town, and listening to rowers singing local songs.
2. Night Tour around Zhouzhuang Water Town: Boats decorated with lights lying in water lanes add a romantic touch to the nightscape of Zhouzhuang Water Town, making the town's night quite attractive. At night, you can either walk around Zhouzhuang Water Town to appreciate the beauty of the nightscape, or you can take a boat from the wharf opposite Shen's Mansion, and listen to Jiangnan Sizhu Music from the building on Fu'an Bridge, and lute music of Suzhou Pingtan from the houses along the riverside. The boat winds its way under many arch bridges decorated with colorful lights which light up the river and reflect the bridges on the river. Lights, old bridges and boats together make the night in the ancient town romantic and inviting.
3. Osprey Fishing Performance: Osprey fishing is an old and special way of fishing in Zhouzhuang Water Town. While fishing, a fisherman use a bamboo spear which is used for punting the boat to chase ospreys down the water. Ospreys then start to dive into the water for fish, and before long they'll get out of the water each having a lively fish in their mouths.