Built in the Baoli year of the Tang Dynasty, Shantang Street has a time-honored history of more than 1,100 years. When the poet Bai Juyi served as the Feudal Provincial Governor in Suzhou, he ordered the people to dig Tangshan River and develop a road called Shantang Street to the north of the river in an effort to facilitate the land and water transportation in Suzhou. 3,600 meters (about 7 Li) in length, this southeast-northwest street is called Seven Li Shantang. At the southern end of the street stands Baigong Temple built by the people in memory of Bai Juyi.
There's a folk song that says, "In heaven there is paradise, and on earth, Hangzhou and Suzhou. In Hangzhou there is the West Lake, and in Suzhou, Shantang Street."
Both are wonderful places with an abundance of sights to see. Suffused with the local style, Shantang Street has gradually become a window exposing Wu Culture, and a platform to experience the lifestyle in Suzhou.
Quick Facts
Chinese name: 山塘街Shān Tánɡ Jiē
Duration: 2-3 hours
Entrance fee: Free. Scenic spots inside the street have charges for a visit.
Best time to visit: All year round
Address: No.65, Shantang Street, Jinchang District, Suzhou Province.
How to get there:Take bus No.406, 317, 529, 44, 64, 1, 304 and get off at Shantang Street station, or take subway Line 2 and get off at Shantang Street station.
Highlights of Shantang Street
1. Shantang Old Street: A Place with the Strongest Commercial Atmosphere and the Most Visitors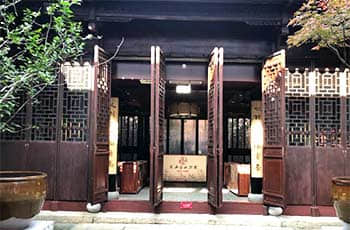 Yuhan Building
Shantang Old Street is the southeastern section of Shantang Street, closest to Chang Gate. Although it only accounts for one tenth of the whole street, this 360-meter-long old street encompasses the essence of Shantang Street. This section of the street is the most densely packed with various handicraft shops, snack bars and major scenic spots like Yuhan Hall, Antai Fire-fighting Association, Tongui Bridge, Suzhou Chamber of Commerce Museum, and the ancient performance stage.
Yuhan Building:Built in the 10th year of Jiajing of the Ming Dynasty, the more than 500-year-old Yuhan Building is the most well-preserved example of architecture of the Ming Dynasty and also the one with the greatest quantity in Suzhou. This building shows different kinds of Chinese room styles including Ting ('hall'), Tang, Lou ('Building'), Ge ('Pavilion') and Zhai. Through the carved beams and painted pillars in the building you will get a glimpse of the cultural and artistic characteristics of the Ming Dynasty.
Tonggui Bridge:Crossing over Shantang River, Tonggui Bridge has a history of 500 years and is the landmark of Shantang Street. The name of the bridge means 'a path leading to prosperity'. As a great position from which to appreciate the beauty of the water village of Suzhou and to draw oil and watercolor paintings, you'll often find painters standing on the bridge and painting earnestly. This is also the shooting location of award-winning movies, Wintersweet Handerkerchief and Blush.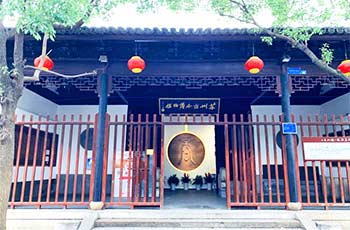 The Suzhou Chamber of Commerce
Antai Fire-fighting Association was founded in 1925. The new fire-fighting association built on its original site can be viewed as a museum of modern fire-fighting equipment, where fire-fighting lances, pumps, oil lamps and other extinguishing appliances and fire-fighting outfits are on display, and there are clay sculptures showing how firefighters put out a fire and saved people at that time.
The Suzhou Chamber of Commerce is located at the original Quanzhou Hall on Shantang Street. Showing the one-hundred-year history of the chamber of commerce in Suzhou, the museum serves as not only a expose of the modern commercial culture of Suzhou, but also an opportunity for learning about the development of Suzhou's modern history.
2. Six Recommended Snack Stores
There are numerous old restaurants serving traditional Chinese food on Shantang Street, from well-known large restaurants such as Songhelou Restaurant, to small snack bars providing delicious food at a cheap price, and to time-honored brands like Huangtianyuan Dim Sum Store and Caizhizhai Sweet Shop. On this street, you can not only taste traditional snacks like plum cake and sweet congee made with red beans, but also stroll around handicraft shops which sell antiques, paintings, artistic calligraphy, carvings and artistic paper cuts. We recommend that you visit the following distinctive restaurants and snack shops.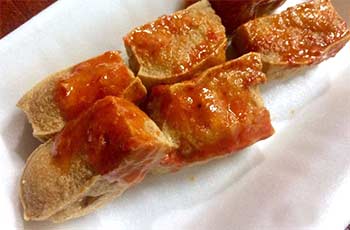 Wenqixiang Stinky Tofu
Rongyanglou Restaurant: As a time-honored brand, Rongyanglou Restaurant's decorations, tables, chairs, tableware and menus all seem to have weathered their many years with the restaurant. The famous snacks in this restaurant, pan-fried buns, soup dumplings, noodles, oil boiled dumplings, and cakes, all taste delectable.
Wenqixiang Stinky Tofu: Stinky Tofu at Wenqixiang is sold very cheaply: RMB 5 for 5 to 6 pieces. Although you can find stinky tofu almost everywhere here, Wenqixiang Stinky Tofu has its own special flavor that is well worth trying.
Akun Braised Food: The specialty at Akun's is the meat of pig heads. It is often sold out, so it really takes luck to get a taste. Braised beef and beef tendons are also recommended. They all are so tender that even elderly people without any teeth can have a try.
Xinnian Dim Sum Shop: The broth made for wontons at Xinnian Dim Sum Shop is perfect. Sweet dumplings here are so gooey that no sweet dumpling lovers should miss it.
Daa'er Pan-fried Buns: Daa'er Pan fried Buns shop is at the entrance of Shantang Street. Decorated in ancient style, you will find red lanterns and old fashioned square tables for eight people in the restaurant. The bottom of the bun, fried to yellow, is very crisp. The soup in the bun tastes very sweet and the meat is truly delicious.
Chenlaoda Plum Cake: The plum cakes at Chenlaoda's are smooth and moist in texture. As the plum cakes here are very popular, you'll have to queue up for them. The cakes are still hot when you get them. Give it a bite! It is soft and glutinous.