Pingjiang Road is an historic road in Suzhou with a history of 2,500 years. As the most well-preserved district in Suzhou Ancient Town, the 1,606-meter-long road can be seen as a miniature of the town. According to the Map of Pingjiang drawn during the Southern Song Dynasty and the Layout of Suzhou Waterway drawn in the late Ming Dynasty, the layout of Pingjiang Road we see today is basically the same as that of the Tang and Song Dynasties, and the vitality of the road since that time can still be seen today.
The alleys on both sides of Pingjiang Road, especially the eastern side where several water lanes are well-preserved, form an old district which best represents the characteristics of a water town in Suzhou Ancient Town.
Quick Facts
Chinese name: 平江路Pínɡ Jiānɡ Lù
Duration: 1-2 hours
Entrance fee: Free
Best time to visit: All year round
Address: Eastern District, Guanqian Street, Suzhou City
How to get there:Take metro No.1 or take bus No.2, or 89 and get off at Xiangmen Station.
Highlights of Pingjiang Road
Historical Buildings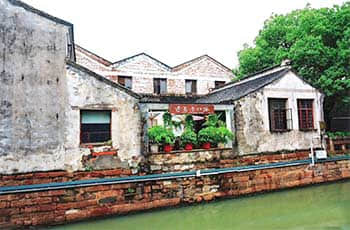 Historical Buildings
A number of ancient dwellings are preserved in Pingjiang Road. Dwellings on the west side of the waterway are built alongside the river. The white walls, gray tiles and wooden carved windows seem to contrast with the red brown or sepia wooden materials of those old houses, making them appear simple but elegant. The exterior walls of the houses, though mottled, look like Chinese paintings. The smart designs and skillful techniques of craftsmen south of the Yangtze River have taken the beauty of gardens to the highest level.
On Pingjiang Road, you may notice a house featuring the shape of a boat, which is called Boat House. This Boat House belongs to an old mansion with 200 years of history, which lies in No.33 on Niujia Alley on Pingjiang Road. Built during the years of Jiaqing in the Qing Dynasty and covering an area of more than 700 square meters, the old mansion hides deep behind its courtyard with its carved doors and windows, and wooden floors well preserved. The boat-shaped house in the mansion, given its high historical value, is added as the 147th item on the list of Ancient Architecture Under Protection by Suzhou Culture Management Committee.
Stretching along the river, Pingjiang Road has many alleys and lanes on both sides, such as Lion Temple Alley, Chuanfang Alley, Donghua Bridge Alley and so on. Every alley has its own story to tell. With high walls on both sides, those winding alleys are just like the Chinese idiom describes, 'the winding path leads to a secluded, quiet place'.
While strolling around Pingjiang Road, you'll notice there are many stone bridges. From Dongbei Street in the north, to Ganjiang Street in the south, there are a total of 17 bridges, each having their own characteristics which are worth exploring and appreciating.
An Performer of Kunqu Opera
Kunqu Opera and Suzhou Pingtan
As the ancestor of Chinese Opera, Kunqu Opera, characterized by its well-written lyrics and beautiful rhythm, is among the first batch of China's intangible cultural relics. Suzhou is the cradle of Kunqu Opera. Aimed at the protection and promotion of Kunqu Opera, the Chinese Kunqu Opera Museum mainly serves as a platform for the collection, research, exhibition and performance of Kunqu Opera, where not only the cultural relics and documents of Kunqu Opera are displayed, but also the performance of Kunqu Opera is presented.
The Chinese Kunqu Opera Museum on Pingjiang Road is located where there used to be the Quanjin Guild which is so far the most well-preserved of more than 100 guilds in Suzhou. The museum has collected the Ming Dynasty copy of huanganji and Qianlong years of the Qing Dynasty's hand-written copy of The Peony Pavilion, an exquisitely carved boat made of red sandalwood for opera performances, and the collection highlight of the museum, a performance instrument of Kunqu Opera decorated with glass lanterns.
Suzhou Pingtan refers to storytelling and ballad singing in Suzhou dialect. It is a traditional form of monologue storytelling in Suzhou dialect, and is representative of Suzhou dialect.
Located next to the Kunqu Opera Museum, Pingtan Museum has a collection of more than 12,000 valuable documents on Pingtan, and hundreds of the only existing copies and scripts of various Pingtan scores. There once was a Pingtan performance which is now put on in other places such as Suzhou Pingjiang Culture Center in No.38 of Daru Alley, where the performance is only put on if requested by the audience, and No.189 on Pingjiang Road where the performance is scheduled at certain times. If you are interested in Kunqu Opera, you can pay a visit to those places.
Local Delicacy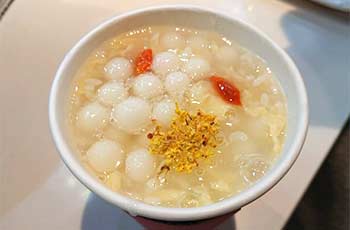 Rice balls in sweet wine soup
Apart from its long history, Pingjiang Road is also famous for its delicious food. Not only are the buildings on the street the legacy of ancient times, so are the tasty food and restaurants which are significantly influenced by the food culture of Suzhou. Visitors can feast themselves on delicious food provided by the following three types of restaurants.
Firstly, the roadside stands along Pingjiang Road where you can find street snacks made by Indigenous people, including Osmanthus jelly, rice balls in sweet wine soup, meat-stuffed moon cakes, Begonia cake, glutinous rice cakes in a bamboo tube, big bowls of Beijing Tea and so on. You can enjoy the culture of Pingjiang Road as you eat the snacks along the road.
Secondly, small front stores under grey roofs, like Waffle Fun Belgium Waffle Shop, Jijiaogala on the central axis of the road, and shops selling pan-fried buns.
Thirdly, restaurants serving Jiangsu cuisine, such as sweet and sour Mandarin fish, bean curd with crab roe, Sweet and Sour Spare Ribs and so on. All the food here reflects the food culture of Pingjiang Road and each has stories of them own.