Suzhou Museum was established in 1960 in the mansion of Prince Zhong of Taiping Heavenly Kingdom, which was in the first batch of major historical and cultural sites protected at the national level and the most well-preserved architecture of Taiping Heavenly Kingdom in China.
In 1999, the Suzhou government invited Chinese American Architect, Ieoh Ming Pei, to design a new Suzhou Museum. On October 6th, 2006, Suzhou Museum was finished and officially opened to the public. The newly built museum covers an area of 10,700 square meters and a floor area of more than 19,000 square meters, and if the renovated Mansion of Prince Zhong of Taiping Heavenly Kingdom is included, the total floor area adds up to 26,500 square meters. A total of RMB 339 million was invested in the construction of the museum. It is a museum of multiple architectural styles which combines the styles of modern and ancient architecture, with an innovative landscaped garden. At the museum, visitors can appreciate examples of pottery, jade ware, paintings and artistic calligraphy from ancient ages to modern times, and in the Mansion of Prince Zhong, Suzhou-style decorative paintings can be found.
Quick Facts
Chinese name: 苏州博物馆Sū Zhōu Bó Wù Guǎn
Duration: 1-2 hours
Opening hours: 9: 00-17: 00 (Visitors are not allowed to enter the museum after 16: 00). Closed on Mondays.
Entrance fee: Free.
Best time to visit: All year round
Address: No.204, Dongbei Street, Suzhou City, Jiangsu Province
How to get there:Take tourist bus No.1, 2, and 5, bus No.55, 178, 202, 309, 313, 518, 529 or 923.
Highlights of Suzhou Museum
1. New Museum Building
Designed by Ieoh Ming Pei, the new museum building features traditional Suzhou gardens in that the various types of architecture are well-proportioned, and the dark gray roof complements the white walls, looking very fresh and elegant. Sun beams passing through the pyramid-shaped glass skylight on the roof fill the museum with sunlight which can also be seen at the gate, in the corridor, in the hall and the other exhibition halls. The museum also has traditional courtyards, ponds and stone bridges which are combined with the modern elements. It's quite pleasant to stroll around in the new museum building with the combination of blue sky, white walls, green bamboos and clear water.
2. Exhibitions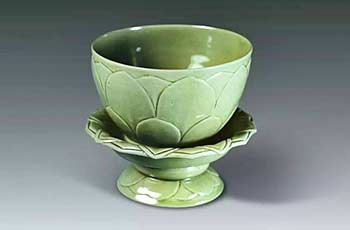 Yue-ware Celedon lotus bowl
There are 4 permanent exhibitions on display at the museum respectively themed on the Treasures, Pagoda Relics, Elegant Life Style, and Paintings and Calligraphies of Wu Kingdom.
Many exhibits here are cultural relics found in the Tiger Hill Pagoda and Ruiguang Pagoda, among which two collection highlights of the museum are on display at the Pagoda Relics exhibition hall, namely a Yue-ware Celedon lotus bowl, which is made up of a bowl and a bowl stand. The lotus relief on the crystal clear bowl looks very elegant. There is also a Buddhist relics Dhvaja, which is a dazzling vessel decorated with pearls and other treasures to keep Buddhist relics.
What's more, there are exhibitions themed on folk customs, where you can learn about the traditions and customs of Suzhou, and temporary exhibitions themed on certain subjects, like paintings and calligraphies of the Ming Dynasty. Visitors can also learn about ancient architectural styles during the time of Taiping Heavenly Kingdom in Prince Zhong's Mansion, and experience how people's lives were at that time there.