Located in the center of Suzhou Ancient Town and covering an area of 0.52 square kilometers, the prosperous Guanqian Street is home to a number of famous shops. More than 150 years ago, the street was named Guanqian (which means 'in front of a temple') because it is situated in front of Xuanmiao Temple. The street is famous for a number of renowned and distinctive time-honored stores like Daoxiangcun, Qiantaixiang and Huangtianyuan. The food street in Taijian Alley of Bifeng Lane has gained a good reputation for its delicious Suzhou Cuisine. Xuanmiao Temple, a major cultural relic protected at the national level, has attracted visitors from home and abroad with its Taoist Culture.
Quick Facts
Chinese name: 观前街 Guān Qián Jiē
Duration: 2-3 hours
Entrance fee: Free
Best time to visit: All year round
Address: Mid-west of Chaoyang District, Beijing City
How to get there: 1) Take Bus 113, 115, 406, 416 (round trip), 431, 701 or 758, and get off at Sanlitun Station; 2) Take Bus 117 and get off at Changhong Bridge West Station; 3) Take bus 110, 118 (electric bus), 120, 208 (night shift), 403, 673 or 3, and get off at Beijing Workers' Sports Complex Station
How to get there by subway: Tourist bus No.1, 2, 4 or 5 Subway: Take subway line 1, get off at Lindun Road Station, and walk 400 meters to arrive at the east end of Guanqian Street, or get off at Leqiao Station and walk 500 meters to the west end of Guanqian Street.
Seven Popular Local Delicacies on Guanqian Street
1. Pan-Fried Bun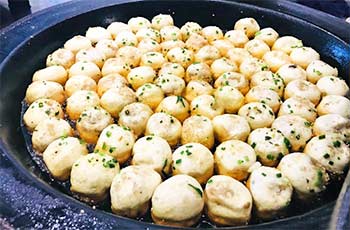 Pan-Fried Bun
The Pan-Fried Bun has a history of more than a hundred years since it was first eaten in the Wu Area (territory of the state of Wu during the Spring and Autumn Period).
At Yaba Pan-Fried Buns Shop, an introduction to pan-fried buns is constantly being broadcast, saying, "In Suzhou people can never have enough of our pan-fried buns, which have a white body and a yellow bottom, and have both a soft and a crisp texture. Take a bite of it, you'll get a mouthful of sweet soup", which clearly shows Suzhou people's love for pan-fried buns.
Speaking of pan-fried buns in Suzhou, Yaba (which means 'deaf-mute' in Chinese) Pan-Fried Buns are second to none both in terms of popularity and taste. The owner of the shop is a deaf-mute old man. The pan-fried buns he makes are so tasty that people pay more attention to the food than the name of the owner. As time goes by, customers have gradually forgotten his name and thus refer to the shop as Yaba Pan-Fried Buns. Yaba Pan-Fried Buns Shop is widely known around Suzhou town and even beyond as a famous snack. As a time-honored brand of 60 years, it is also one of the best representatives of Suzhou's catering industry. The shop was originally located at the end of Gaoqiao Bridge in Changmen and was relocated to Donghuan Road of Su'an New Village (the opposite side to Building No.24 of Su'an New Village, Industrial Park). It now has many branches, among which the one on Lindun Road (No.12, Wenjia'an, Lindun Road) is the most popular. The business there is so good that there are often thirty to fifty people waiting in line.
2. Sweet and Sour Mandarin Fish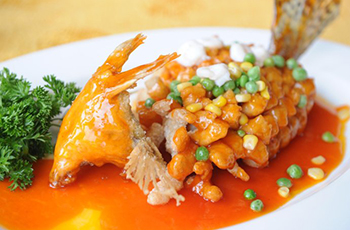 Sweet and Sour Mandarin Fish
Sweet and our Mandarin fish is made of Mandarin fish (also called Guiyu and Shiguiyu in Chinese) by deeply slicing into the deboned fish with rhombic patterns in its back, dipping it in dry starch, and then frying the fish twice with lard. The meat of the golden yellow fish is turned inside out after frying. With its head lifted, mouth open, and tail raised, the dish resembles a squirrel. Pouring sweet and sour sauce on the fish when it is still hot makes a sound which will make your mouth water. The color, smell, flavor and shape of sweet and sour Mandarin fish make it one of the main courses of Suzhou famous cuisines.
As it's suggested in a Tang poem that Mandarin fish is at its best when the peach flowers are in full bloom, March and April are the best seasons to eat sweet and sour Mandarin fish. Almost every restaurant on Guanqian Street serves this tasty sweet and sour dish.
3. Shelled Shrimp with Biluochun Tea
Shelled shrimp with Biluochun tea is a dish cooked with shrimps from Taihu Lake, and the Biluochun tea from Xishan Mountain and Dongshan Mountain. The tea leaves that remain are used as a garnish for the dish. The white shrimps decorated with green tea leaves look beautiful and taste delicious, and the dish is characterized with local color.
4. Hairy Crabs of Yangcheng Lake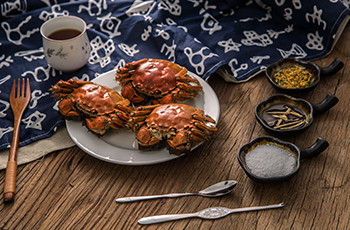 Hairy Crabs of Yangcheng Lake
Speaking of the food in Suzhou, Hairy Crabs cannot be missed off the list. Every year when the season (September to March) to eat crabs comes, a large number of visitors are attracted here to have a taste of the delicious Hairy Crabs that are served here. The Hairy Crabs of Yangcheng Lake have long won the reputation of the champion of crabs. It's said that the Hairy Crab of Yangcheng Lake is characterized by a smiling face on its back. As well as that, there are four major characteristics of Hairy Crabs of Yangcheng Lake: firstly, the carapaces of the crabs are colored blue and gray like mud, and smooth and sleek in texture; secondly, covered with mud, the belly-side of the crabs is white and spotless; thirdly, the hairs that grow on the legs of the crabs are long and yellow; and fourthly, the claws of the crabs are yellow and strong.
5. Soup of Euryale Ferox and Fragrans
Euryale Ferox and Fragrans soup is a traditional dessert in Suzhou. The Chinese name of the dish has the word "chicken" in it, but the dish has nothing to do with chickens. It is made from a Suzhou Specialty, Euryale Ferox, also known as Qianshi in Chinese, and which grows in Nantang of Fengmen, and is a nourishing food comparable to the fungus, tremella. It is made of Euryale Ferox, Osmanthus sugar, and white sugar. Tasting sweet and delicious, the dish is one of the most favorite desserts of the locals.
6. Beggar's Chicken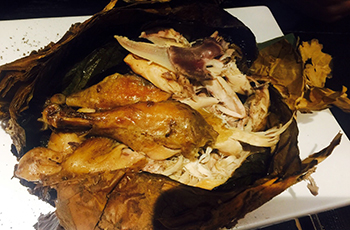 Beggar's Chicken
Beggar's Chicken, also known as simmered chicken, is an example of Suzhou Cuisine which is famous both at home and abroad. The dish has a legend behind it. It's said that in the late Ming Dynasty, Qian Muzhai and Liu Rushi lived a secluded life in Yushan Mountain. One day, Qian was strolling on the mountain road when he smelled a fragrance and found a beggar who was using a pine branch to roast a chicken. The chicken was covered with mud. When it was done, the beggar removed the mud and the chicken feathers came off together with the mud. The chicken smelled very appetizing. He was amazed that the beggar could roast the chicken so perfectly without any cooking utensils. When Qian got home, he ordered his cook to roast a chicken in the same way the beggar did, and stuffed the chicken with some added ingredients. Liu Rushi tasted the dish and responded, "I would prefer to eat the chickens of Yushan Mountain my whole life rather than taste the fish in Songjiang River for a day.
7. Braised Pork with Pea Shoots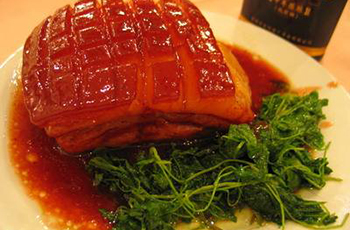 Braised Pork with Pea Shoots
The ingredients used in Suzhou Cuisine are carefully chosen according to the season. Braised Pork with Pea Shoots is a dish for spring. Use low heat to simmer the pork until it is mellow, then turn it up to medium heat while adding crystal sugars and cook the pork until the sauce is thickened, then add scallion and ginger, and then load the dish into a bowl with the skin side downward and pour the sauce over it. After that, put the bowl covered with a lid into a steamer for 5 minutes and then serve it in a plate. In the meantime, fry pea shoots with vegetable oil and put them around the plate as a garnish. Resembling a plate of cherries just picked from trees, the dish is brightly colored. The pork looks as crimson as red dates. The skin tastes so soft and the pork is so tender that it melts in the mouth, tasting a little salty but sour and sweet at the same time.