Repulse Bay is located on the south side of Taiping Mountain on Hong Kong Island. It is surrounded by mountains and seas. The bay is crescent-shaped, and is known as "The Best Bay in the World", as well as having the reputation for being the 'Oriental Hawaii'. It is the most representative bay in Hong Kong.
Quick Facts
Chinese name: 浅水湾 Qiǎn Shuǐ Wān
Suggested time: 2 hours
Ticket: free
Address: Repulse Bay Beach Road, Hong Kong Island
Open hours: all day
Best time to visit: from June to August
Address: No.88, Century Avenue, Pudong New Area, Shanghai
How to get there: Take the bus No. 6, No. 6A, No. 6X, No. 66 or No. 260 and get off at Repulse Bay Station.
Highlights of Repulse Bay
In Repulse Bay, there are mild waves and soft sands. The beach bed is wide with a gentle slope and the water in the sea is warm. The most lively period of time for Repulse Bay is during summer, when a large number of tourists come and visit. The beach will be crowded with people. By then, all kinds of swimming suits decorate the bay and compose a colorful picture.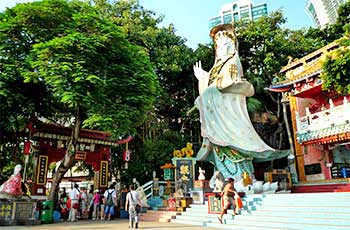 Zhenhailou Park
Zhenhailou Park
Zhenhailou Park (also known as the Tianhou Garden), was built for the Zhenhai Building. There are two huge sculptures more than 10 meters high, facing the sea, namely the sculpture of 'Tianhou Goddess' and 'Guanyin Bodhisattva'. Next to the sculptures, there are auspicious figures such as the Dragon King, Uncle River, Maitreya, and Fu Lu Shou.
Zhenhai Building
Located at the southeastern end of Repulse Bay, Zhenhai is a building with strong Chinese classical color. The roof is decorated with dragons flying in a circle. This is also where the Hong Kong Life Saving Association is located. It is said that the Hong Kong Life Saving Association is a non-government organization, aiming to reduce accidents caused by water sports.