Hong Kong Disneyland consists of an amusement park and three hotels (Hong Kong Disneyland Hotel, Disney's Hollywood Hotel, and Disney's Discovery Resort). It is dedicated to providing guests with unique and wonderful experiences in Disneyland, so that families and guests from different age groups will all enjoy their stay here. The Resort opened in September 2005 and has attracted tens of millions of guests from all over the world, making it one of Hong Kong's most popular tourist hotspots.
Quick Facts
Chinese name: 香港迪士尼乐园 Xiāng Gǎng Dí Shī Ní Lè Yuán
Constructed: 2005
Suggested time:1 to 2 days
Ticket:

1-Day Ticket: for adult, HK$450 (RMB 381.15) / person for children (3 to 11 years old) HK$320 (RMB271.104) / person for seniors (65 years or older) HK$100 (RMB 84.72) / person

2-day ticket: for adult HK$585 (RMB 495.612) / person for children (3 to 11 years old) HK$415 (RMB 351.588) / person for seniors (65 years or older) HK$170 (RMB 144.024) / person

Note: Children under 3 years old are free of charge; prices may change at any time.
Address: Lantau Island, New Territories, Hong Kong
Opening hours:10:00-21:00
Best time to visit: fall and winter
How to get there: Take the MTR Tung Chung Line or the Airport Express Line to the Sunny Bay Station and then transfer to the MTR Disneyland Line
Highlights of Hong Kong Disneyland
Hong Kong Disneyland consists of eight themed areas: Main Street, U.S.A., Adventureland, Fantasyland, Tomorrowland, Grizzly Gulch, Iron Man Experience, Toy Story Land, and Mystic Point.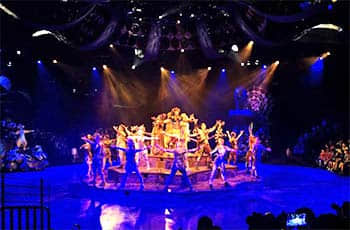 The show of High School Musicial
High School Musicial: LIVE
This entertainment project takes the energetic dance and passionate interaction as the biggest attraction. There will be 17 costumed artists dancing and singing on the moving stage with the banner of "High School Musical" at the same time. Meanwhile, the host will also lead the artists playing games with the visitors.
Main Street City Hall
Main Street City Hall is at the center of Disneyland and is a must-see spot in Disney. Here, visitors can request a map of the park and guidance for attractions. You can also make reservations for restaurants, and check all the data about Disney.
Animation Academy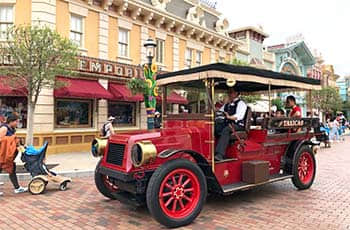 Antique car
Animation Academy is a place to teach visitors, especially children, to paint cartoon characters in Disney's fairy tales with brushes. Papers and pens are provided here. In addition to media videos, there are also professional comic teachers providing detailed guidance to tourists. For visitors, it is easy to draw classic animated characters such as Mickey Mouse and Donald Duck here.
Antique Cars in Main Street, U.S.A
In Main Street, U.S.A, there are various antique cars, including minibuses, vans, taxis. Visitors can take the antique car at the main street and go to the town square. Sitting in these cute antique cars, you can enjoy the street scene along the way, like in cartoons, which will make you feel wonderful.
Turtle Talk with Crush
Designed by Walt Disney Imagineering, the interactive game, the Turtle Talk with Crush in Hong Kong Disneyland, makes it possible to have an improvisational, real-time conversation with Crush, the green sea turtle character from the Disney Pixar film Finding Nemo. In the mysterious and wonderful underwater world, Crush will chat, play and joke with tourists in his unique and personalized language.