The Avenue of Stars is a special attraction built to appreciate the outstanding figures in the Hong Kong film industry. In order to implement the project of optimizing the Tsim Sha Tsui seaside, Hong Kong turned the Salisbury Park and Seaside Garden, which are adjacent to the Avenue of Stars, into a "Touristic Cluster of Avenues of Stars". As a result, the Avenue of Stars was officially closed in 2015 and the new project is completed by the end of 2018.
Quick Facts
Chinese name: 星光大道 Xīng Guāng Dà Dào
Constructed: 2003
Suggested time: around 1 to 3 jours
Ticket: free
Address: the Tsim Sha Tsui Seaside Garden in the east of Tsim Sha Tsui, Kowloon, HK
open hours: all day
Best time to visit: fall and winter
How to get there: Take the subway and get offat Jiandong station
Highlights of Avenue of Stars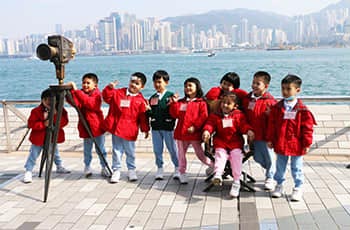 The Avenue of Stars is 440 meters long and extends from the Hong Kong Museum of Art to the New World Centre. To commemorate the history of the development of the Hong Kong film industry, the names and the handprints of the outstanding figures in the film industry were embedded in a special monument and displayed in chronological order. These handprints include well-known stars such as Andy Lau, Chow Yun-Fat, and Tony Leung, as well as famous directors such as John Woo Yu-Sen and Wong Kar-Wai. The bronze statue of Bruce Lee has become the symbol of the Avenue of Stars. The bronze statue is 2 meters high and is built according to his role in the movie Enter the Dragon. You can imitate the gesture of Bruce Lee across the railing and take a picture with the statue. In addition, there are statues of shooting movies on the avenue. Therefore, you can also sit in the middle of the chair to play as a director, giving commands to the lighting operator and the sound man. Wandering along the Avenue of Stars, you can enjoy the breeze blowing from the sea and appreciate the lustrous night view beside the Victoria Harbour. Due to its excellent location, it is also a nice place to enjoy A Symphony of Lights, the large-scale light show of Victoria Harbour.