Aberdeen is the central part of Hong Kong Southern District and was originally called Shek Pai Wan. Following the British army's landing in Aberdeen, the whole island was called Hong Kong. Therefore, this place is called Aberdeen.
Quick Facts
Chinese name: 香港仔 Xiāng Gǎng Zǎi
Constructed: 1841
Suggested time: 1-2 hours
Ticket: free
Address: 236 Aberdeen Road
Open hours: all day
Best time to visit: spring and fall
How to get there: You can get there directly by taking NWFB No. 38, 42, 78, 91, 595, 94A, or 95;
by taking Citybus No. 7, 37A, 37B, 71, 71, 73, etc.;
or by taking the cross-sea tunnel bus No.107, 170, 970X, 971.

Highlights of Aberdeen
Aberdeen is now an important residential area in Hong Kong, far away from the bustling urban areas. Although the streets are old, they encompass the charm of the life of local Hong Kong people. At the same time, architectural styles from Hong Kong's early years can be seen here, including a commercial street where snacks, food, clothing and other goods are sold.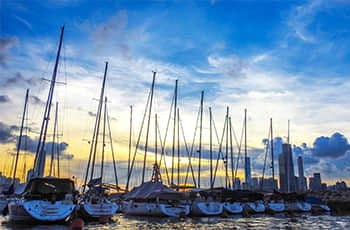 Aberdeen Typhoon Shelter
Aberdeen Typhoon Shelter
The 'Aberdeen Typhoon Shelter' is a sheltered area of water that lies between Aberdeen and the island Ap Lei Chau. The shelter has always been a safe haven for local fishermen. Next to the typhoon shelter, where the fishing boats are moored, there are a lot of modern buildings. The new and old communities present a strong contrast and add beauty to each other. In the evening, thousands of flashing lights are reflected on the water, forming an extraordinarily romantic view. Visitors can take a boat into the typhoon shelter and experience the lifestyle of the people engaging in water business.