The three Pagodas are located in Chongsheng Temple, which is about 1.5 kilometers (0.6 miles) northwest of the Dali Ancient City. Facing Erhai Lake, Chongsheng Temple is located at the western border of Cangshan Mountain. The Three Pagodas inside the temple were built 1,800 years ago in the Fengyou Period. They are a symbol of the history of Nanzhao Kingdom, and a record of the development of Buddhism. On March 4, 1961, it was announced by the State Council as the first batch of national cultural relics protection units and is listed as a 5A level scenic spot.
Quick Facts
Chinese name: 崇圣寺三塔 Chóng shèng sì sān tǎ
Constructed: 824AD – 859A
Suggested time: more than 3 hours
Ticket:
1. Joint ticket (including Dali Three Pagodas Park, Three Pagodas Reflection Park): 121 yuan per person;
2. concession ticket: 62 yuan per person (students, disabled, active duty soldiers).
Tips: senior citizens are free to enter.
Address: in Chongsheng Temple, Dali City
Open hours: 8.00 – 18.00
Best time to visit: all year round
How to get there:
You can walk there for about 15 minutes from the ancient city of Dali, or take the Bus No. 19 and get off at the Three Pagodas Park stop
Highlights of The Pagodas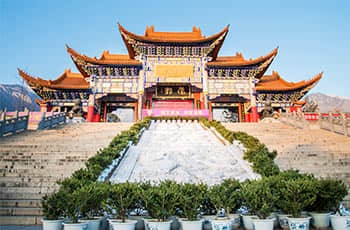 Chongsheng Temple
Chongsheng Temple Ruins
Chongsheng Temple was originally located to the west of the Three Pagodas, on the side of Cang Mountain. Its gate was about 120 meters away from the main pagoda. After the building of Chongsheng Temple, it was the center of Buddhist activities in the Nanzhao and Dali Periods. The "Holy" worshipped by Chongsheng Temple is Guanyin. At that time, the Dali area was extremely successful in worshipping Guanyin.
The Main Pagoda
The middle pagoda, Qianxun Pagoda, 69.13 meters (227 ') high, with a base width of 9.9 meters (32'), is one of the highest pagodas, while the other lower two stand to the north and south sides of it. Qianxun Pagoda can be climbed by a wooden ladder. It's the classical design in the Tang Dynasty.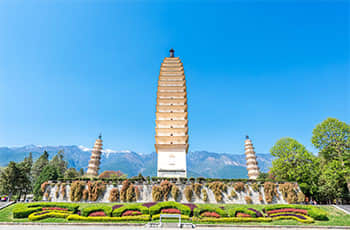 Two Lower Pagodas
Two Lower Pagodas
The south and north lower pagodas are both 70 meters (229') away from the main pagoda, and they are 97.5 meters (320') away from each other. They are all 42.17 meters (138') high. They are octagonal dense hollow brick made pagodas. The exterior is decorated in a loft style with columns. Each level has a flat base. The body of the tower is a stone charcoal, which is like a jade pillar.