Why Choose Tailor-Made China Tours for Schools

With an unparalleled wealth of cultures, lifestyles, history and arts, China is always the odds-on favorite for schools and educational institutes alike. Experience is di-verse: standing in awe at the world wonders, learning mandarin or some traditional arts, outdoor activities and inter-school camps; so many ways to make China your own oyster.
A well-cut educational trip to China would not only bring about awe-inspiring sightseeing, but also and certainly the most importantly, a life-impacting opportunity for the younger generation to learn outside their classrooms. As for the schools' standing, planning is the most vital step.
What Does the Market Scape Look Like for School Trips in China
The industry of educational travels started as early as last century when the country open up for more communication with the western world. According to governmental laws back then, international schools were only allowed to book tours from large-scale, nation-run and chain travel agents under the brand of China International Travel Services (CITS).
The first patch of classic China school trips included Beijing, Xi'an and Shanghai due to certain political and transportation-related reasons. Although most formerly-nation-owned travel agents have gone private, such cookie-cutter itineraries are still their solution for all. Minimizing the changes (what we consider as flexibility or specific interests) of any fragment of the trip ensures them the possibility to get better prices from local suppliers (Nobody likes trouble after all).
Luckily, things are easier in present: all legit travel agents, regardless the scale, are capable to craft and sell trips to schools abroad. And more destinations (such as Tibet and some regions in Xinjiang) and experiences are brought forth to your table. Making it unique is possible, yeah!
Why A Tailor-Made China Tour Should Be Your Choice
The primary focus of a school trip is to connect with the reality. The things that stu-dents have learnt inside classroom are brought to life. Youngsters benefit from hands-on field activities that, in return, boost their passion to learn and practice more. However, each school has their different goals that shall be the ONLY compass to coordinate the trip planning and operating.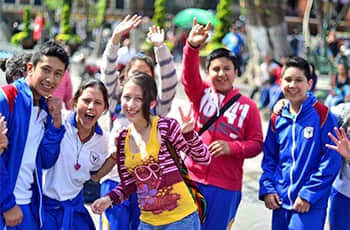 Teenagers hiking the mountain trails in Guizhou
If you are launching a field trip for human geography study, Guizhou, Yunnan and Guangxi for example, should be included; a 3-day mandarin-learning camp at a pri-vate language institute helps better for students who major in Chinese as their second foreign language, rather than just a one-hour class. China never lacks possibilities yet it is a keen insight that makes the difference.
Half of the job is done at the planning stage. How this school trip is going to look like is easy to espy only after a few emails between you and the travel agent. With tons of inquiries on a daily basis, it is hard for a traditional travel agent who sales fixed group tours to work their time and focus around you. They might not even have the time for phone calls simply because your daytime is not their working hours. You wouldn't want to feel neglected, right?
When you are actually in an exotic land like China, staying connected grants you ease at mind and safety for your group. Compared with those agents who refer you only as a booking number or code, a travel agent who specializes in tailor-making services addresses you by the name and tracks everything once you land in China.
There is nothing wrong going with a group tour. It's always the safest (and sometimes the cheapest) choice if all you want is just flying out to the orient or getting your passport stamped. Consider a private, tailor-made service if your vision exceeds beyond.
Is A Tailor-Made Tour Too Expensive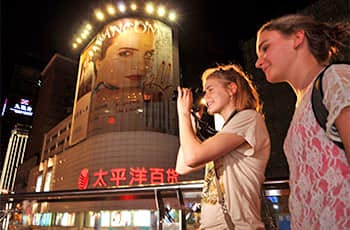 Experience China's traditional cultures in a close range.
Compared to fixed-departure, tastelessly-planned and shop-entering group tours, yes, a tailor-made tour for school might not look very budget-friendly. Considering what you get from a tailor-made service, however, you may see it as a big "bargain".
Getting every detail organized can take up at least a couple of weeks to achieve on your own or negotiate with an agent who only sells cookie-cutter tour packages. Such time can be spent on other things that are more important and more suitable for your skillset. In another word, you are paying for China experts' time and knowledge.
Some great experiences cannot be measured by the money. You are traveling for new experiences that are better presented only with discerning insights. Tailor-made service is focused on your interests, so are these experiences. They deserve to be a little bit more expensive as you are not just a face in the crowd. Better flexibility, exploration opportunities and safety all make the extra penny worthy.
Why should you partner with China Educational Tours (CET)?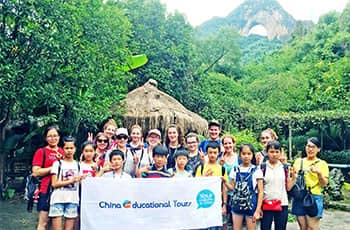 New Zealand students travel with Chinese students
Over the years, we have come to a recognition that international schools or educational institutes excel at offering field trips and brand-building much better with help from a China-based partner who specializes in customized tours. Rather than a tour-selling travel agent, we would rather be addressed as your partner. We grasp your approach, vision and demands in a snap. Most of our team members used to work at tourism for company expeditions, school trips and incentive holidays for big groups. Being familiar with clients who want a little bit different in their own travels, all it takes just one email to transfer your ideas into our heads.
We value flexibility and exploration. The most remarkable difference between our services and fixed group tours lies in flexibility. This means you will not be rushed around attractions, stuffed in big coaches or, even worse, cheated into shops that camouflage as "museums". Our moderately-paced itineraries encourage you to be creative and adventurous to discover China's beauty on your own.
We are China-based expert. Besides landscapes, architectures and artworks you can see and touch, China is a treasure trove full of authentic yet tangible experiences that can only be put forth by those with a keen sense. With more than 5 years of experiences in school tours, our knowledge outmatches those agents who are based abroad and only outsource tours to China. Also, it is dreadful to lead a group of more than 20 children. Our local offices around China mainland and Hong Kong ensure you everything will be under control from the second you land.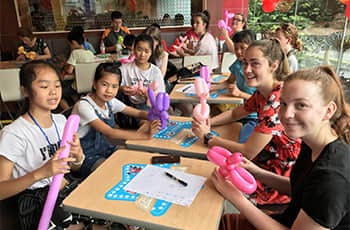 We are trusted by a great number of international schools and educational facilities. Carefully and thoughtfully studying every case, we have hand-crafted tailor-made tours for over 100 schools and educational institutes. Most of them would come back for a second or even third trip with us. Good words do travel faster than advertisements.
What Other Schools And Educational Institutes Said About Us
Over the past few years, good reviews have piled up and we were rewarded for Certificate of Excellence by TripAvdisor because of 100% 5-star reviews. School trip planners' experiences with us might shed some light: Thank you Carol Guan for your dedication and help for all the arrangements to make this special Cultural Exchange Student Program a success, once again! This trip was organized for a group of Chinese language learning students from a high school in New Zealand to come for 10 days. … This gave them an opportunity to learn hands-on about Chinese culture and customs, but also to see one of China's minority groups.
— Linda, New Zealand
Great education tour of 12 days. We had wonderful tour guides - Michael in Beijing, Jennifer in Guilin, and Jack in Shanghai. All were very knowledgeable, accepting of our group feedback, and flexible with our itinerary when needed. I highly recommend China Educational Tours and would definitely use them in the future.
— Robert, USA
A group of 24 8th grade students and 11 chaperones, planned our first trip to China with the hope that future 8th grade students from the same middle school would continue the tradition. Carol was incredibly responsive, explained things thoroughly, and was flexible and patient with all our requests. The 13-day itinerary was a perfect balance of historic sights, experiencing and learning the culture, seeing the amazing scenery, interacting with other students, and offering opportunities for the students to practice Mandarin.
— Lisa, Canada
We have worked with some international educational institutes and schools, too name some of them you will find:
New Yokr Institute of Technology (NYIT), New York, USA
San Fransisco Unified School District, USA
Pathfinder K-8 School, Seattle, USA
Emmanuel College, Boston, USA
Macquarie University, Sydney, Australia
Rangitoto College, Auckland, New Zealand
Educating Adventures, London, UK
Students Horizons, Brisbane, Australia
Experience, explore and educate, make this China trip a precious memory that im-pacts life and provides you different new perspective for the future. Our philosophy is simple: To Know China from real life experience, NOT only from what you read in books. You will be in good hands with China Educational Tours.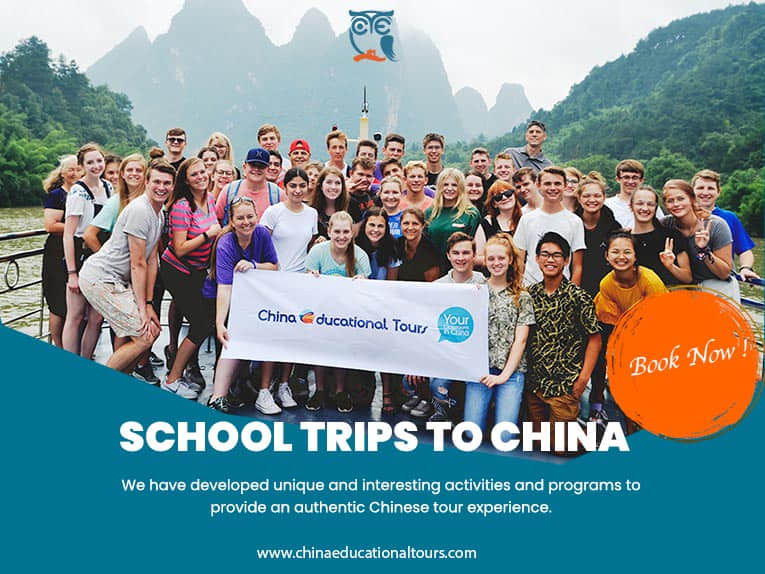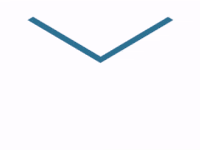 Have a question? Or can't wait to immerse yourself in the engaging journey of Chinese culture? Send us a message! Our top China specialist is ready to assist and connect with you without delay!