What the Chinese Eat for Lunch

You may find that lunchtime in China is a bit different than in your hometown. The fast-paced lifestyle in modern China has contributed to common practice for a quick lunch. Lunchtime for students and workers alike are meant to be fast-paced to accommodate a busy daily schedule. Eating lunch at a cafeteria or having quick delivery will accommodate many Chinese people in the modern age. There is a selection of unique Chinese meals that are made to be nutritious, filling, and quick to prepare and eat.
What Time is Lunch Normally Served in China?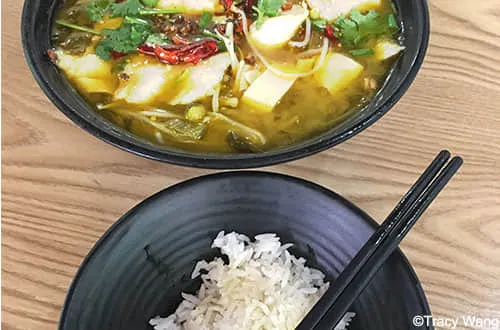 It is common to find Chinese people having their lunch break at around 12-2pm, this is similar to Western countries. This is the time where most schools and businesses let out for a brief lunch. While school lunch is consistently timed, work lunch can vary greatly. Modern Chinese workers are often quite busy with their daily scheduling and might need to adjust their lunch period accordingly or even eat a meal at their desk.
Bringing Lunch versus Buying Lunch
Commonly, families will make larger meals that can act as leftovers for the weekdays ahead. A large family meal leads to many leftovers that are great to take to work. Some families will also prepare meals the night before to take for lunch. Carrying lunch to work is a generally accepted practice, but the wide variety of affordable and quick meals for purchase also saves a lot of time and effort after a long day's work.
Aside from packing a meal, the large amount of food available for speedy delivery makes for great purchased lunch from any restaurant you like. Ordering food for delivery is easier than ever with a wide range of APPs built entirely for food and grocery delivery. Nearly every restaurant is accessible on these applications. This makes for easy ordering and delivery where you do not even need to leave work or school. Regardless of what you are craving, great meals are at your fingertips with a selection of food from these mobile ordering platforms.
What to Expect From Chinese Lunch
Across China, you will find many dishes that have region-specific popularity or country-wide favoritism. Here are some of the more popular dishes that can be found throughout China:
A Variety of Noodles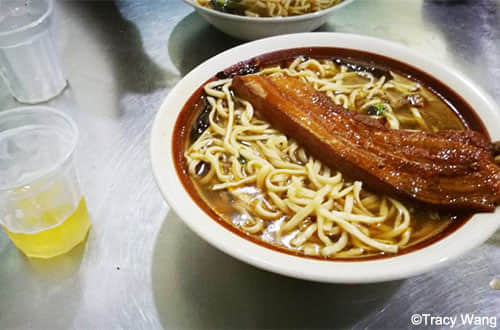 Noodle dishes are no stranger to Chinese lunch time. From fried noodles to cold noodle dishes, there are a variety of dishes that are prepared quickly to give a delicious set of flavors and essential nutrients. Noodle dishes have many different regional influences, but it is easy to find both meat filled plates or vegetarian options.
Dumplings or Steamed Buns
One of the easiest ways to have a fast lunch is through a set of steamed or fried dumplings. Dumplings are delicious when paired with a variety of sauces to give the meats and veggie contents a rich flavor. This is a super popular fast food lunch option, as restaurants and convenience stores have a wide selection of dumplings and steamed buns available immediately.
Canteen Cuisine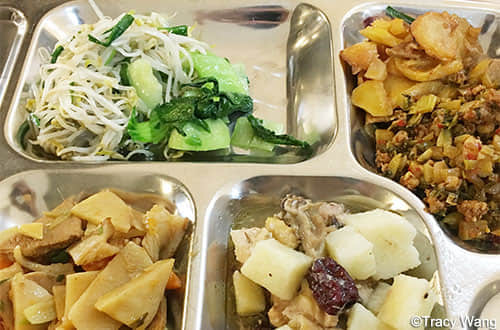 It is convenient and cost-saving to eat in a cafeteria. Cafeterias are great places to try an assortment of foods all in one meal. Normally schools or offices will have cafeterias ready for a large number of patrons. At a cafeteria, you will be able to choose from main and side dishes to complete your tray and fill your stomach with an assortment of tasty Chinese lunch foods.
Shared Meals
Lunch is a perfect time to join with a group of friends or coworkers to order a collection of dishes and share across the table. When there is a longer time available for lunch, or a special occasion to celebrate, such as business lunches, family or friend reunion, or the desire to eat a fancy meal, a larger shared meal is the go-to lunch option. Friends and Co-workers get together to have a shared meal at a restaurant they choose. One of the most popular options is Hot Pot. Hot Pot is a great way to enjoy a variety of meats and tasty tofu and veggies boiled and cooked directly in the provided soup. There are many styles of hot pot, among which traditional Sichuan style being one of the favorites.
Regional Favorites
When travelling around China, one of the most unique experiences you will have is enjoying food that is signature to each province. Chinese food have spread in popularity, but different regions have individualized these dishes to reflect their food and agriculture strengths. Some examples of these regional dishes and lunch favorites are: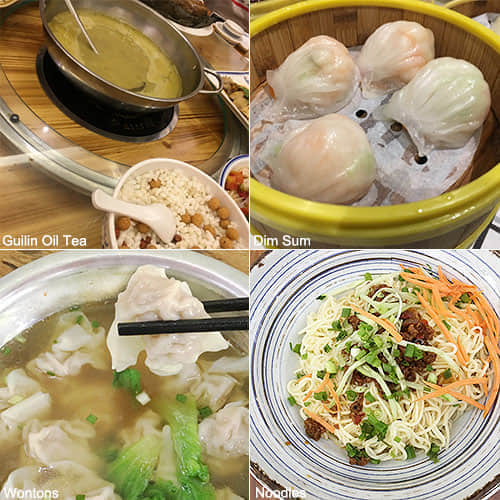 Guilin Oil Tea: A tea made famous by the Yao ethnic group in the southern provinces. This tea is made simply of oil and tea in combination. Enjoy this warm drink that will keep you cozy in the colder months and keep you healthy year round.
Cantonese Dim Sum: Small portion plates that add up to one large and diverse meal. This is a great way to experience a meal of many flavors and textures. A perfect choice for larger parties too!
Eastern China Wontons: A relative of the dumpling, wontons are tasty packages of meat and veggies. There are many ways to eat wontons, one of the most popular is wonton soup, combining a delicious broth with loaded wontons for overall amazing flavor.
Northern China Wheat Dishes: In the Northern Provinces of China, there is a lot of talent in making dishes that are made of wheat rather than rice. Steamed buns with or without stuffing, dumplings, noodles, steamed twisted rolls, pancakes, and Chinese style hamburgers all are cooked with wheat based recipes in Northern China.
Northern and Southern China have different meals and eating habits regardless of the time of day. Noodles and Rice Dishes are some of the most popular options available, but there are some slight differences in the meals depending on your location. Aside from the taste difference (Northern Salty vs. Southern Sweet or Spicy), there are some differences in the ingredients that make eating food in China very unique.
The Cost of Lunch in China
One of the most surprising qualities of lunch food in China is an extremely affordable price. These simple and quick meals are not only great for your stomach and body, but they are great for your wallet too! A full-sized meal could cost anywhere between 20-50RMB at a more local restaurant.
Conclusion
Lunchtime is especially important due to the positive health benefits that come with having a large and healthy meal. Added energy gets people through their busy work and school days. There are a variety of domestic and international food options to enjoy around China. Exploring the country through the vast amounts of unique foods is one of the most enjoyable ways to further understand the culture and history of China.
Have a question?
OR
Are you eager to begin your Chinese cultural journey?
Drop us a line and we will promptly connect you with our leading China expert!