Top 10 Ski Resorts in China

When you're planning a trip to China, skiing probably isn't one thing on your to-do list. In fact it's probably not on your list at all. Indeed, skiing is still a relatively young sport in the ancient kingdom and has only recently become a mainstream winter activity. Actually, modern winter sports had only started gaining popularity in China by the end of the twentieth century. The cold winters in the northern part of the country form the ideal conditions and ski resorts have been popping up all over. The perception of skiing in China is changing rapidly, as the sport's popularity grows with a younger generation that is finding purpose in the snow.
Fueled by China's economic boom and increased discretionary income, upper middle class and wealthy Chinese are driving the construction of new resorts and the consumption of ski products. With the Beijing Winter Olympics set for 2022, China is focused on developing and upgrading ski resorts and snowfields across the country. Basically, there's never been a better time to ski in China. Winter holidays in China are becoming more popular thanks to the modern facilities and brand new resorts. Skiing is not a new phenomenon in China. You may not know that China is one of the birthplaces of skiing. The cave paintings near Altay City (in the northern tip of China's Xinjiang region) show that local tribes used skis to hunt as early as 10,000 years ago. They still do so today. They use wooden skis covered with horse hide at the base, and a single pole for support and leverage.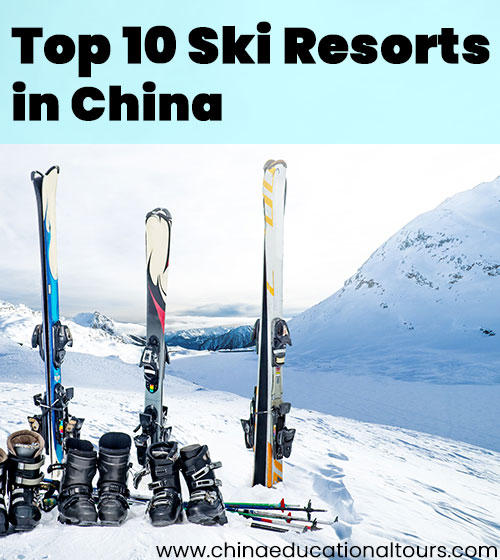 If you want to add skiing in your China tour plan, the following ten of the top ski resorts are highly recommended.
1. Yabuli Ski Resort – The Earliest Ski Resort in China
Location: Harbin, Heilongjiang province, northeastern China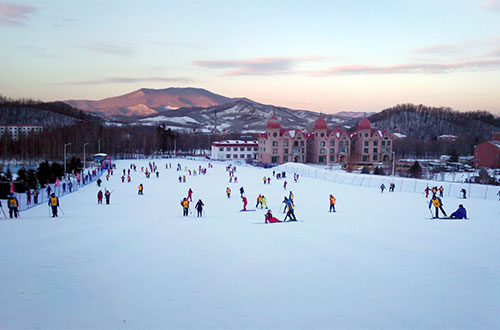 Yabuli is the oldest ski resort in China. It was established in the 1970s. In 1996, the 3rd Asian Winter Games was held here.
For skiing and snowboarding, there are 35 km (21.75miles) of slopes available. 11 lifts transport the guests. The winter sports area is situated between the elevations of 457m (1499ft) and 1,375m (4511ft). While it's the main training venue for the Chinese national skiing teams, it also has plenty to offer adrenalin seekers.
Yabuli has 18 runs of different levels of difficulty. The 3 kilometer (1.86miles) A1 is the longest intermediate ski trail in China and is nicknamed the "Trail to Happiness." Experienced skiers may want to have a go at the 2.7 km (1.67miles) A5, known as the "Road for the Brave."
Kids will have a blast swishing down the 2.2 kilometer (1.36miles) sled slide – Asia's longest – complete with 48 twists and turns.
2. Beidahu Ski Resort – Venue of 2007 Asian Winter Games
Location: Jilin City in Jilin Province, northeastern China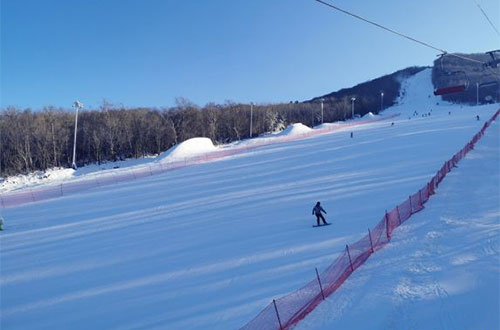 Beidahu is one of China's premier ski resorts, with nine peaks with an altitude of 1200 meters (3937ft). It operates on two mountains and the valley in between and offers the highest operating vertical in the country, a Terrain Park, ski lessons for kids, and tons of cross-country trails. It was the site of the snow games of the 2007 Winter Asian Games.
It is the most important snow sports training base and snow tourism center. For skiing and snowboarding, there are 11 km (6.83miles) of slopes available. 10 lifts transport the guests. The winter sports area is situated between the elevations of 520 m (1706ft) and 1,370 m (4495ft).
Additionally, the resort boasts picturesque rime scenery. The beautiful Jilin rime is regarded as one of China's four meteorological wonders – along with the cloud sea on the Yellow Mountains in Anhui Province, the sunrise on Mt. Tai in Shandong Province, and the Qiantang River tidal bore in Zhejiang Province.
3. Alshan Alpine Ski Resort – The Choice of China National Skiing Team
Location: Alshan, Inner Mongolia, Northern China
Alshan Ski resort, close to the border of Mongolia, is blessed with endless snowfall; the slopes are always laden with fresh powder, so it's a skier's paradise. The resort is divided into two parts: The West Hill Ski Terrain for ski racing and training, and the East Hill Terrain for just plain fun. The West Hill Terrain is built in accordance with the standards for international ski racing, suitable for competition and training. This part covers around 5.5 square kilometers (2.2 sq. miles) with a great many alpine and cross country trails. The trails are connected to a hot spring area, featuring a perfect combination of icy cold and boiling hot.
Alshan is used as a training ground for the Chinese national ski team as well as the Olympic ski team, which will be music to the ears of advanced skiers.
4. Nanshan Ski Village – Largest Ski Resort Accessible from Beijing
Location: 63km outside of Beijing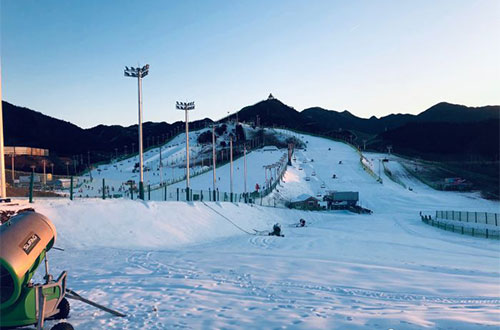 Nanshan Ski Village is a 1 hour drive away from Beijing and is a great option for those who are eager to experience skiing but don't want to travel far out of the city. Nanshan Ski Village covers an area of 2.6 square kilometers (1 sq. mile) and has 21 trails. Most of them are beginner to intermediate level runs, but the mogul field at the top has monstrous bumps for the intrepid skier.
With a peak elevation of 215 meters (705ft), it offers skiers and snowboarders a 125 meter (410ft) vertical drop. In total Nanshan ski resort offers 5 km (3.1miles) of marked trails with 60% of the total trails ideal for beginners, 20% of the total trails being suitable for intermediate skiers and 20% for the more advanced and expert of level skiers and snowboarders.
5. Beijing Huaibei Ski Resort – Admire the Great Wall While Skiing
Location: 70km (43.4miles) outside of Beijing
Opened to the public in 2001, Beijing Huaibei International Ski Resort was the first ski resort opened in Beijing. Located near the Great Wall, the ski resort features the highest cable car, running 1200 meters (3937ft) high. The longest run is 3100 meters (1.93 miles). The resort has four slopes on offer and is ideal for beginners and those of intermediate skill. It is open to the public from the beginning of December to the end of February.
If you just want to experience skiing, you can do a one day tour of skiing and tour to the Great wall (both Badaling Great Wall and Mutianyu Great Wall are in the vicinity.)
6. Beijing Jundushan Ski Resort – Most Accessible Ski Resort from Beijing
Location: 30km (19miles) out of Beijing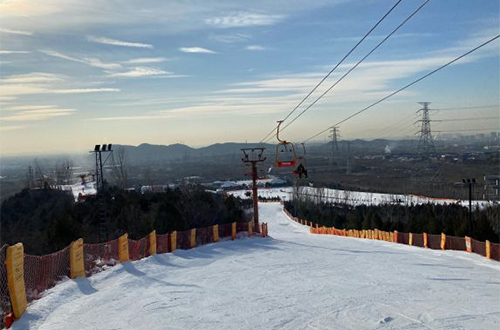 It is located on one of the top golden tourist routes in China. Some of the main tourist attractions in the area include the Ming Tombs, Badaling Great Wall and Juyongguan Great Wall.
This ski resort has 5 main trails. The longest one is the expert trail that measures 1200 meters (3937.2ft). Then there are two beginner trails measuring 380 meters (1246.7ft) each. Finally, there are two intermediate trails measuring 380 (1246.7ft) meters and 530 meters (1739ft). In addition, there are less challenging trails for training beginners. Collectively, there are more than 4000 meters (2.84miles) of snow trails here.
Trails are not all that there is to this resort. There are many more spots for different types of snow sports. Visitors can enjoy fabulous adventures such as sleds, snowmobiles, snowboarding and others. There are well-supplied gear rental shops in the resort.
7. Wanlong Ski Resort – The Venue for the 2022 Beijing Winter Olympics
Location: Zhangjiakou, Hebei Province, Northern China
The ski resort of Wanlong is located in the north of China, in the province Hebei. It is situated at 1,560m (5,118ft ) to 2,110m (6,923ft) above sea level, making it one of the highest ski areas in China. Wanlong will host the parallel slalom snowboard competition during the Winter Olympics in 2022.
Skiers and snowboarders can find 22km (13.7miles) of slopes and 6 lifts. Around 22 runs are distributed over the resort, with 16 of them suitable for experts. Three runs are marked as easy, three as intermediate.
Beginners will enjoy the area around the base, where they can find a magic carpet and a green run from the hotel to the base lodge. Experts can find steep and demanding slopes at the west face of the mountain.
The ski resorts are popular because of the location's accessibility – it's only a three hour drive from Beijing, and a high speed rail line is currently under construction to transport athletes and visitors from the capital in just 47 minutes.
8. Fulong Ski Resort in Zhangjiakou – The First Ski Resort that Open at Night
Location: Zhangjiakou, Hebei Province, Northern China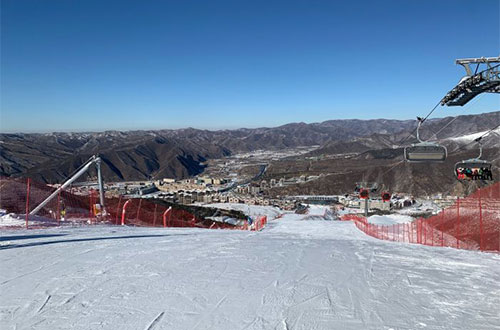 The Fulong Ski Resort in Zhangjiakou has great skiing facilities for both beginners and advanced skiers. Whether you want to ski during the daytime or at night, there is an opportunity for you here.
It has a 70,000 square meter (83719 sq. yards) ski park, a 25,000 square meter (29899 sq. yards) snow entertainment facility and a 30,000 square meter (35879 sq. yards) training center for children.
The best time to go try your hand at snow sports in this snow park is mid-November to March. You may bring your children. If they are under 18 months old, they will not have to pay for tickets.
There are skiing areas for beginners and kids along with professional staff to teach them. And there are skiing areas for intermediate and advanced skiers. The cable car lifts people to their respective skiing areas. It is comfortable and it can carry many people at a go to reduce the size of the queues. The snowmaking machines keep the snow fresh all the time.
9. Chengdu Xiling Snow Mountain Ski area – The Largest Ski Resort in Southwestern China
Location: Dayi County near Chengdu City
The Chengdu Xiling Snow Mountain Ski Field is located in Dayi county about 100km (62.5miles) from Chengdu City proper. The high altitude of this mountain peak is 5364meters (17599ft) above sea level; the snow at the peak stays intact throughout the year. However, the winter sports area is between 2000 (6562ft) and 2400 meters (7874ft) above sea level. The peak season for skiing is December to February.
The Xiling Snow Mountain ski resort has seven pistes totaling 10km (6.21 miles), spread over 8 square kilometers (3.08 sq. miles). The annual snowfall averages from 60-80cm (23-31 inches). The ski area is not particularly steep and is good for beginners and families.
10. Wanda Changbaishan International Ski Resort – Ski Resort with Best Hotel Facilities in China
Location: Baishan, Jilin Province, Northeastern China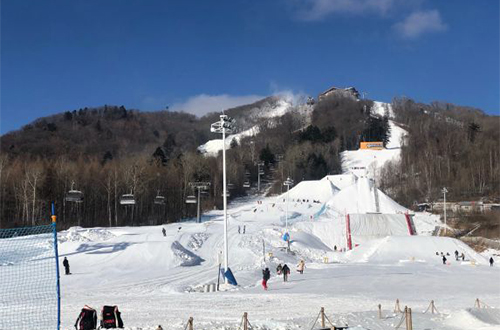 Changbaishan (Changbai Mountains) sits directly in the path of the Siberian systems spinning toward Japan, picking up buckets of wind-whipped, dry snow from December through March. A popular national park during the summer, the area is ideal for skiing in winter. Changbaishan Resort was developed and operated by Wanda Group, one of the largest real estate companies in the world. The resort cost 12.9 billion yuan ($2.1billion) and covers a 7square kilometer (2.7 sq. miles) area, with 43 ski runs, including nine advanced ones under the standard of the Olympic Games, 14 mid-level, and 20 junior, for a total length of 30 km (18.6 miles), on a 935,000square meter (1,118,260 sq. yards) area. It can hold 8,000 skiers at a time and handle international competitions.
There are good hotels in the resort. The Westin, Sheraton, Hyatt and Holiday Inn are all options here. There are a few decent bars, a theater offering live shows and some limited shopping for now. Pizza Hut, McDonalds and KFC are also available here.
Besides skiing in China, there are plenty of activities and events to take in when traveling to China during the winter. Winter is a good time to travel to China (if you don't mind the cold weather). There are fewer tourists at tour attractions and hotels are cheaper. If you like snow and ice, you can attend the Harbin Ice & Snow Festival in Harbin, northwestern China. It is held annually from early January to the middle of February. This festival provides stunning winter sights in one of the coldest places in China during the winter. Huge sculptures made from ice and snow grace the parks and, during the accompanying lantern festival, colored lights illuminate castles of ice. If you are not into cold temperatures, you can travel to southern China, like Guangzhou, Hong Kong and Hainan Island, where the weather can be pretty mild and you'll be able to enjoy some outdoor activities. In the case of Hong Kong, you can also enjoy the shopping season during the Christmas holiday period.
Have a question?
OR
Are you eager to begin your Chinese cultural journey?
Drop us a line and we will promptly connect you with our leading China expert!