Chinese Public Square Dancing

What is Public Square Dance?
It's not hard to find a group of people, usually retired women, dancing in unison in public areas. This happens mostly in city squares, parks and neighborhood open places. Hence, the name: Square Dance (Guang Chang Wu).
This type of physical activity is enjoyed by millions as there is very little skill required to get started. The simple and natural movements make it a popular exercise that anyone can take part in and enjoy.
The development of Guang Chang Wu over the years has led to an increasing interest for people of many ages and has even become a popular pastime around the world.
Origins
The craze for communal dancing could be traced back to the 1990s, when millions of people lost their jobs at state-owned companies as China was adopting more capitalist practices. People back then had lots of time, a strong desire for health and entertainment, but with less money as well as lacking public facilities. Dancing in public parks could solve all these difficulties and become the perfect option for low cost fitness. This interest heated up in 2008, when the government encouraged a national-wide fitness program to welcome the Beijing Olympics.
While Guang Chang Wu takes inspiration from more modern dances and music, there are some valuable cultural influences on these dances. One of the most common influences is from yang-ko, which is a traditional dance style of northern Chinese ethnicity. There are many styles of this dance that are individualized across the country.
Dance Appearance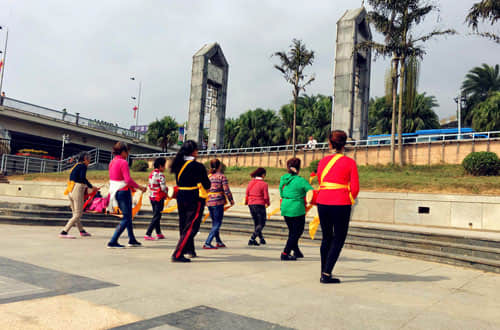 Square dancing has very little structure of rules. It is usually a group of dancers standing in row, with a teacher/leading dancer standing in the very front. The leading dancer is more of a professional, who is familiar with the music and movements. The rest of the group will follow the leader and dance by the rhythm. Each group can be as small as 5-6 people and big as more than 100. With several dancing groups at the same place, the dancing will turn into a restrained competition. Hence, some big dancing groups wear fancy outfits.
Equipment and Cost
There is a very low cost of getting involved in public square dancing. There is no exclusive membership or valuable equipment cost necessary.
Some groups may charge RMB30-50/year as membership fee, for buying the loudspeaker and electricity. Some groups are totally free as the leaders want to attract more followers, often times these groups feature many retirees.
If they want to be special and stand out from lots of dancing groups, they would wear dance outfits with unique or traditional designs. Apart from clothing, accessories such as fans, flags, waist drums or small instruments may be seen. These will be extra cost.
What makes Guang Chang Wu Unique?
Most closely related to square dancing in Western countries, Guang Chang Wu makes for a fun morning and evening activity. Fitness is an essential part of life in China. To properly exercise daily has a great impact on health. Younger people choose to run and workout in the gym, while older ones find square dancing more interesting and capable given their health conditions.
These dances are lower effort and do not require much prior dancing ability to fully enjoy. There may be a bit of a learning curve to those who are completely new to dancing, but you should be able to follow along within a few minutes of trying it out.
Old people enjoy this dancing style partly because of its social function. It keeps the seniors together, allowing them to socialize and communicate with each other, so as to relieve their loneliness. They dance together, sometimes travel, go shopping, play Mahjong, sing Karaoke and party together.
Apart from the social aspect, dancing requires a larger area of free space. Many people may not have an open space in their homes to enjoy dancing. Outdoor dance allows people to get some fresh air while enjoy their exercise.
Who Partakes in Guang Chang Wu?
Widespread Popularity
Initially, Guang Chang Wu was a favorite activity for retired grannies across China. As time went on, more retired men became interested in the social and physical benefits of dancing. With the rise of the internet and online social platforms, younger generations have also become involved in the dance. This is a great form of exercise for younger people that are often busy during the day with excessive schoolwork or professional work.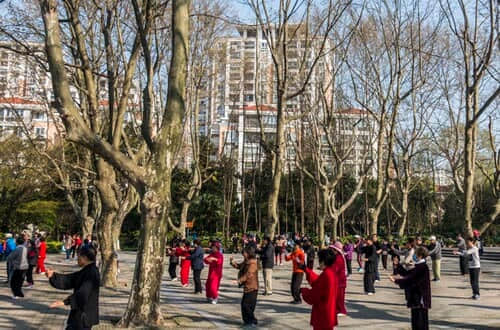 Fitness Buffs
Chinese square dancing is a prime example of a cardio-centered workout that people of many ages and conditions can enjoy. This is a relaxing form of dance that will not require too much flexibility or high energy to follow along and have fun with.
This is why square dancing is a top choice for exercise for older folks. However, it is not uncommon to find younger dancers in the crowd enjoying each other's company and the great music.
Dancing Style
There are many dances that are performed individually, where a partner is not needed to enjoy the rhythm and flow of the music. Dancing along with a group is a way to enjoy the movements by yourself while still surrounded by friends and fellow dancers.
Individual Dance
Dancers that do not have a partner or prefer to dance alone are often found in groups dancing to a simply choreographed dance. Often times, you will find that there is one leader, choosing the motions and following the rhythm, while all the other follow along to make for a nice synchronized appearance.
Partner Dances
Other dances are made to be performed with a partner. Different styles of music with unique tempos or styles make for a more enjoyable dance for partners. This is a favorite style for couples and married people, as it is a romantic and fun way to get some exercise together. Many times, the partner-based dances are more free-form without the need to follow instructions, just look out for the other dancers!
The music that is played is not too high energy or fast-paced, making for slower and more elegant movements. The type of music chosen further promotes the relaxing and welcoming environment of the dance. The songs are often a more traditional style but are enjoyed by people of any age.
Where Can You Find Square Dancing?
As mentioned before, Guang Chang Wu has spread in popularity all across China. Dancers will be found in every public space at the designated time, 7-9am and 7-9pm. Smaller neighborhoods might host more intimate groups whereas larger public destinations may have hundreds of dancers.
Regardless of the number of people present, everyone is there to have a great time and get some much-needed exercise. You may find that larger groups are easier to follow along with as an individual, but can get a bit crowded for partner-based dancing.
Popular Dancing Locations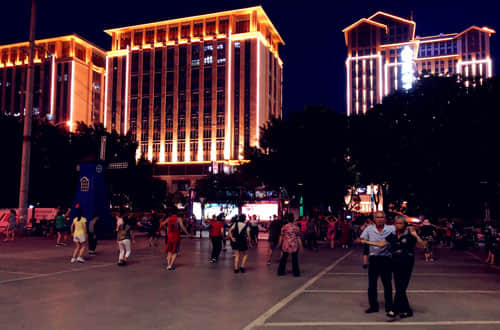 To find some of the largest groups partaking in Guang Chang Wu, look for some of the largest public locations in each city. You will find mass amounts of dancers in locations such as:
People's Square in Shanghai
the Giant Wild Goose Pagoda in Xi'an
the Temple of Heaven Park in Beijing
Renmin Park in Chengdu
Binjiang Road in Guilin
While these locations may be the go-to for finding large groups of dancers to join in across China, there are thousands of neighborhood parks and smaller spaces that host dancers every morning and night. If you are out exploring during popular dancing timeframes, you will hear the streets filled with upbeat music with people dancing along. Don't be afraid to join in on the fun!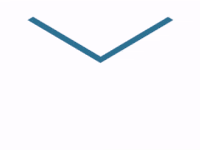 Have a question? Or can't wait to immerse yourself in the engaging journey of Chinese culture? Send us a message! Our top China specialist is ready to assist and connect with you without delay!