Nowadays everybody has a smart-phone which has become an indispensable part of their life. With so many different applications, we can do a lot of things with a phone. Facebook, Google Maps, Skype, WhatsAPP, and Twitter are very popular APPs in the world. However, most of those popular APPs are blocked in China. When you are traveling in China and want to communicate with your new Chinese friends, WeChat will be the best choice.
What is WeChat ?
WeChat is a free chat APP for mobiles that offers free video and voice calls, images, games, videos, stickers and text messages to help you stay in touch with your friends and family.
WeChat is a multi-purpose messaging APP made by Chinese Internet portal company Tencent in January 2011. At this point it has about 800 million users in the world and most of those are Chinese.
1. What are the main features of WeChat?
WeChat is free to download and all the features are free to use.
Send a message by voice instead of typing.
Share your life's favorite photos and videos with your friends on 'Moments', just like you would do on Facebook.
You may discover and add new friends through location-based services or shake your phone or scan other's QR code to add them instantly.
You can pay everything or transfer money by WeChat Pay.
2. Why is WeChat the best choice for westerns when traveling in China?
The popular APPs in the western world, such as Facebook, WhatsApp, Instagram and Twitter, are blocked in mainland China.
Huge numbers of WeChat users.
Since January 2011 and up until 2018, the number of WeChat users is already about 800 million. And there are more than 100 million overseas users.
A convenient method of operation.
WeChat knows how to improve the user's experience. It's very easy for everybody to learn how to use WeChat at the first time, even for my grandma.
How to download WeChat
You can download WeChat by visiting www.wechat.com, then selecting your device's platform (IOS or Android) for proper installation.
You can also download the APP from your device's official APP store.
How to sign up?
1
First things first, you need to find a Wechat User who meets the following criteria:
Has signed up for WeChat over a month ago if he/she is an international user or 6 months ago if he/she is a Chinese mainland user.
Hasn't completed 'Help Friend Register' for other users in the past month.
Hasn't been blocked from WeChat in the past month.
Has activated WeChat Pay if he/she is a Chinese mainland user.
This user has to scan a QR code on your phone using WeChat within 10 minutes in order to complete the sign-up process.
Then start the APP and select 'sign up'.
2
You will be given two options: 'Sign up with mobile' and 'Sign up via Facebook'. We strongly recommend selecting 'Sign up with Mobile', as signing up via Facebook is far more complicated, and you will still need to provide your mobile phone number at the end.
3
Insert your full name, region (if not already filled in), mobile phone number and password – these fields must be completed before you can proceed.
Note: only one account can be registered to a mobile phone number.
There is also an option to add a profile picture at this point, but this is not necessary to complete the process.
Check the box next to 'I have read and accept the Terms of Service', then click 'Next'.
4
The next screen is WeChat's Privacy Protection Summary. You are not required to read this in its entirety before accepting, but we would recommend at least giving it a quick scan.
Check the box next to 'I have read and agree to the above terms', then click 'Next'.

5
Complete the first part of the security verification process.
In order to ensure you are a genuine user (and not a bot), WeChat requires users to complete a three-part security verification process. Click 'Start'.
The first part of the security verification process simply requires you to drag the slider in order to fit the puzzle piece into the image. Ensure you do this in a timely manner, as the length of time it takes you to complete this process is part of how they check the user is human.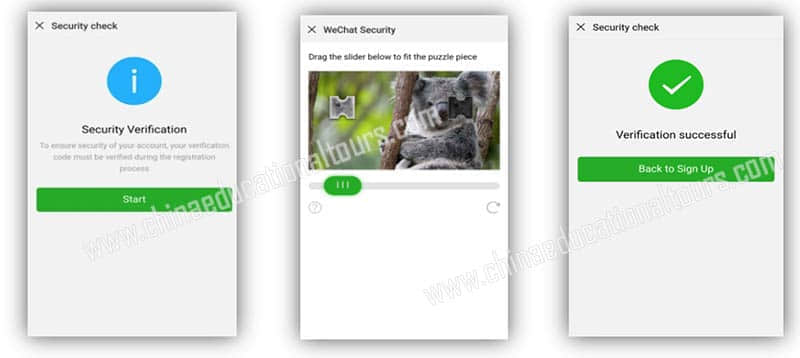 6
Verify your phone number
The next step requires you to verify your mobile phone number. At this stage, an SMS will automatically be sent to your phone containing a 6-digit verification code. Enter this code, then select 'Submit'.
7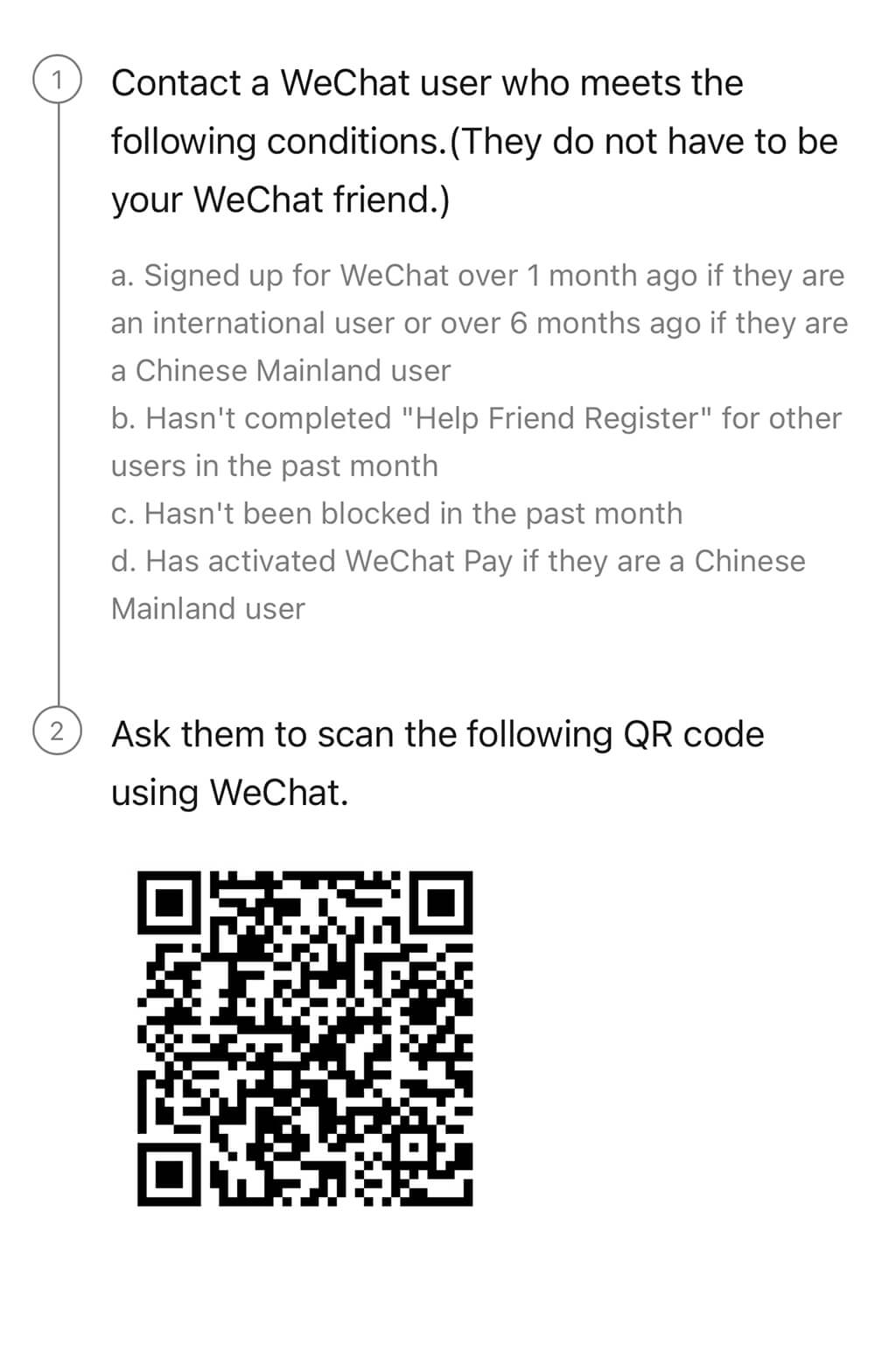 Ask a WeChat user to scan the QR code on your phone
This is the final step of the sign-up process. As noted above, we strongly recommend you find a WeChat user that meets the criteria as required before starting the sign up process. If you have a Chinese friend, there is a good chance he or she is a Wechat user.
How to Use WeChat
1. Adding friends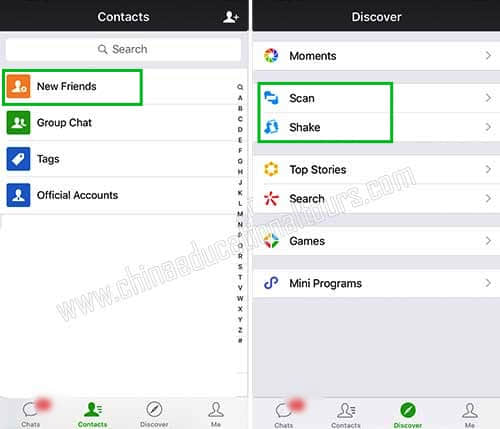 To begin adding friends in WeChat, start the 'Contacts' tab and press the icon at the top right. You can then add friends to WeChat via the following steps:
Search for your friends by WeChat ID or phone number.
Add from mobile contacts: You can see which friends are already using WeChat from your phone's mobile contacts then add them.
Add via Friend Radar: Easily add friends who are in your immediate vicinity so that you don't have to waste time getting people's numbers.
Add by scanning QR code: You can scan another user's QR code and add them instantly!
View people nearby: You can find and add new friends by using the 'People Nearby' feature in your 'Discover' tab. This will enable you to add people who are close to your location.
Shake: You can discover and add new friends from anywhere in the world when they are shaking their phone the same time you are! This is also located in the 'Discover' tab.
2. Sending text message、voice message, starting video and voice call.
Sending text messages in chat: After you've finished adding your friends, it's time to chat! You can chat with a friend by choosing them from the 'Contacts' screen. Once in the chat, just type what you want to say in the area at the bottom of the screen and press 'Send'.

Sending voice messages in chat: In a rush or need your hands for something else? Just send a voice message! When in a conversation in WeChat, tap the voice button in the lower left hand corner of the screen to switch the bottom bar into 'Hold to Talk' mode. Just hold down the button , talk, and release it to send. Note that the maximum length of an individual voice message is 60 seconds.

Tip: Canceling a voice message after recording has started. Just slide your finger up from the button to cancel recording.
Having video and voice call for free! When text and voice messages are no longer enough for communication, it's time to start a video or voice call for free! Start a video call from inside a chat with a friend, tap the ' + ' button and then the video call button. During a video call, you can switch to a voice call by tapping 'Switch to voice call'.

Tip: It's best to use this on WIFI to avoid using too much cellular data.
3. Sharing photos and short videos on 'Moments'
On Moments, you can share photos and videos with your friends and get the latest on what they're up to.
Choose photos from phone's camera roll. From the 'Discover' tab, tap 'Moments'. To share, tap the camera icon in the top right corner and choose photos or videos from camera roll, you can write some text to your friends to go with it.


Share photos and short videos after taking it. You can tap 'Camera' to take a photo or a short video instantly, and post them on Moments. Tap the white circle at the bottom to take a photo or long press it to shoot a short video for up to 10 seconds.


Set permissions for Moments. WeChat allows users to set permissions if you don't want to be viewed by some particular WeChat friends or you're not interested in someone's updates.

Sign in WeChat →「Me」→「Settings」→「Privacy」→「Don't Share My Moments」.
After entering "Don't Share My Moments" page, press「+」to add someone into the list so that they can't check your Moments.
Press「-」to remove your friends from the list. After that, they can view your Moments again.

Sign in WeChat →「Me」→「Settings」→「Privacy」→「Hide User's Moments」
Press「+」to add contacts into this list, so their new updates will not be seen on your Moments.
Press「-」to remove them out of the list. After that, their updates will be show again on your Moments.
4. How to pay with WeChat
WeChat Pay is a payment solution of WeChat. It is at the "WeChat Wallet" section of WeChat. After users create a WeChat Pay account, users can perform a variety of transactions using WeChat Pay, including and not limited to:
Transferring money to friends (especially as 'Red Packet' shared during Chinese festivals)
Performing transactions on e-commerce websites
Topping up their mobile
Investment in wealth management funds
Paying for water and electricity bills
Order and pay for a cab
Purchase a train or flight ticket
Book a night in a hotel
Purchase movie tickets
And much more…
How do foreigners create WeChat Pay account (for individual)?
Living in China without WeChat Pay or Alipay is like living without cash or credit card. Surveys show only 10% of users prefer to pay via credit card or cash over WeChat Pay or Alipay. How can a foreigner set up a WeChat Pay account?
Requirement
WeChat account
Passport
A Chinese bank card
Phone that is linked with your bank card
Step 1: Find the WeChat Wallet card
Go to your WeChat and click on Me/Wallet/Cards. This will take you to a section to add a Chinese bank card.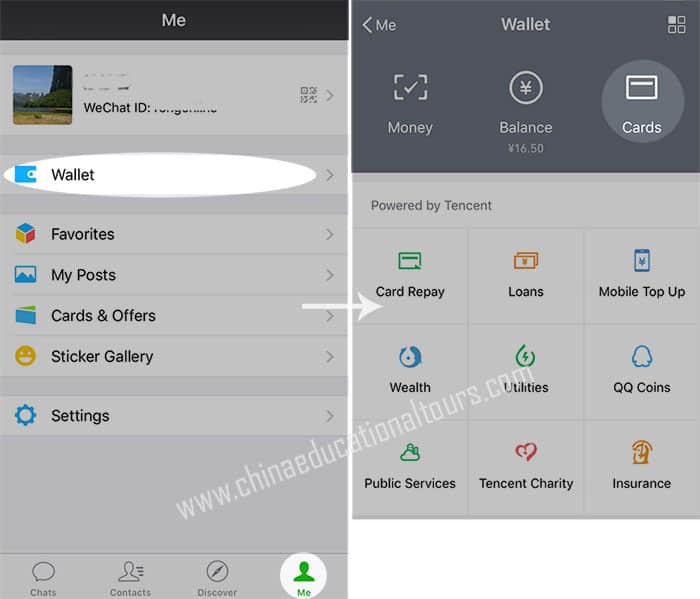 Step 2: Add a bank card
Now you can add a credit or debit card to link with your WeChat Wallet. You will need a Chinese bank card.
Important: make sure you use the exact name you use that matches with the name linked with your bank card. The name field is also case sensitive.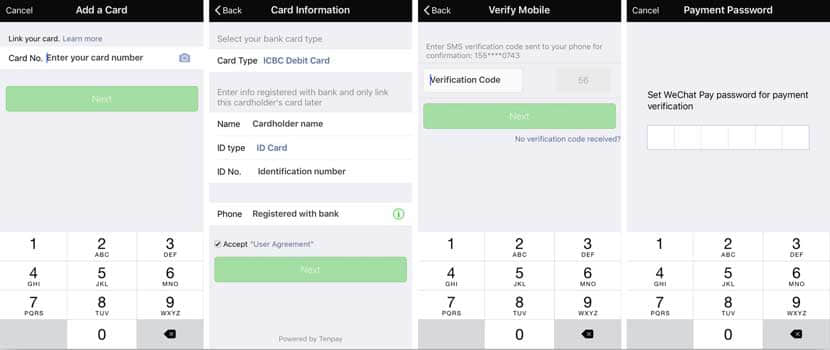 Step 3: done!
Now you have successfully linked your bank card with WeChat!
Now enjoy shopping!~
How to pay with WeChat Pay?
1st Way:
* Scan the seller's QR code.
* Key in payment amount.
* Select bank and key in WeChat payment password.
* Show seller your phone to prove that you've paid the correct amount.
* Grab your item.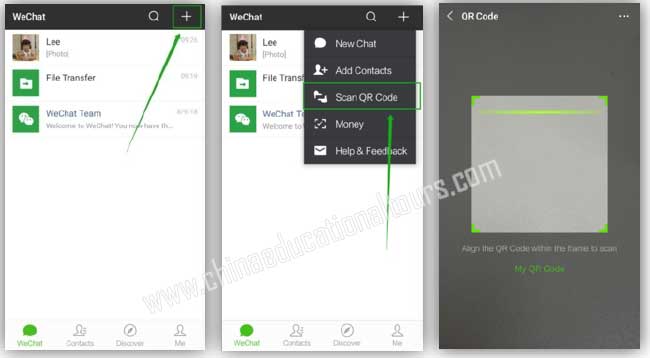 2nd Way:
* Show the seller your QR payment code.
* Choose to pay from your card or balance.
* The seller scans your QR code to finish the payment.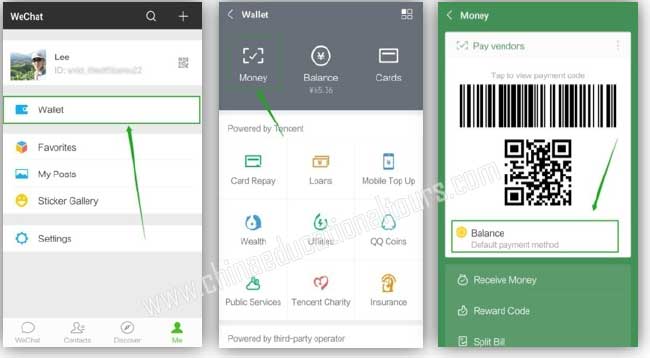 Have a question?
OR
Are you eager to begin your Chinese cultural journey?
Drop us a line and we will promptly connect you with our leading China expert!